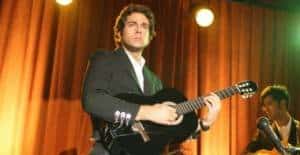 The final episode of Chuck airs this Friday and this is an impressive achievement considering how close it came to cancellation during this period. Chuck clearly has a rabid fan base that has shown their devotion which led to this 5-year run. The Subway campaign was a good way to prove that despite low audience figures this show was worth keeping on the air and I definitely bought a sandwich or two.
For me though it would be far easier to measure my love for this show by the amount of tracks on iTunes that I have purchased after hearing them first on Chuck and I'm sure I'm not the only one. For some it is the pop culture references that made Chuck the charming show it is, for others it is the characters and while these two factors are incredibly important, so is the weekly soundtrack that let me hear some old classics and fall in love with new bands.
Josh Schwartz isn't a stranger to having a strong soundtrack; The OC before Chuck spawned 6 CD compilations and had a venue built to showcase real bands such as Death Cab for Cutie and The Walkman. Gossip Girl too has a soundtrack available for purchase and has had big time names such as Sonic Youth, Lady Gaga and No Doubt performing on the show. Chuck is once again kind of like the nerdy quiet cousin; no CD release (which is also down to the lack of CD soundtracks thanks to iTunes) and it isn't necessarily known for the cracking soundtrack it has on a weekly basis, but it is something that deserves high praise.
There is a multitude of ways to discover new bands in this age of digital media and when I was younger the radio, music video channels and music press informed me of what new bands were about and influenced my choice. TV is still a source in finding new music, but it is away from the MTV's of the channels and has recently laid heavily on certain TV shows; the recently departed Friday Night Lights was one such show and Chuck has been another. A soundtrack for a TV show or movie is one factor I rate highly as the music has such a strong influence in creating the tone for a scene (this theory was proved right recently when I saw a cut of The Vampire Diaries with none of the finished music and even though the episode was good, the version with music was obviously better).
The one band that features highly in my playlists also happens to be the band that had the equal most songs used on Chuck, and that is Frightened Rabbit (the other with most songs played on the show is Band of Horses). The track that really stood out for me is from the season 3 premiere episode as Chuck (Zachary Levi) chooses the spy life over Sarah (Yvonne Strahovski), and I am so grateful to this show for introducing me to this wonderful band. Special mentions should go out to music supervisor Alexandra Patsavas and editor Matt Barber for their excellent work over the five seasons with the musical choices.
Chuck has had fun with its soundtrack and this begins with the theme song; Cake's 'Short Skirt/Long Jacket' which sounds like it could be from a 70s spy caper and is now a rarity in this TV landscape of title cards and brief incidental music. The music used doesn't just cover up and coming indie artists or classic tracks from the 80s, but has also featured pop songs by Britney Spears, Lady Gaga and Backstreet Boys. What the show does well, is use tracks that express the level of emotion in a scene such as Bon Iver's 'Creature Fear' when Chuck and Sarah almost do the deed for the first time in 'Chuck vs. the Colonel' at the end of season 2, or the use of Nico Stai's 'One October Song' during the utterly heartbreaking moment of Stephen Bartowski (Scott Bakula) death by Shaw (Brandon Routh) in 'Chuck vs. the Subway.' This song was cleverly used again in season 4 as Stephen's work is blown up in 'Chuck vs. the First Fight,' killing him all over again.
What about Jeffster? They too are important to the musical world of Chuck from their first performance of Toto's 'Africa' in season 2. The highlight for me was probably their rendition of Styx's 'Mr Roboto' that was used to stall proceedings at Ellie (Sarah Lancaster) and Awesome's (Ryan McPartlin) wedding, and also accompanied an intense gun battle scene. The Jeffster! performances have been dialled back, which was probably for the best as you can have too much of a good gimmick band, but I can imagine the twosome rocking out one more time before the final episode is out. Any last songs you'd love to see them do? What was your favourite Jeffster! rendition?
Below is my ultimate Chuck playlist with tracks from all 5 seasons that stood out to me when I first watched the episode and are still favourites. Some of the songs were featured during important scenes such as first kisses, proposals and a realization of what the spy life will bring. Not to make it all emotional, I also included some songs that complemented fun mission scenes and work well with running spies. It was tough to limit my track choices but I landed at 20 in the end which seems like a good number. Let us know what you would want to put on your Chuck playlist and if there are any special songs or bands that this show introduced you to.
1. Cake: Short Skirt/Long Jacket (Theme)
2. The Shins: A Comet Appears (Pilot)
3. Band of Horses: No One's Gonna Love You (1.10 'Chuck vs. the Nemesis')
4. Huey Lewis and the News: Hip to be Square (2.01 'Chuck vs. the First Date')
5. Rush: Tom Sawyer (2.05 'Chuck vs. Tom Sawyer')
6. Talking Heads: Once in a Lifetime (2.13 'Chuck vs. the Suburbs')
7. Bon Iver: Creature Fear (2.21 'Chuck vs. the Colonel')
8. The Thermals: Now We Can See (2.22 'Chuck vs. the Ring')
9. Frightened Rabbit: Backwards Walk (3.01 'Chuck vs. the Pink Slip)
10. Edward Sharpe and the Magnetic Zeros: 40 Day Dream (3.06 'Chuck vs. the Nacho Sampler')
11. Plants and Animals: Bye, Bye, Bye (3.13 'Chuck vs. the Other Guy')
12. The Gaslight Anthem: Here's Looking at You Kid (3.16 'Chuck vs. the Tooth')
13. Nico Stai: One October Song (3.18 'Chuck vs the Subway' and 4.07 'Chuck vs. the First Fight')
14. The Black Keys: Howlin' for You (4.01 'Chuck vs. the Anniversary')
15. Alexi Murdoch: Towards the Sun (4.08 'Chuck vs. the Fear of Death')
16. Slow Club: When I Go (4.11 'Chuck vs. the Balcony')
17. The National: Vanderlyle Crybaby Geeks (4.12 'Chuck vs. the Gobbler')
18. Typhoon: The Honest Truth (5.01 'Chuck vs. the Zoom')
19. Heartless B******s: Only For You (5.04 'Chuck vs. the Business Trip')
20. Fun (featuring Janelle Monáe): We Are Young (5.08 'Chuck vs. the Baby')
For a full and comprehensive list of all the music used in Chuck head over to ChuckTV.net here.
The Chuck series finale airs this Friday and be sure to look out for more Chuck related articles here in the next few days.
Tell us what's wrong with this post? How could we improve it? :)
Let us improve this post!