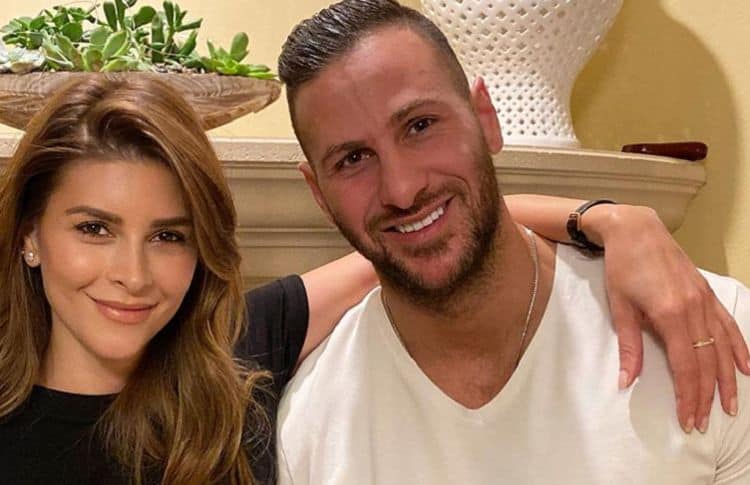 Shiva Safai may very well be one of the top fashionistas on reality television. Fans know her for her curated clothing, accessories and shoes, and when she posts photos on Instagram whatever she is wearing quickly becomes the classy next best thing to wear.
Along with her co-stars on the E! Network's TV reality show Second Wives Club, Shiva's life is documented to explore what it is like to become the next wife to be married to successful men who are marrying their second, third, fourth or even fifth wives. Since the show first aired in 2015, Shiva and her five castmates have had their relationships bared on television, and much of the controversies take place regarding how they deal with their exes and any children from previous marriages. It's complicated. It's entertaining.
Here are a few things which recently hit social media about Shiva, her engagement to Mohamed, and some Shiva trivia:
Shiva is thirty-three years younger than Mohamed.
Shiva was married once before she married Mohamed, and she has no children. But she says that she is an old soul and he is young at heart, so she doesn't feel their age difference at all. She said that he brought back the sparkle in her eyes. Mohamed was married twice before, and he has children; two daughters from his first wife and three from his second wife.
Shiva never thought "in a million years" that she would be pretty enough to be on the cover of a magazine.
She said her ex-husband shattered her confidence. She said that he never felt she was pretty enough, skinny enough or pretty enough. But Mohamed, she says, loves her exactly as she is and has built her confidence to the point where things are very different for her now. She said that Mohamed put all her shattered pieces together and she is a confident woman again. She and Mohamed were chosen to be featured on the cover of Harper's Bazaar.
Shiva was part of the Runway Wonderland Children's Benefit Fashion Show for Trina's Kids Foundation.
The non-profit based in Los Angeles raises funds for housing and low-income youth development programs. Shiva was part of the first annual event at Hubble Studio in December 2014. The proceeds from that show went to the Boys and Girls Club. The best fashion designers in Hollywood created the clothing the stars wore for the event.
When Shiva wants fast food, she drives through In-N-Out Burger and MacDonald's.
She loves Big Macs and French fries, which she says are "hands down, the best". Talking junk food, she says she absolutely cannot do without Hot Cheetos or Doritos. She calls herself the chili queen for most foods, loving everything hot. But when she wants to splurge on a great meal she heads to Madeo's on Beverly Boulevard for Branzino. It's her favorite dish there.
She has a ballroom in her house.
There is a moveable bar in the ballroom. They use the space for just about anything. The estate is one of the most exclusive in Bel Air. It is about 50,000 square feet on about 2.2 acres. Mohamed made his fortune as a real estate developer. He designed the Bel Air mansion and properties all around the world.
There is a home theater which will seat 60 people, and a wine cellar in the mansion. There is a Turkish bath, too. A Moroccan room which is detailed with authentic décor was built in Morocco by the King's artisans and shipped to Bel Air. There are three chandeliers in the main elevator. The paintings on the second floor are all painted by Mohamed. He has painted portraits of himself and Shiva which are displayed in the home. Shiva mentioned that Michael Jackson stayed as a guest at the mansion.
Her closet is the size of a small living room. The most expensive items in her closet are her Chanel jackets. Her least expensive are Zaro tops and H&M clothing. A cherished item is the purse Mohamed painted for her with Micky Mouse on the front, and Mickey's backside on the back. She also understands value. She mentioned that Neutrogena Wipes are her favorite drug store product. She says they are amazing and useful for cleaning her shoes. Though her boudoir has many expensive products, she's discovered that some of the beauty items don't deliver as promised. She's practical about beauty, and takes living in a huge mansion in stride. All told, Shiva is a very practical, down to earth woman. It will be interesting to see what happens next in her life on Second Wives Club.
Tell us what's wrong with this post? How could we improve it? :)
Let us improve this post!