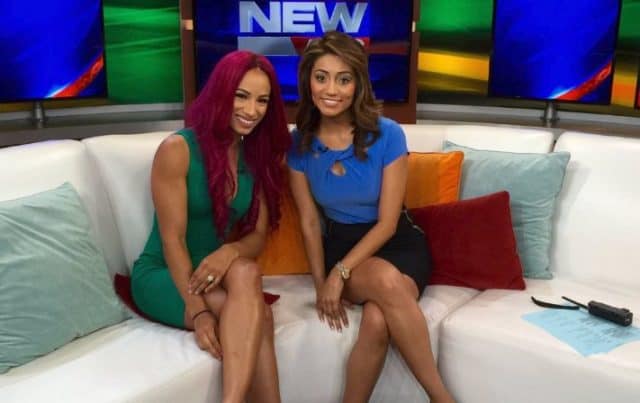 Rita Garcia is the newest co-host for Good Day LA. She'll be taking over for Steve Edwards and is considered to be a great addition to an already professional team. Her road thus far has taken her from LA to Houston and and now back to LA as she's steadily climbed her way up the ladder trying to do the best she can and give the best newscast she can to the people. Her professionalism is matched only by her ability to truly cover a story and know just what she's talking about at any given time. That type of dedication isn't as rare as a person might think these days but it's still inspirational when it's seen in those that enjoy giving the news how it really is.
Her future looks to be bright in the days to come.
5. She's a Texas native.
She'd be a credit to any state but a place like Texas is usually very honored by their celebrities as they tend to view these folks as giving them the kind of status they appreciate and can get behind. Garcia had to pay her dues and work her way up the ranks in order to get where she is now but she's been a respected journalist throughout her career and Houston will no doubt miss her.
4. She's a member of the National Association of Hispanic Journalists.
Established in 1984 the NAHJ was designed to aid in the betterment and advancement of Hispanic journalists all through the country and in Puerto Rico. The association is well known to have helped a great many celebrities that have taken up the field of journalism to either inform the people of what's going on in the world or pursue similar dreams within the same field.
3. She admits to being a news junkie.
This is inspiring to hear from any journalist since it means she's passionate about her job and takes it very seriously. Hopefully she doesn't take it too seriously. I get the feeling that she's the kind of professional that likes to have fun with the job but knows when to get down to the serious business and stop kidding around. It pays to have a sense of humor and to know when to be sincere.
2. She has a few outside interests.
If she's not checking the newscasts, which as she might admit is rare, then she's usually pursuing other hobbies such as running, cooking, walking her dog, and even following those that watch her show on Twitter. Otherwise she's usually digging up leads and news stories trying to find something, anything that could help her with her job. That's her level of dedication.
1. Her show is on at 4 am.
That might seem like an insanely early time to be up but a lot of people are starting their day around this time and could use a quick pick me up in terms of a quality newscast. If you live in LA you might be able to tune in and get a headstart on your day.
She should be a welcome addition in LA.