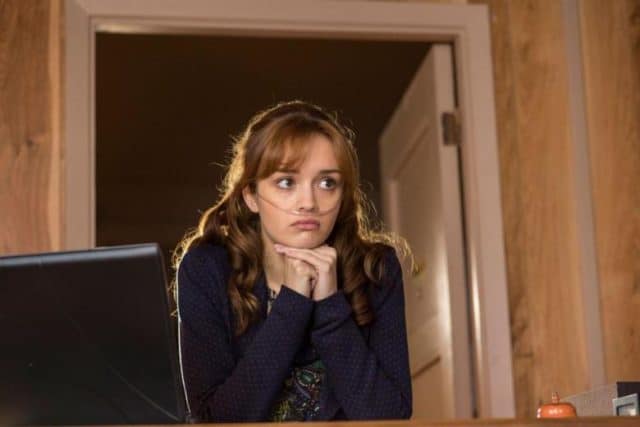 Olivia Cooke is an English actress from Oldham in Greater Manchester. In main, she is known for her role as Emma Decody on Bates Motel, which is far from being her sole appearance in horror media. As a result, Cooke has something of a reputation for being a scream queen, which is somewhat exaggerated because she has had important roles in non-horror-related media as well.
Here are five things that you may or may not have known about Olivia Cooke:
No Acting Background
Some actors and actresses come from acting families, but Cooke is not one of them. Her father is a retired police officer who has since become an attendance officer at Royton and Crompton Secondary School, while her mother is a sales representative. Cooke became interested in acting when she attended the Oldham Theater Workshop at the age of 8, which instilled in her a passion that was powerful enough to propel her into an acting career.
Appeared On a One Direction Music Video
It was not the start of her acting career, but Cooke's appearance on the One Direction music video for "Autumn Term" was one of the roles responsible for rising her profile. In brief, she got the role through an audition, which included her performing the splits when she was asked to perform a party trick as part of the process. Cooke received 250 pounds sterling for playing a student getting a piggyback ride from one of the members of One Direction.
Failed to Get Into Royal Academy of Dramatic Art
Cooke got her first agent at the age of 14, so it should come as no surprise to learn that she was already doing acting jobs when she applied for the Royal Academy of Dramatic Art. Unfortunately, she managed to make it to the final round of auditions but was not accepted to the prestigious institution. However, since Cooke got the lead role on The Quiet Ones on the same day that she received her rejection letter from the Royal Academy of Dramatic Art, she was not too upset about what had happened.
Shaved Her Head for a Role
In 2014, Cooke started filming for Me and Earl and the Dying Girl as the female lead character Rachel Kushner, who has leukemia. She had the option of wearing a skullcap for the scenes when the character went through chemotherapy, but she decided that authenticity was worth shaving her head. As a result, Cooke needed a $10,000 wig for her role on Bates Motel, which was covered by Fox Searchlight Pictures.
Has No Fear of the Supernatural
So far, Cooke has appeared in a number of horror movies centered around supernatural occurrences. However, it is interesting to note that she has stated that she has no fear of the supernatural. Instead, Cooke is much more concerned about tangible things that can cause physical harm, with the examples mentioned in her interview with DIY magazine including both dogs and illnesses. After all, she knows that those things can hurt her, whereas she is not even sure whether the supernatural exists or not.