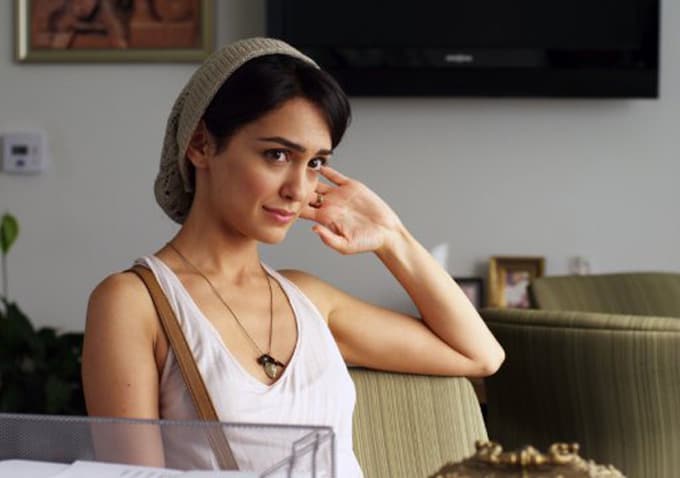 Nazanin Boniadi returns to the small screen in STARZ hot new espionage cum sci-fi thriller. The Iranian born star of HBO's Homeland will star alongside Oscar winner J.K. Simmons in Counterpart. The series premieres on the 21st January. The premise of the show is that there's a parallel universe from where an assassin has crossed over and must be stopped by a United Nations spy agency. Boniadi plays a mysterious character Claire about which little is known. The actress herself is something of an international woman of mystery. Here are five things you didn't know about the beautiful brunette actress, Nazanin Boniad
She was "auditioned" and groomed to be Tom Cruise's wife. (Allegedly.)
The HBO documentary "Going Clear" an expose of the Church of Scientology alleged that Nazanin was auditioned by the church, which apparently will do anything to keep Tom Cruise happy, for a role as his girlfriend in 2004. Nazanin was apparently a promising young high ranking Scientologist when she was recruited for a secret mission the details of which were concealed from her. She was given a complete makeover. The mission it transpired was to be Cruise's companion and to do everything to keep him happy. The two dated for a short period and Cruise apparently was initially very charming and romantic but grew increasingly difficult and demanding. It has been said that Cruise demanded that her teeth were filed down. When the arrangement collapsed, it has been alleged that Nazanin was punished with a spell of infamous menial labor. Nazanin is prevented from confirming or denying these stories because of a non disclosure agreement which she is believed to have signed.
She could have been a doctor.
Nazanin is not just a pretty face. She also has the brains to go with it and at one stage looked set for a career as a doctor. She studied pre-med in the University of California and achieved top grades. She even won a prestigious prize for her research into heart transplants rejection. But the young Nazanin chose instead to follow her own heart so she bailed on medical school and pursued her first love and life's ambition to become an actress.
She was the first Middle Eastern actress to star in an American soap.
She may not have made it into the off-screen world of medicine but her first major role brought her into the onscreen world of medicine. It also earned her a TV first as the first Middle Eastern woman to be cast in a soap. She played Leyla Mir a nurse with her heart set on becoming a doctor in the long running show General Hospital. The actress has said in an interview that she was very proud to start breaking through the stereotypes. In Homeland she played a hijab wearing CIA analyst, further debunking racial stereo types.
She's a Human Rights Activist.
Nazanin has been a humanitarian and human rights activist since her Scientology days. The Iranian born actress, who says it would not be safe for her to return to her homeland, is a vocal supporter of Iranian causes. Her parents left Tehran during the Iranian Revolution and set up home in London. She's a leading spokesperson for Amnesty International.
She performed in a bizzare anti-Scientology Rap.
Nazanin features on a peculiar rap along with a number of other prominent former Scientologists. The rap was put together by excommunicated Titziano Lugli, who is an Italian producer and musician and is a rare example of previous members of the church appearing to speak out against the cult. The supposed ex-girlfriend of Tom Cruise raps the lines, "This ain't no road to freedom / It's a blind alley, like Kirstie Alley / Travolta, and Cruise, but we ain't no fools.". She currently describes herself as a non-practicing Muslim.
Tell us what's wrong with this post? How could we improve it? :)
Let us improve this post!