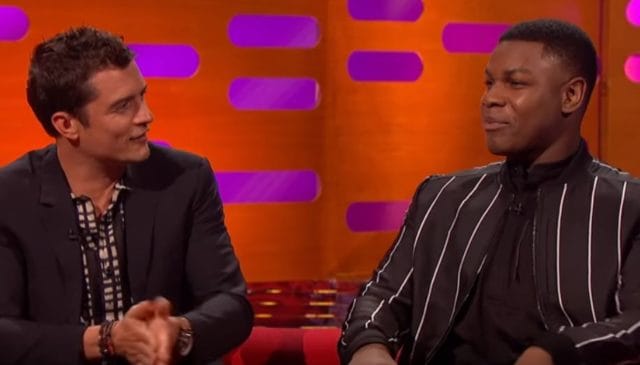 John Boyega is definitely a mega star at this point in his career. He went from relatively unknown to superstar overnight for his role as Finn in Star Wars: The Force Awakens. Now that he's in Star Wars: The Last Jedi as well as another 5 films in development, it's safe to say he's going to be sticking around Hollywood for a while. With great stardom comes great paychecks and with great paychecks apparently comes some super weird purchases. Well, that's what we found out about Boyega this weekend. When ask about things he bought with his Star Wars paycheck, Boyega had some interesting responses on the Graham Norton Show.
Here's a look at just a few items that were mentioned:
First off he has lions at the foot of his bed. "The reason why I bought that is because I feel like my spirit animal is a lion," Boyega explained.
Boyega had a less elegant explanation for the saxophone lamp. "There's no reason for that, man," he says. "That was glorified nonsense, I can't lie to you."
Continuing the photo tour, Norton next stopped on a Spartan helmet resting on a Roman-style plinth in his hallway.
To top it all off, Boyega's bathroom has a toilet paper roll holder in the shape of a medieval, something that fellow guest Amy Schumer noted may stick out as a "red flag" to any visiting women.
Check out the full segment below: