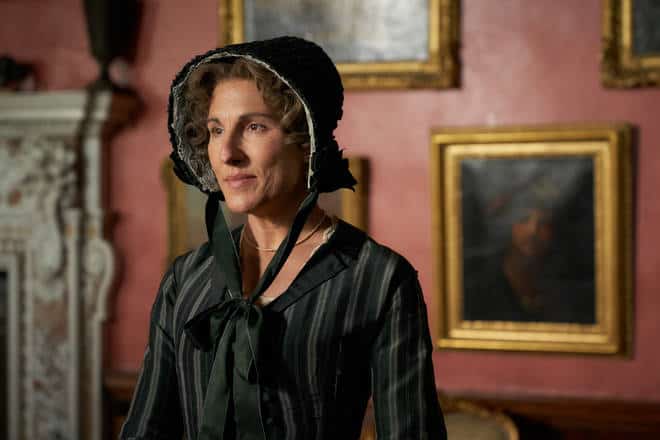 Finding consistent work in the entertainment industry isn't an easy thing to do, yet Tamsin Greig has managed to do it for more than two decades. The talented actress and comedian has shown that she has the versatility to play a wide variety of roles. In the UK she is known for being in several movies and TV shows, but American viewers likely know her best for her role in the series Belgravia which airs on Epix in the United States. Regardless of what you know her from, however, her work has more than likely left a lasting impression in your mind, and she hopes to continue to do that for years to come. Continue reading for 10 things you didn't know about Tamsin Greig.
1. She Came From Humble Beginnings
Tamsin may be a big celebrity now, but becoming reach and famous probably seemed very out of reach to her when she was younger. She was raised in a small flat in England. Her father was already retired by the time she was born and the family lived off of the wages her mother made as a secretary.
2. She Refuses To Get Botox
Aging isn't an easy thing for many people to deal with, but this is especially true for people who work in the entertainment industry. After all, it's no secret that the industry is obsessed with youth. Even though Tamsin is now approaching her late 50s, she is working hard to embrace getting older and she refuses to get any procedures to make herself look more youthful. She told The Guardian, "I'm an actor and I'm supposed to reflect real people. I think it's [Botox] dishonourable to women, I think you just have to be the age you are and live with it."
3. She's Always Scared She'll Never Book Another Job
If you look at Tamsin's resume, it doesn't look like she's ever had trouble finding work. Still, after each project wraps, she always feels a little bit of fear that she will be forgotten and won't ever find another job again. Fortunately for her, that has never been the case.
4. She Never Backs Down From A Challenge
There are many actors who only like to take roles that they feel are an extension of who they really are. Meanwhile, there are other actors who aren't afraid to portray characters they can't really relate to. Tamsin is part of the second group and she is never afraid to take on a challenge. She said, "As much as I don't like being frightened, I don't see the point in doing things if they don't slightly terrify you."
5. She's Used To Be A Vegetarian
Tamsin was a vegetarian for several years, but during one of her pregnancies she repeatedly got the urge to eat pork. She finally gave in and ate some meat and continued to do so throughout the pregnancy. It's unclear whether or not she ever went back to a vegetarian diet.
6. Her Corset In Belgravia Left Her Seeking Medical Care
For her role in Belgravia, Tamsin has to wear a corset for 12 hours a day during filming. If you're wondering if it's uncomfortable, the answer is yes. She told BT.com, "I was under the care of an osteopath quite quickly. I think I probably should have prepared myself before filming by wearing a corset for a couple of hours a day before it."
7. She Loves To Sleep
Sleep is a very important part of everyone's mental and physical health, however, people who like to sleep and prioritize their rest are often seen as lazy. But Tamsin isn't afraid to admit that she loves to sleep. In addition to getting about six and a half hours of sleep each night, she also likes to take a nap in the afternoon.
8. She Converted To Christianity
Although Tamsin's family on her mother's side was Jewish, she wasn't raised in a religious household. In fact, she was actually raised to be atheist. In a somewhat surprising turn of events, she decided to convert to Christianity when she was in her 30s. We couldn't find any information on whether or not she is part of a specific denomination.
9. She's Not Active On Social Media
Tamsin probably has hundreds of thousands of people all over the world who would love to follow her on social media and keep up with what she's doing, unfortunately though, they won't be able to. Tamsin doesn't seem to have any official social media accounts on any platform.
10. She's A Wife And Mother
Tamsin has put a lot of time and effort into building a successful professional life. She's also put in that same energy in her professional life. She has been happily married to actor Richard Lief since 1997. The couple met while filming a miniseries together. They now have three children.
Tell us what's wrong with this post? How could we improve it? :)
Let us improve this post!