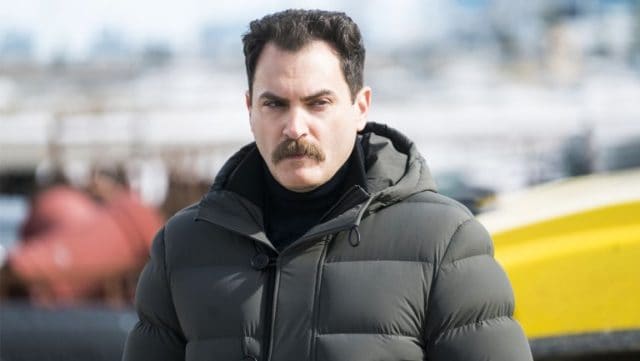 Everyone knows that to become a successful actor, working hard and having connections are some of the most important factors. It is undeniable, however, that those with great natural talent will almost always rise to the top of the industry. While some actors require years of training to develop their talents, some are recognized as exceptional from a young age. One such individual is the highly gifted Michael Stuhlbarg.
Stuhlbarg is likely best known for his work in notable productions like Boardwalk Empire, Men in Black 3, and Steve Jobs. His latest project is the highly popular series Fargo. Although he is clearly a gifted performer, many people are unaware of how impressive his background is. Here are five of the most interesting facts about this popular actor.
5. He has a variety of talents
Naturally, Stuhlbarg is best known for his acting work. However, he has trained in several other performing arts. Perhaps most notably, he has trained in mime under the famous Marcel Marceau. He actually earned this chance through his talent, as he won a competition at UCLA in order to train under Marceau. Fans should count themselves lucky that he decided to pursue mainstream acting instead of mime.
4. He started acting at a young age
When Stuhlbarg was only 11 years of age, he became interested in acting. He was helping out backstage at a community theater production but found it boring. While passing the time by pretending to be drunk, his abilities were obvious. He was asked to act in the production, which kicked off the illustrious acting career he enjoys today.
3. He is a critically acclaimed actor in theater
Although he is known to most fans for his performances in films and shows, Stuhlbarg has also performed on stage. Despite most of his notable performances appearing on screen, he experienced a great deal of success in theater as well. Most notably, he was nominated for a Tony and won the Drama Desk Award for The Pillowman. Clearly, his acting abilities shine regardless of the medium.
2. He has extensive training
While his talent can account for much of his success, Stuhlbarg also worked hard to ensure that he received a well-rounded and quality education. He graduated from the prestigious Juilliard in 1992 with a degree in Fine Arts.
After graduating from Juilliard, Stuhlbarg went on to study acting at the University of California, the Vilnius Conservatory, the British American Drama Academy, and the National Youth Theater of Great Britain. He may have the most extensive and exceptional education of any of today's stars.
1. The Coen brothers love him
One of Stuhlbarg's career-defining performances was as the lead in the 2009 film A Serious Man. Interestingly, he successfully auditioned for several parts in the film. He was so talented that the Coen brothers had a difficult time choosing which part to cast him in. They even stated that they wish he could be cloned to fill more than one role.
Final Thoughts
Michael Stuhlbarg is exactly what one would expect from one of the brightest stars on television today. He is talented, hard working, and exceptionally well trained. His career has seen incredible success, and he has stood out among his peers at every turn. With appearances in several upcoming films and Fargo, fans can look forward to seeing much more of this talented performer.