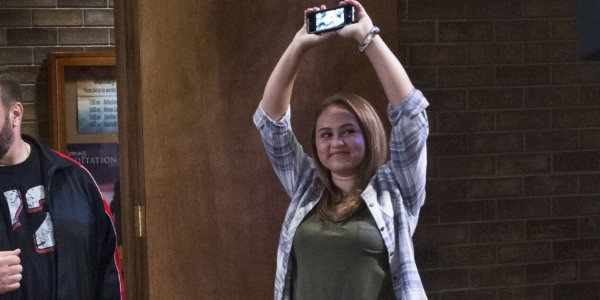 "Kevin Can Wait" begins its second season September 25 and Kevin James' sitcom is proving to be a hit for CBS. Mary-Charles Jones stars as middle child Sara Gable. Showing dramatic skills at an early age, Mary-Charles Jones was born to be an actress. She amazed casting agents early on and quickly went from appearing in advertisements to television and film roles. She is excited for the start of the second season of "Kevin Can Wait".
Here are 5 things you didn't know about Mary-Charles Jones.
She's from Seattle
Mary-Charles Jones was born December 28, 2001 in Seattle, Washington. Her family relocated to Atlanta, Georgia the following year. Mary-Charles is the spends her time between Atlanta and New York City where "Kevin Can Wait" films. She is the oldest of three girls. Mary-Charles has acted with her sister Maggie. Their younger sister Lillian has also taken an interest in acting. The fifteen year old actress interests include photography, singing, wakeboarding and soccer. She is the spokesperson for CommuniGift and volunteers for Compassion International.
Casting Call
Always an outgoing child with an ability to captivate family, friends and strangers, Mary-Charles' parents took her on an open call held by a casting agent in Atlanta. Born with natural talent, she was just 4 years old but immediately found local and national representation. She was signed by Joy Pervis and by the Osbrink Agency. Mary-Charles began appearing in print and television advertisements both locally and nationally.
Early Career
In 2007 Mary-Charles Jones auditioned for her first television show and was cast on ABC's "October Road". She played the role of Caitlin Rowen and had a great ability to play emotional storylines. From there she was picked up for guest appearances and recurring roles on several television shows. She appeared on ABC's "Grey's Anatomy". Mary-Charles had a recurring role on Miley Cyrus' Disney Channel hit "Hanna Montana". She was nominated for the role as best young artist. She was also nominated for her appearance on "Grey's Anatomy". Other television shows that Mary-Charles appeared on were "Ben and Kate" and "Hot In Cleveland".
Film
Mary-Charles Jones soon found herself getting parts in film. She starred along side her sister Maggie in the 2011 remake of "Footloose". She and her sister also appeared in the film "Identity Thief in 2013 with Jason Bateman and Melissa McCarthy. The same year Mary-Charles played the lead Isabella in the 2013 television movie "Dear Dumb Diary" based on the Scholastic book series. She also starred in the film "Father of Invention" with Kevin Spacey.
Kevin Can Wait
Mary-Charles plays middle child Sara Gable on Kevin James' CBS sitcom "Kevin Can Wait". Kevin plays a retired New York police officer and patriarch of his family. Following the first season the show has made Kevin a widow and will feature his "King of Queens" wife Leah Remini more often as a fellow New York cop. Kevin raises now must raise his 3 kids alone. Sara Gable is the often forgotten middle child who must hold the family together. Her older sister Kendra lives with her unemployed fiancé in the family's garage. The youngest child Jack is attention seeking. Mary-Charles said she draws on her own sibling experiences for her role because she is able to relate to the family dynamic. She understands how siblings can fight not get along but in the long run they love and protect each other. As the oldest of 3 siblings Mary-Charles can certainly relate. She is also able to bring her comedic and emotional acting skills to the set of "Kevin Can Wait".
Tell us what's wrong with this post? How could we improve it? :)
Let us improve this post!