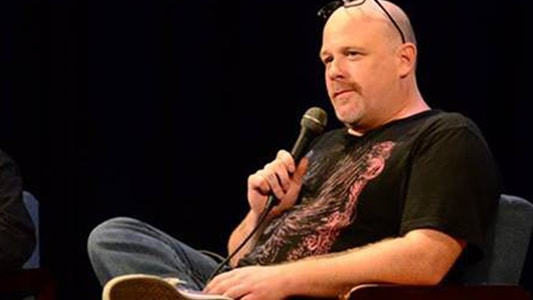 If you are not afraid of ghosts, then the person to look at is none other than Dave Schrader. He is a paranormal investigator, has a radio talk show and podcasts where he talks about ghosts, extraterrestrials, psychics and many more. He also co-hosted the Paranormal Challenge, a series on the Travel channel. Dave is an exciting person with an air of mystery engulfing him and his out of this world escapades. If you want to debunk the mystery surrounding him, then you are at the right place as below are ten things you did not know about Dave Schrader.
1. He Started Young
When we are young, stories about ghosts ruled our imagination and brought about an unexplained fear of the paranormal. However, according to the paranormal news site, Coast to Coast, his belief in ghosts lingered due to some experiences. He claims to have encountered the spirit of his dead grandmother at the age of three. It is quite impressive noting how young one is at three years old when you have an extraordinary experience. He was also on his grandfather's deathbed, describing it as a feeling of warm shaft vibrating air. Many years later he is still on the back of paranormal occurrences as an experienced investigator. He also states he had a "Dream Visitation" from his grandfather after his death, when they went to hug he noted the sensation felt like he embraced a hot column of vibrating, electrically charged air.
2. His Spotting List
For a person who believes in the supernatural, he has a decent list of paranormal sightings to make him comfortable with his beliefs. Top on the list is the ever-elusive bigfoot. The bigfoot is a bipedal apish creature that is very hairy and is said to make the forest and woodlands its home. There has been no evidence to back the claim of its existence. He also claims to witness unidentified flying objects, a sign of extraterrestrial beings' visit, during the various occasions he has been to James Gilliland's ranch.
3. Radio Career
Having such intense views on life, focusing on ghosts and other non-earthly beings, Schrader needed an outlet to share his views. An outlet that has worked adequately for him is radio. Schrader and his long-time radio partner Tim Dennis just celebrated their 14th anniversary on the air with the long running and popular paranormal & true crime themed talk program, Darkness Radio, which began on January 1, 2006. (www.DarknessRadio.com Dave is the only radio host to have hosted Art Bell's first radio show, Coast to Coast AM for five years as a regular fill-in guest host and then he took over the reigns of Art Bell's final radio show, Midnight in the Desert after the passing of Mr. Bell 2 years ago. Through these many platforms he has reached a worldwide audience of believers and skeptics alike.
4. Petition Against Him
Some four years back, circa 2015 when he was a regular on Coast to Coast AM to , he earned an impressive following due to his exposure to a worldwide audience as earlier hinted. During one stint as fill in host, Schrader, with the prompting of his Coast to Coast AM Producers ended an interview early because of a belligerent guest that became abusive and rude after being questioned about his giving the names of over a dozen demons live over the air. A practice looked down upon by religious exorcists and demonologist worldwide as irresponsible and dangerous. Several disgruntled listeners who believed Schrader was wrong to end the interview early set a petition to kick him off the show with an online petition site Change. It seems the appeal was not successful as only 25 people participated and he continued on the show for 2 more years before leaving to become full time host of Midnight in the Desert
5. His Social Media Presence
Dave Schrader is active on social media with handles on Facebook, Twitter and Instagram. He uses social platforms to air his views on several topics, mostly focusing on the anomalies. He also talks about his shows and what the order of the day is, on the several podcasts he makes appearances. His Instagram boasts of roughly 5000 followers, and he always keeps his followers on their toes with his constant posts. On Facebook, his page has 9500 followers, a significant number for awareness of his views.
6. Television Career
Dave is the lead investigator of the new hit Travel Channel series The Holzer Files which enjoyed a successful 10 episode first season. He has made appearances for several shows such as Ghost Adventures, Haunted Hospitals and Paranormal State. He was a judge and series regular on Travel Channel's Paranormal Challenge. The reality show featured two teams of ghost hunters going head to head in gathering evidence of paranormal activity in various purported haunted locations. He has also worked behind the scenes, notably as a researcher and location scout for Ghost Adventures according to celeb bio site IMDb.
7. He Is Prayerful
Considering he deals with phenomena that cannot be easily explained, the only hope for Dave seems to be the belief in the Supreme Being. During his adventures, he charters protective prayers to ward off dark forces that he cannot deal with. Further details hinted on his spirituality are on the news site, PressPubs. Here he admits that despite having a Lutheran background, he carries with him catholic talismans such as the Blessed St. Michael and St. Benedict relics for protection. They seem to work for him as he has not reported any attack that would leave him for dead.
8. His Family
Dave is a very family oriented guy that speaks openly and candidly about his life, children and marriage. Dave is married to the love of his life and between them they have 11 children. He doesn't post many pictures of his children online in order to respect their privacy and safety. 2 of his kids are more interested in his line of work and one has expressed an interest in following his journey and carrying on investigations and his radio program. One of his children, a daughter known as Ripley, has Type 1 diabetes. In mid-2018 she was admitted into the hospital due to complications, and Schrader tweeted out a request for prayers for her betterment.
9. His Book
Dave Schrader has also ventured into writing and has one published work, The Other Side: A Teen's Guide to Ghost Hunting and the Paranormal. From the title, you know the book revolves around ghosts and other psychical forces.
10. He Is Well-Traveled
His supernatural seeking missions have led him to several parts of the world to demystify the haunted regions. He goes once a year on foreign adventures with listeners and viewers to investigate everything from haunted prisons, castles, hotels and graveyards to famous sites of UFO & monster encounters and more. His travels have taken them to Canada, Romania, Scotland, Ireland, Germany, Prague, France, England, the Bahamas, and Australia with new adventures being planned every year at www.DarknessEvents.com
Final Word
Dave Schrader certainly has the guts to do what he does in ghost hunting and investigating the psychic air of various places. Above are some details about him that you may not know about. Get him on his various podcasts, radio station and his social media handles to have an in-depth insight into his adventures.
Tell us what's wrong with this post? How could we improve it? :)
Let us improve this post!