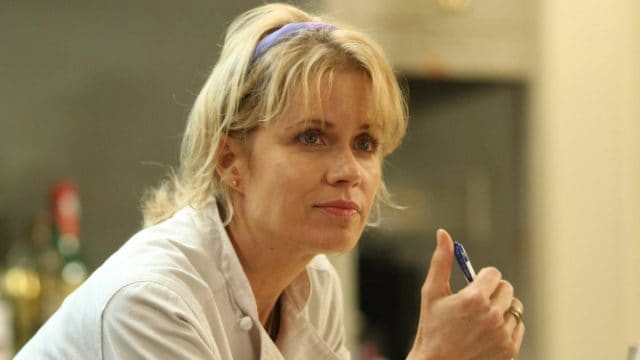 Kim Dickens is a veteran actress who made her way from Alabama to the big screen. She's held several supporting roles and a few as lead. Her face is familiar and although she hasn't had a lot of big glamorous roles, she's doing very well in her career. Fans will be the first to tell you that they appreciate her contributions. We all know that she is an excellent supporting actress, but there are still a lot of things that fans may not realize about the talented actress. We think that more needs to be shared about her amazing journey so here are five things that you didn't know about Kim Dickens.
1. Kim struggles with her accent
Dickens was born in Alabama and spent a good share of her young life in the southern states. It made sense that she would have a decidedly southern accent, but being a professional actress meant that she would need to be able to move in and out of her accent, depending on the role that she played. She commented that moving to New York helped her to get a better command of it because of the differences she heard from the people all around her. She lost the accent while she lived there, but it was short lived. When Kim moved to Los Angeles, she discovered that the Californian dialect brought the Alabama right back to the surface. It's something that she manages well enough with, but it's a constant battle.
2. Dickens worked as a waitress
Shortly after she moved to New York City, Kim had to find a way to support herself. This was before she was able to secure enough acting work to pay the rent. She took on a waitress job and waited tables in the big city until she got her first few breaks in the entertainment industry.
3. Kim loves country music
Kim's father was a country-western singer and songwriter. She grew up listening to the old traditional style. She listens to country stations as she drives down the road. Her preference is for the older music and she isn't really fond of the new more contemporary tunes.
4. Kim has 45 acting credits on IMDB

Fans may not stop to count, but we think that it's really impressive that she has built up this large ascore. She has a great portfolio to display. Although only three of the roles that she has played have been considered as leading parts, she's been keeping busy with recurring and supporting roles.
5. Kim's marital status and sexual orientation is kept private
One of the big questions that fans have is whether Kim is married or not. The answer is, yes, she is currently married to Canadian Ken Dixon. He is an entrepreneur. Some research into the status of the marriage has yielded no results so it's uncertain if they are still married or divorced. She was romantically linked with Alexandra Rockwell, but Kim is not giving out any information on her sexual preference or her marital status. Even though some fans would love to know, Kim enjoys her privacy and we applaud her successfully keeping some parts of her life away from prying eyes.