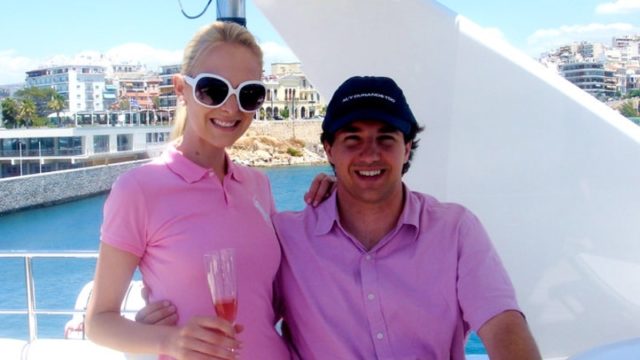 Okay, maybe with the exception of keeping up with Kardashians, the RHO… franchise has definitely dominated the world of "reality drama". What better can there be than to a bunch of women that assume the role of housewife, while embarking on all types explorations and encounters? First of all, you know that you can't too many women in one space and emotions not flare up, so keeping the dramatic for the show is easy. One of the spinoffs of the original is Real Housewives of Dallas, and being from Texas, and having lived in Dallas for seven years, just the thought of it makes me shake my head. A Dallas Socialite that is joining the cast of the Dallas franchise is Kameron Westcott and this blonde bombshell is a firecracker, so things are about to get interesting.
With Kameron being new to the set, there are a lot of things that you don't know about this gorgeous little filly, so we decided to fill you in.
1. She Is Dallas Socialite in the Truest Sense of the Word
While there are many people who claim to be socialites but lack the pedigree and access, Kameron comes from a very prominent family. In fact, the Westcott family is one of the most prominent and wealthiest families in the Dallas Metroplex. One of the areas where Kameron's family has a great deal of influence is in the fundraising and charity scenes. They have been known to use their influence to generate millions for charitable causes. The Westcotts are beyond rich, they are certified wealthy, and Kameron lives like it.
2. She is a California Girl Through and Through
Kameron has found the perfect fit in Dallas, but that has not always been her place of residence. She is actually from Montecito, California; however, she made a b-line for Dallas immediately after graduating high school. She attended Southern Methodist University where she earned a Bachelor's degree in fine arts. She found that Dallas, despite the images portrayed in media, was a fashion mecca and a major hub for some of America's wealthiest families.
3. She Happily Married
Now the term happily married means a lot of things to a lot of people, but Kameron not only found access to the upper echelon social scene while attending college at SMU, she also found the love of her, and she classifies herself as being an immensely happy house wife and mother of two gorgeous children. She is married to Court Wescott, who earned a great deal of his independent wealth as a venture capitalist during the tech boom. They have a beautiful six-year-old daughter named Hilton and a three-year-old son named Cruise.
4. She Is the Real Life Elle Woods
If you have ever watched the movie Legally Blonde, then you can view Kameron as the real life, Elle Woods. Don't let the blonde hair fool you; there is nothing dumb about this exceptionally gorgeous lady. In fact, she is immensely intelligent and talented. While her intelligence is evident, she admits that she will not hesitate to play the blonde card when it benefits her. And just like Elle in the movie, Kameron carries around her cute little Yorkshire Terrier everywhere she goes.
5. She Also Loves Pink
If the Legally Blonde comparisons are going to be made, no need to stop at the dog and the assumption that the smart blonde is dumb and incompetent. Kameron, like the character in the movie, absolutely loves pink. I know, you can't make this type of stuff up if you tried. If you think that I am exaggerating, consider the fact that Kameron loves pink to the point that she is in the process of developing an entire pink dog food line. This not only justifies the Legally Blonde comparison, it substantiates her socialite status.
Save