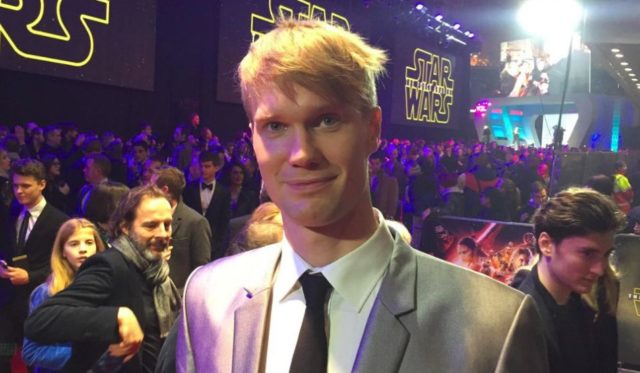 Joonas Suatomo is a Finish actor who used to play basketball on a professional level. As a result, it should come as no surprise to learn that he stands at more than two meters in height, which made him the perfect choice to play Chewbacca alongside the original Chewbacca actor Peter Mayhew in the new Star Wars movies.
Here are five things that you may or may not have known about Joonas Suatomo:
Played Basketball
While he was attending Pennsylvania State University, Suatomo played both the center and the power forward positions for the Penn State Nittany Lions. For a period that started up in 2011 and continued until 2015, Suatomo played professional basketball for a team in the Finish city of Espoo as well.
Pursued a Career in the Arts
Suatomo had a childhood fascination with the arts, with music and movies being stand-out examples. For proof, look no further than the fact that he studied film and video when he was attending Pennsylvania State University. As a result, it is no wonder that Suatomo has chosen to pursue a career in the entertainment industries, though he has stated that he is focusing on directing rather than acting because his height limits the range of roles that are available to him.
His Favorite Star Wars Character Is Luke Skywalker
Perhaps unsurprisingly, Suatomo's favorite Star Wars character is Luke Skywalker, which is a choice that he explains using a combination of the character's kindness as well as his sense of responsibility. With that said, there is a funny anecdote about when Suatomo met Mark Hamil on the set while wearing the Chewbacca costume. For reasons that remain mysterious even to him, Suatomo greeted Hamil by making Chewbacca noises, which made Hamil think that it was Peter Mayhew under the suit. Suffice to say that Hamil became very confused when Suatomo introduced himself to Hamil, all while J.J. Abrams was looking on.
Teaming Up with Peter Mayhew
Speaking of Peter Mayhew, Suatomo has been teaming up for some time with the original Chewbacca actor. This was necessary because Mayhew is no longer capable of providing the physical performance demanded by the role, meaning that Suatomo is needed to step in when that becomes necessary. So far, they have teamed up for both Episode VII and Episode VIII, but it is interesting to note that Suatomo will be playing Chewbacca solo for Solo: A Star Wars Story, which is expected to come out in May of 2018.
Felt Bad about Swatting the Porg
Recently, a promo for the upcoming Episode VIII caused a bit of a social media kerfuffle because it showed Chewbacca swatting a porg while seated in the cockpit of the Millennium Falcon, which was particularly amusing because it was such a contrast to previous marketing that had shown them as friends. Suatomo stated that he felt bad about swatting the porg with such force, but stated that Chewbacca simply needed time to warm up to the critters, which is understandable considering what happened to his best friend in Episode VII.