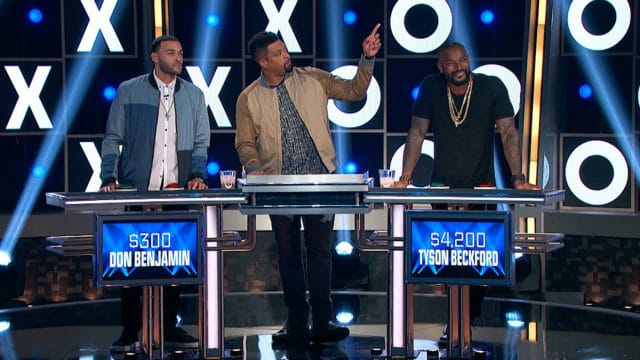 "Hip Hop Squares" is a new VH1 television game show that is a lot like the old favorite "Hollywood Squares." It has the same tic-tac-toe platform but if you think the old show was racy, this one will leave it behind. We've come a long way from the 1970s and much has changed in pop culture. The show will bring back memories, but there is also a lot to learn from it. Here are five things that you didn't know about "Hip Hop Squares."
1. Ice Cube is calling the shots.
DeRay Davis is the host of "Hip Hop Squares" and he shared that the co-producer, Ice Cube is known to pop in on occasion. He presents an intimidating figure of a man, as he asks Davis questions about the show. He's really a cool guy, but he's also committed to making sure that they get it right. He's a man who knows what he wants and he won't settle for less, but when he's on the show, he lets the boss attitude go.
2. There is alcohol on the set
The intention of the producers was to give the set a night club like feeling. This includes a lot of alcohol that is kept on the premises. If guests want to get hammered, it's their prerogative, but most prefer just a few shots to loosen up and some don't drink at all. If you see someone acting a little tipsy on the show, you'll know why.
3. DJ Biz Markie is on the show
You're going to hear a lot of hip hop music in addition to seeing the same genre of dancers at the show's opening. This is all in step with the sensation of being in a night club, or close to it. All the music that you will hear is compliments of DJ Biz Markie as he spins the tunes.
4. Celebrity panelists are set for the season
There will be some very famous celebrities on the show. It's going to be a great place to catch your favorite hip hop artists having a little fun, some serious disagreements and attempting to win money for their two contestants. "Hip Hop Squares" is a game show like no other. Some of the guests who appear this season are Tyson Beckford, Don Benjamin, Bobby Brown, Fat Joe, Amber Rose, Faizon Love and Remy Ma. The all-star lineup should be enough to draw in hip hop fans from around the globe. Fans will be interested to find out what their favorite hip hop star really knows about the culture of the country.
5. Pop culture is the name of the game
Celebrities will be competing against one another by either agreeing or disagreeing with their contestant's answers to pop culture questions. Without seeing a single episode, this tells us that there is going to be room for a lot of innuendo and hilarity as these big stars have fun with the questions and the answers. In the premiere, we already saw some of the celebs poking some serious fun at one another, but it's okay because most of them are friends anyway.