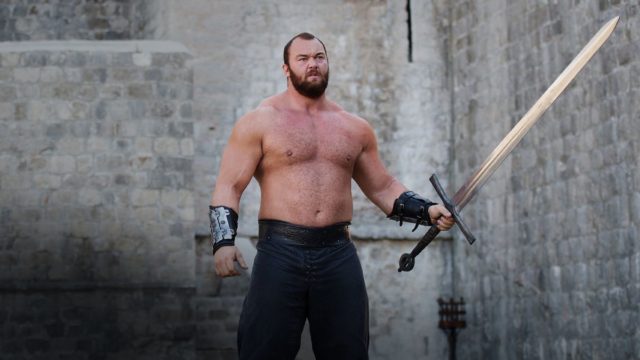 Hafthor Julius Bjornsson who plays "The Mountain" on the game of Thrones is an aggressive character that engages in a ton of bloody work. He is the third man to take up this role in the series, but most fans probably recognize him the most. His appearance on the show has gotten Hafthor roles in other productions such as Kickboxer: Retaliation. Here are some facts that you may just be wondering about the award-winning strong-man.
He was a Bank Security Guard
Prior to auditioning for Game of Thrones, Hafthor worked as a security guard at a bank. It was his day job when he was not training to become a strongman. He needed to stay employed so that he could make some cash to make ends meet. Julius also reveals that he did not have any experience in acting when HBO called him to inquire whether he wanted to audition for the role. He said that he was just a big person who was primarily focusing on Strongman competitions where he has won 14 professional titles. Bjornsson impressed the panel at the auditions as he was not only huge but he was flexible as well, something that they were looking for in character.
Hafthor Julius Bjornsso wanted to become a Pro Basketball Player
His height and physique were perfect for Hafthor's dream career which was to play basketball. Standing at 6'8 tall and weighing 110kgs, he had his eye on the D2 Icelandic National Basketball Team. He probably would have been a star on the court, but he blew out his knee when Julius was 20 as it saw his dream of making it to the NBA come crumbling down.
Bjornsso Consumes Ten Thousand Calories in a Day
While most people are out there counting calories to make sure that they do not consume excess, Julius goes the opposite direction filling up on about ten thousand calories every day. He splits these in around six to seven meals. Hafthor is also huge on eating large servings of oatmeal and fruits. His diet is also made up of high-protein foods like fish, eggs, and chicken. Bjornsson admits that he includes supplements in the menu. His favorites are whey protein, glutamine, and creatine.
Hafthor has Bell 's palsy
In March 2017, Julius was diagnosed with Bell's palsy. It is a kind of facial paralysis where an individual is not able to control the facial muscles on the side they are affected. The symptoms of these often consist of muscle weakness or twitching or even the lack of ability to move the sides of the face. Others include changes in taste, drooping eyelids, increased sensitivity to sound, and pain around the ears. Research indicates that the condition gets better by itself with correct treatment.
Hafthor Julius Bjornsson is a Record Breaker
Bjornsso is one of the men who believe in going harder and achieving better results than his previous. It is probably one of the traits that have kept him in the game for so long winning many awards. In 2015, Bjornsson smashed a record that had been in place for a thousand years. He did this by carrying a 649 kg (1, 433lbs) foot long log on his shoulders for a whole five steps. This was in Norway during the World's Strongest Viking competition. The record was held by Orm Storulfsson who carried a log with the weight of over 650lbs for three steps. When Hafthor's bench was 507 pounds, he worked hard to break personal records aiming at 660. He can also perform a 793 pound in a squat but also wants to exceed the 1000lb barrier.