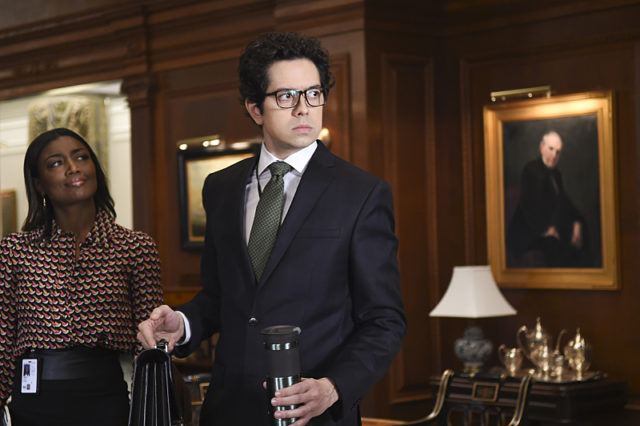 American actor Geoffrey Arend has had a prolific career in film, television and theater and has done numerous voiceovers. The 39-year-old actor was born in New York City. He has proven himself as both a dramatic and comedic actor. Arend is described as having a lot of energy and charisma while being funny and charming. He is married to actress Christina Hendricks and currently plays the role of Matt Mahoney on CBS's political drama "Madam Secretary".
Here are 5 things you didn't know about Geoffrey Arend.
1. He's from NYC and is taller than you think

The actor was born in 1978. His mother is Pakistani and his father is American. He is an only child. Arend took an interest in acting at an early age. He graduated from New York City's Fiorella H. LaGuardia High School and studied acting at NYC's Carnegie Mellon. Arend began his acting career immediately. The 6 foot 3 inch tall Arend currently lives in Los Angeles with his actress wife. The two do not plan on having children.
2. He's been in just about every TV show this century
Geoffrey has had a prolific television career and has appeared in many films. He got his start as the voice of Charles "Upchuck" Ruttheimer III on MTV's adult cartoon, "Daria". Arend has had guest appearances in multiple television series including "Law and Order: SVU", "The Closer", "Grey's Anatomy" and "Private Practice" and many more.
3. His film career
Geoffrey Arend's first film was 2001's "Super Troopers". The same year,he had a role in M. Night Shymalan's "The devil" and in "Bubble Boy". Other films include "The Ringer" with Johnny Knoxville, "(500) Days of Summer" as the sidekick, and 2004's "Garden State" with Zach Braff. The actor has appeared in many film shorts and video, television and film voiceovers. His most recent film was 2016's "Angry Birds" as the day care teacher.
4. His wife is Christina Hendricks
Often named one of Hollywood's most shocking couples, many find it hard to believe that the quirky intelligent Arend is married to Christina Hendricks. Hendricks, best known for her role as strong willed, buxom Joan in AMC's long running period drama "Mad Men" was named Sexiest Woman by Esquire the year 2010. When Christina met Arend she was instantly attracted to his funny, energetic personality and his energy and "disheveled" hair.
The "unlikely" pair married in New York City October 2011. They first met in 2006 and when they were introduced by Arend's co-star from "Beach Pillows" and Hendrick's costar, Vincent Kartheisen who played "Mad Men"'s Pete Campbell. They met at the private Los Angeles club The Magic Castle. The couple has a "2 week" rule promising never to be apart for more than 2 weeks due to their acting careers.
5. Has a soft heart
Geoffrey Arend played Dr. Ethan Gross in the NBC's forensics drama "Body of Proof" from 2011 through 2013. His role as a young and enthusiastic doctor working for the Medical Examiner's office solidified Arend's ability to play serious roles. When his co-star Windell Middlebrooks passed away at age 36, the actor gave a poignant eulogy. The speech was a mix of sorrow, friendship and humor. He recalled filming for several weeks on site in Rhode Island away from family and friends, and how Middlebrooks made it bearable and how Middlebrooks taught him the true meaning of a "bear hug".