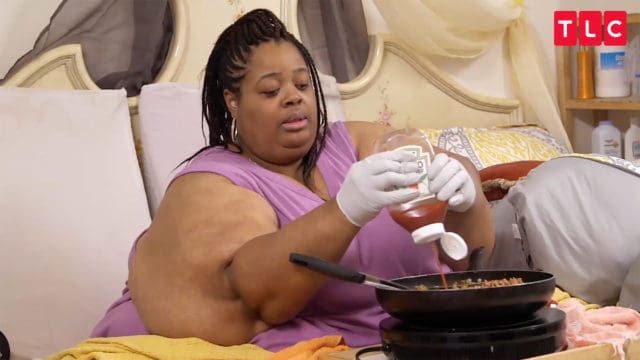 The TLC channel never fails to bring us entertaining and real life shows that depict the struggles that many individuals face all over the world in our society today. This is brought to audiences once again in the form of TLC's newest television series, "Family By The Ton". Following the similar line of "My 600 Pound Life", it follows the weight loss struggles and triumphs of three morbidly obese individuals. In this article, we are going to discuss five things that you may not know about this new show on TLC, so let's get to the bottom of it:
It Follows The Journey Of A Family
This TLC show follows the weight loss journey involving three cousins, Naomi, Drew, and Chitoka. All three individuals are morbidly obese, and together, their weight totaled amounts to just about 2000 pounds.
One Cousin Hasn't Left Her Home In Three Years
That's right. Cousin Chitoka, who is 49 years old, has not left her home for three years because of her weight and her anxiety. Chitoka comes in weighing at a total of 680 pounds, the highest she has every weighed, and this has made her virtually bed ridden in her own home, and trapped in her own body by her immense weight.
There Have Been Complications In The Past
It has been revealed that Naomi, who weighs 400 pounds, eventually realized that her mother, who also underwent weight loss surgery of her own, was suffering from several complications after the procedure. It is a difficult surgery to recover from and to adapt to, but Naomi's mother has had blood sugar issues as well as trouble walking since her surgery. It is, in turn, making the cousin's apprehensive about undergoing the journey themselves.
They've Had Problems With Weight For Most Of Their Lives
All three of these cousins have dealt with these issues since they were young. They discuss further in episodes about their addictions to food and how weight loss has also been a difficult task to attempt. Naomi, the youngest of the bunch, is also hoping to have children at some point, but knows that it can be tricky to get pregnant while carrying so much weight as well.
Dr. Charles Proctor Jr., MD
Dr. Charles Proctor Jr, MD, has been in his surgical career since 2007, and operates out of Atlanta, Georgia. He has been involved with robotic surgery since 2008, shortly after he began his career, and now specializes in bariatric surgery. He is being featured as the cousins' primary doctor throughout the series, and will operate on them during their weight loss surgeries.
There you have it! We have revealed to you five things that you might not know about the newest TLC series, "Family By The Ton". This new show filled with six hour long episodes airs Wednesdays on TLC, after "My 600 Pound Life". You can catch all the drama and watch their amazing weight loss journey from start to finish every Wednesday night or you can stream episodes on TLC website. We hope you enjoyed are list and set your DVR.
Tell us what's wrong with this post? How could we improve it? :)
Let us improve this post!