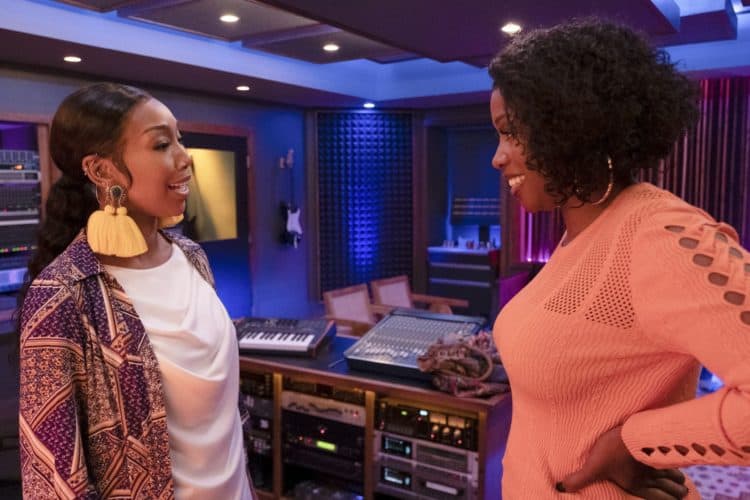 Previously on the mid-season finale of Queens when tragedy strikes, the ladies reminisce about their decade-long friendship and their journey of turning their musical dreams into a reality. Jill's ex-husband Darren was identified as the shooter. Brianna undergoes a serious surgery that can kill her or restore her ability to walk. This episode takes place three months later. Here is a brief recap.
No More Queens
In the first scene of Queens Season 1, Episode 9 the ladies are all standing at a gravesite. It turns out that it's Brianna's grave. We were all pretty hopeful that Brianna would recover, but this turn of events doesn't come as a surprise because the rapper Eve, who portrays Brianna in the NBC show announced in October 2021 that she and her husband were expecting their first child together. Now that Brianna's gone, the group doesn't believe going on tour is the right move. Jill says that Queens is done and the ladies decide to go their separate ways.
New Beginnings
Eric, Naomi, and Jojo move into Brianna's old home to bring their family together. Eric is trying to rekindle a romantic relationship with Naomi but she insists that they are family and just co-parenting for Jojo despite the kiss they shared at the hospital. Valeria is now a solo artist and she's recording her first track about the lessons she's learned while being in Queens. Lil Muffins is also taking a break from rapping. She went back to school to become a lawyer and she lives with Naomi and Eric. After Brianna's death, Jill has become recluse. She spends her days in her trailer where she's occasionally visited by her assistant.
Surprise Announcement
Naomi runs into Zadie also known as Lady Z at the grocery store, a rapper she used to be at odds with back in the day. Zadie works at the grocery store and tells Naomi that she prefers her safe normal life over the cutthroat industry. Eric encourages Naomi to have a little empathy for Zadie's journey. When Naomi is see's Zadie again, she asks to record with her, but Zadie turns it down claiming that she doesn't need Naomi's charity. Valeria calls and says she has a major announcement to make. She's married! Valeria announces her marriage to her producer. She brings her new husband Thomas to the house to meet everyone. The news doesn't sit well with Naomi and she warns Valeria about getting fooled again, especially after she was just tricked by a con woman pretending to be her mother. Nevertheless, Lil Muffins is excited for Valeria and after talking with Thomas, Eric welcomes him into the family. Zadie shows up at Naomi's studio session and together they record some hot material. Naomi is amazed at Zadie's ability to record without writing down her lyrics.
Moment of Truth
Meanwhile, Jill is being haunted by flashbacks of Darren shooting Brianna. Jill blames herself for Brianna's death. Her assistant encourages her to call her friends, but Jill wants to be alone. Jill experiences a moment of weakness and she goes to buy drugs from one of her old dealers. Naomi and Zadie bond after the studio over drinks at the bar. Zadie reveals that she will always love Hip Hop but she hates the game. She admits to being blackballed after standing up to a powerful producer named Frank Black who tried to sexually assault her. Naomi is shocked to learn the truth and asks Eric is there any way they can get justice for Zadie.
Dissed
Jojo informs Lil Muffins that there is a new rap chick on the scene that goes by the name Cash Mermaid. Cash Mermaid has released a diss track and video calling Lil Muffins out. According to Lil Muffins, Cash Mermaid is an old fan that was in her DMs for years asking for advice on how to get on. Lil Muffins is determined to ignore Cash Mermaid hoping that she'll eventually go away. Cash Mermaid calls Lil Muffins apologizing and asking for help dealing with pressure from the label. Reluctantly, Lil Muffins agrees to meet up with Cash Mermaid at a coffee shop. Cash Mermaid lunges at Lil Muffins and tries to instigate a fight looking for a viral moment. Jojo is finally able to get Lil Muffins to jump in the studio and respond to Cash Mermaid after she calls her the N-word in her latest diss song. Muffins destroys Cash Mermaid in minutes with her hardcore bars. Jill gets pulled over by the cops after copping drugs from her dealer. She forgot to renew her registration and the officer decide to let her go until one of them finds the drugs on the ground near her car. Jills calls her friends to bail her out and they rally around her to support her.
Nasty Girl Records
Valeria is keeping secrets from her new husband already. After learning that Thomas is a big family man she lies to him when he asks about her family life. The girls remind Valeria that she has to be honest and that if he really loves her he'll accept the truth. Muffins get Jill's charges dropped since the police don't have any actual proof that the drugs came from her car. The ladies decide to start their own record label called Nasty Girl Records. Nasty Girl Records is a full-service managing outlet that promises to protect the interests of it's artists instead of exploiting it. They sign Zadie as their first artist and they will all release solo projects under the label.
Tell us what's wrong with this post? How could we improve it? :)
Let us improve this post!