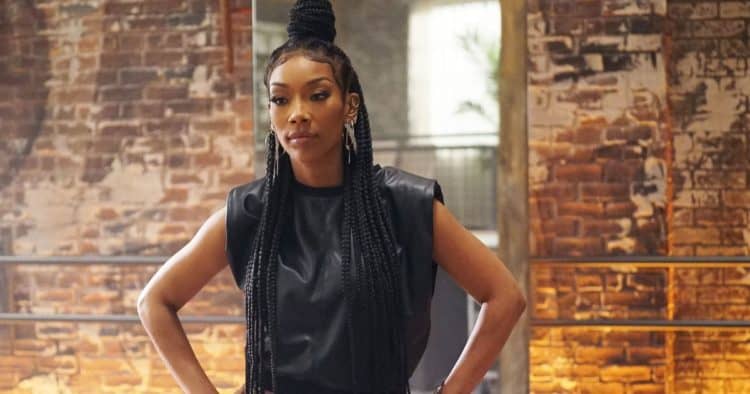 It seems like it just yesterday when we watched the ladies of Queen reunite after twenty years apart. Although things were a bit rocky at first, the former Nasty B*** were able to create a genuine sisterhood. That's what makes Bri getting shot so heartbreaking. Are they losing one of their sisters? If you had a chance to watch Queens Season 1, Episode 7, then you know things took a major turn for the worse when Eric and Brianna were shot by a masked gunman. As always, Eric did his best to protect the girls by tackling the gunman to the ground with a bullet in his shoulder. However, the most shocking moment was when we found out that Brianna had been hit by a bullet.
The Aftermath
Is Bri alive? That's all most of us want to know on Queens Season 1, Episode 8. After the shooting, Jill, Valeria, Naomi and Lil Muffins follow the ambulance to the hospital. At the hospital the fans are already leaving candles, balloons and flowers as shrine for Brianna. The ladies are ushered into a stale "VIP" room where they wait for more information. The girls are feeling very nostalgic as they reflect back in their decades long friendship. Brianna, Jill and Naomi were just kids when they met and starting rapping. They recall the first time they met Eric which was outside a club after performing. Watching these flashbacks is very emotional because they all have real history together. A detective arrives at the hospital to take their statement. Lauren spills the beans about Eric owing Jadakiss money and how he came to the house with a gun.
They Are Alive
Naomi informs the nurse that Eric is her daughter's father so that she can see him. He's unconscious but fortunately he is in stable condition and alive. For the first time Naomi pours her heart out to Eric and he wakes shortly thereafter promising her that's he is fine. Lil Muffins also checks up on Eric. She lets him know that she told the police about the Jadakiss ordeal and he's upset. Eric is still hung up on Hip Hop code, no cops. Meanwhile Valeria brings Brianna's children and her mother to the hospital to see her. The doctors let Brianna's mom know that her daughter is in stable condition but she is unconscious and they won't know much until she wakes up. Brianna's mom Renee is very strict and she doesn't want the kids to see their mom in the condition she's in. After Valeria's heartwarming speech of wishing she could talk to her mom, Renee let's the kids make their own decision. They decide to go in to see their mom.
Paralyzed
It turns out that The bullet hit Brianna's spine. If she doesn't have the surgery to remove it she'll be permanently paralyzed from the neck down. However, like with any surgery there is the possibility of complications and death. The girls believe that it's best for Brianna to have the surgery because as Naomi puts it, "she deserves to hug her children again". Ultimately, Renee gets the final say so and she refuses to have Bri go under the knife and possibly lose her. Naomi asks Eric for his consent in putting his name on JoJo's birth certificate that way there is something on paper that says they are family. Eric is ecstatic. Naomi and Eric passionately kiss! We knew the love was still there!
Prime Suspect
The detectives inform Lauren that Jadakiss is the prime suspect. Jada kiss visits Eric in the hospital and admits that he didn't shoot at them. Jadakiss tells Eric that he's not dumb enough to have his people shoot at him when he's with the ladies. Since Eric still owes him money and he has his place crawling with police he promises to finish the shooter's job when he's out the hospital. Valeria visits Valentina in jail and Valeria tells her the truth about her mom. Valeria's real mother is dead and she was a friend of Valentina's. Valentina tells her that her mother loved her and was very proud of her before she died. She admits that the story she told about her mom being abused and fleeing back to her home country was all true.
The Culprit
Jill begs Renee to reconsider her decision and give Bri another chRenee eventually gives in and agrees to let Bri have the surgery. Bri is taken into surgery and Jill goes to the hospital church to pray at the altar for her recovery. The detective show up at the hospital with good news. They were able to pull street surveillance camera and identify the shooter. It's Jill ex-husband Darren. Darren surprises Jill by popping up at the hospital church. He admits to shooting at them and tries to choke her death. Jill knocks Darren upside the head with a candlestick. Everyone barges into the chapel.
Heartbeat
In the surgery room, things are getting complicated. Brianna flatlines. As the last scene fades to black we hear the resurgence of her heartbeat. Brianna is alive!
Tell us what's wrong with this post? How could we improve it? :)
Let us improve this post!