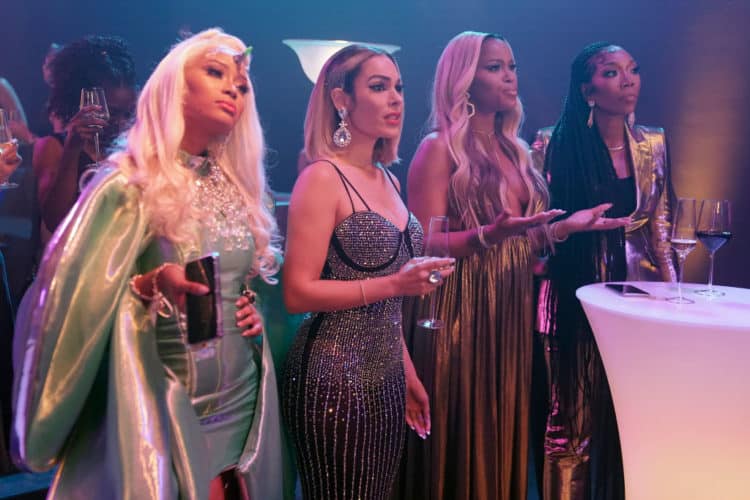 The ladies get a very important lesson in loyalty on Episode 6 of Queens when they get an opportunity to take their career to the next level. However, when they betray a close friend to do so their plan quickly backfires. Everything seems to be going right for the group. After their smash performance at the American Music Awards everyone wants to work with them. Eric their manager even informs them that SNL wants them to come on to the show. The ladies are preparing for the release of their Behind The Hits documentary on filming their new music video. It's been a few weeks since Brianna's one night stand with rapper Fivio Foreign and it turns out that the famous rap star can't keep his mouth shut. Fivio Foreign inadvertently reveals during an interview on The Breakfast Club that he slept with Professor Sex. Brianna is even more mortified when her oldest son comes to her upset and embarrassed by her indiscretion. Meanwhile, Valeria is overjoyed that her mother has come back to her and she decides to cook a meal for her even though she's not the best cook. Valeria gifts her mother an expensive diamond necklace but she's hesitant to take the necklace but Val insists that this is something that she's always wanted to do for her. Jill is finally gets a divorce from Darren. Despite the fact that Darren was volatile in the previous episode and refused to sign the divorces, the two were able to amicably handle matters. Darren tells Jill to never stop being a good person.
New Music
The ladies meet up with Eric at the studio to discuss their plans to release new music and shoot the video while a film crew documents it on camera. Valeria updates the group about the time she's been spending getting to know her mom. They advise her to take her time and more importantly protect her heart.
Eric informs the group that Lady London a popular female rapper with top-notch lyrical skills want to jump on their new song but this means that they'll have to take Lil Muffins off. After to listening to Lil Muffins verse which is trash, Valeria and Jill believes that going with Lady London's verse would be what's best for their career. Ever since Lauren came out of rehab her music hasn't been the same and seems as if she's lost her touch. Lauren feels betrayed when she finds out that she was booted off of their song. After all, she was the one that made the Nasty B—-hot again. She has Eric schedule a meeting with the label. It's time that she transforms and rebrands herself as an artist.
Cancelled
Valeria decides to take the girls advice and tread carefully. She sits her mom down and gives her a hundred thousand dollar check. Valeria tells her mom that if she's after money she can take the check and disappear. Her mom tears up the check and tells Valeria the real reason she abandoned her. Valeria's mom was in a abusive relationship with her dad. When she gave birth to her at 19, she left Valeria at shelter and went back to her country. The first day of the video shoot turns out to be a disaster. The nanny cancels on Brianna and she has to bring the kids with her too work. A video producer from back in the day airs Jill out for being cruel to her and embarrassing her when she asked her out on a date twenty years ago. The video producer claims that Jill is using her sexuality to boost her career. Jill gets cancelled and this creates a lot of bad press for the group. Lady London no longer wants to do business with the group because of the controversy.
Damage Control
Lauren and Eric meet with the label to save her career. Lauren tells the label executives that Lil Muffins is gone and that she wants to put out music as Lauren. She asks that the label trust her creative direction and they reluctantly agree. However, the next day they drop her and gives her 750,000 bill. Jill asks Tina to vouch for her and help save her career and fortunately she comes through. Tina a d Jill go on a morning talk show to discuss Jill's painful experiences with embracing her sexuality and her fears of coming out. The talk show host asks if they are back together and Jill says that they are stronger than ever. Now that Jill is "uncancelled", Lady London wants to do the song again. This time the ladies turn her down and ask Lauren to get on the song. After a little groveling, Lauren agrees to hop on the song and rewrites her verse.
World Tour
As they celebrate the premiere of the video and documentary Eric tells Lauren that he settled her debt with the label and promises to help her get her career back on track. He invites her to live with him until they figure out her living situation. The documentary producer shows Valeria pictures of her mom taking pictures of Valeria's credit cards. Tina misread the situation between her and Jill. After Jill alluded to them being back together on the show she thought that they were going to give it another try. Jill admits that she didn't mean it. Tina is hurt but Jill obnoxiously tells her that she didn't force her to help her. Tina is hurt and for the first time we see that Jill is no longer the same sweet girl she was on Episode 1. The Episode ends when the ladies finding out that they are going on a world tour with Lil Muffins (or shall we say Lauren).
Tell us what's wrong with this post? How could we improve it? :)
Let us improve this post!