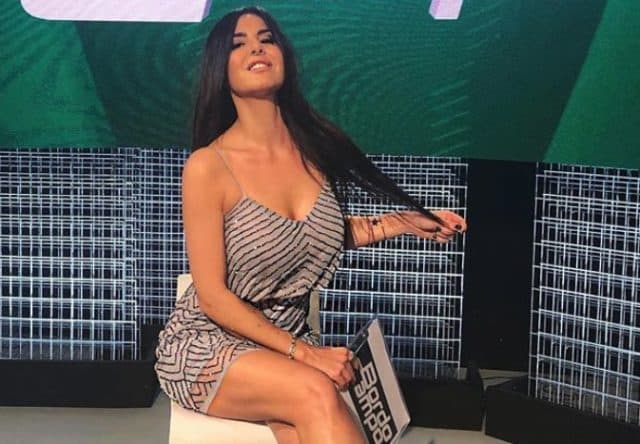 Being in the public eye seems to be the name of the game for Barbara Francesca, an Italian celebrity that seems to enjoy the spotlight and everything it brings. She's certainly put herself out there enough to make it obvious that she banks on her looks as much as she does her ability to read a teleprompter and make the news sound good as well. But she's been on the wrong end of a wardrobe malfunction as many people have and people likely won't forget it for a while since despite being a flash it was enough to make people's eyes widen.
Otherwise she's another pretty face that knows how to play to the crowd and do the job. Here are five things you didn't know about Barbara Francesca.
5. She's a reality star.
This doesn't seem to be much of a surprise as more often than not very attractive people are selected for reality shows unless the shows in question are something that has nothing to do with sex appeal. While many reality shows do bank on this however they have become a little more diverse just to satisfy certain demographics that want to be represented better. Plus, having too many beautiful people on a reality show kind of waters it down.
4. She's been a sports presenter.
She seems to have skills aside from her looks which is nice since it takes her away from the stereotype of being pretty without much else to go on. Granted, networks do like to hire pretty women that can't do much more than read off of a teleprompter to boost their ratings but it is nice to see that they give everyone a chance. Sometimes that chance is all that's need for a person to show that they can do something else besides pose provocatively.
3. She's been on the cover of Italian Playboy.
This shouldn't surprise anyone since she's in great shape and is still able to show off the beauty that likely got her into the magazine in the first place. The only issue with a woman that's been in Playboy is that in many ways the role of being a playmate is a stigma that follows her around for a while. So long as she can prove that she can do other things however any woman should be able to grow out of such a thing. Of course it would still be something impressive to have on the resume since not every woman is selected for such a role.
2. She's been a model.
So yes she has had a chance to walk around and be photographed with her clothes on as well. She definitely doesn't mind being in the public eye since she's been in front of the cameras for a while. One has to wonder if this was something she decided that she wanted to do early on in life.
1. She appeared on Temptation Island in 2016.
Temptation Island is just like it sounds. Four unmarried couples get put on an island along with thirty other individuals whose whole goal is to see if they can break the couples up. As reality shows go it's kind of a waste of time since the unethical and immoral nature of it is hardly something that people tend to go for unless they believe that it's not scripted.
Like I said, she likes being in front of the camera.
Tell us what's wrong with this post? How could we improve it? :)
Let us improve this post!