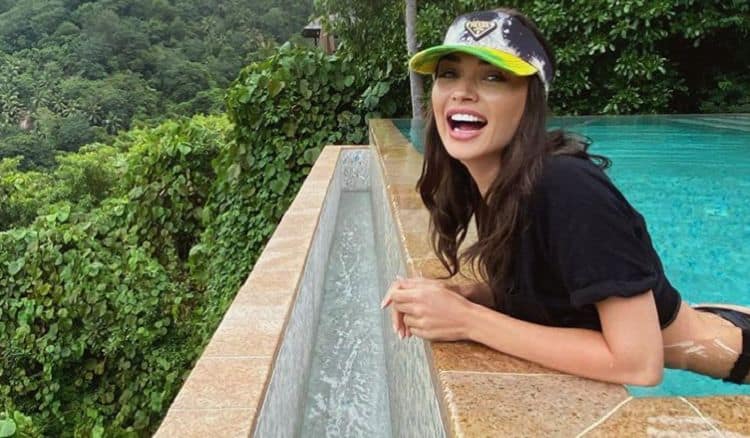 Amy Louise Jackson is making her American acting debut as Saturn Girl. She's exciting to be the recent recruit for Supergirl, and tweeted the news this week from Surrey, British Columbia. The third season on the superhero television series will begin on October 9, when the show returns to The CW. Saturn Girl has telekinetic abilities. Saturn's moon, Titan, is her birthplace, providing her super hero name, but her aka is Imra Ardeen. Strong, smart and kind, she's headed to Earth to help battle a huge threat facing Supergirl.
Jackson was born in Great Britain, and she has had a successful career as a model and in Bollywood films. She's been touring Canada, and been in the news for her upcoming leading role in the film 2.0. She will star together with Rajinkanth and Akshay Kumar. The film by S. Shankar is a science fiction story produced by Subaskaran Allirajah, who founded Lyca Productions. It's a sequel of sorts to the film Enthiran, filmed in the Tamil language in 2010. It's said to be the biggest budget film ever made in India, and it will be released in both Hindi and Tamil worldwide in January 2018.
Jackson, whose parents are British, attended St. Edward's College, supports charities, and had no previous acting experience before her work in films. She lives in Mumbai and owns a home in Liverpool, England. Her net worth is about $2 million. She looks forward to each new film role with positive excitement, and her fans can hardly wait to see her in Supergirl. It's going to be great. Jackson is that kind of person.
Amy says she owns a Mary Poppins handbag.
She carries a blanket inside it all the time, because wherever she is, she feels cold. It doesn't matter whether she is in England or India, she believes the air conditioning makes her feel cold. She carries a pack of make-up remover cloths to remove her make-up off immediately when a film shoot is done, protecting her skin. She always brings several hydrating creams for her skin and lips whenever she is flying. An eyebrow kit and perfume are always inside her bag. She would love to swap bags with Beyonce to know what makes her a powerhouse queen diva. She keeps her passport permanently in her bag because she never knows where she will travel daily. If she could put one person in her bag, she would bring her mother.
Amy fell in love with a Tamil boy and learned the Tamil language to communicate with him.
Amy was born on the Isle of Mann and moved to Liverpool when she was two. She didn't have an acting career in mind, but she won Miss Teen World when she was 16, and a director from India scouted her for a film. She traveled to India with her mother, and continued in films for seven years. Her first film, was a Tamil historical film set in 1940. She began with Hindi films and then stepped into the Bollywood industry.
When she arrived in India she was a Brit at heart, and couldn't handle spicy foods. But now, she has converted to an Indian girl. She loves the warmth and the spicy foods now. Her entire family comes to visit during the winter when Britain is cold and rainy. She misses India when she is in Britain, and she brings her mother along when she is filming.
Amy is a horse girl.
Her fondest memories include being outside in nature with animals and riding horseback all over the English countryside at horse shows. Her mother is a horse riding instructor. Her mother would drive two ponies in a big truck and they would travel together to the events. Attending the biggest horse show of the year each year was one thing she remembers most fondly.
She's not fond of the gym, because it's repetitive.
Amy works out a minimum of one hour each day. She keeps active to feel alive and escape day to day tasks. She does love yoga and meditating. She also enjoys running along the beach. She takes vitamin A every morning to keep her skin glowing at all times. She doesn't eat dairy products and always has dark chocolate, carbs and five fruits and vegetables daily.
Amy's worst audition included a really bad swear word.
It happened in 2012. Her Hindi wasn't great at the time. She still doesn't know exactly what she said, but it was one hum-dinger of a swear word. What she said was so bad that everyone there started laughing at her. It put her off for a moment, but she was able to shake it off and continue. Amy says her personality is "go with the flow". Whatever happens, happens, and she just takes it all in stride.
Tell us what's wrong with this post? How could we improve it? :)
Let us improve this post!