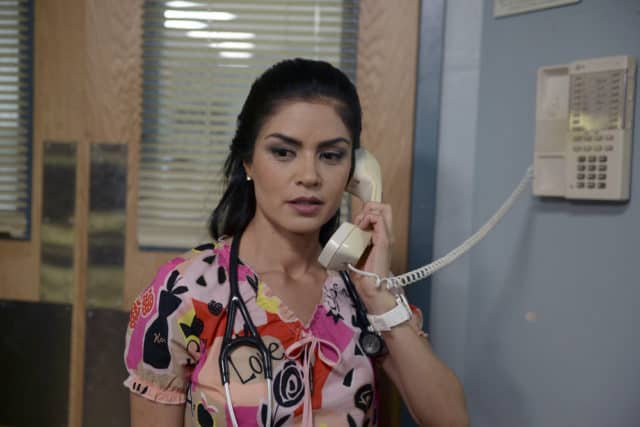 A lot of relative unknowns exist in Hollywood at any given moment and only a handful of them are ever really selected and given the kind of faith they need to really do something great with their career. Much like writing, acting is a profession in which you can do as much as you possibly can and still receive very little real recognition. Those that try are to be commended for giving it their all and doing everything in their power to make it work, but those that get selected are not just lucky, they're worth the effort that is being put into them. It might seem like those being lauded as stars at times don't seem to appreciate their position, but the newcomers that are given this chance are often extremely grateful.
Alma Sisneros is definitely one of those. Here are five things you might not know about the actress.
5. She is featured on [easyazon_link identifier="B01LTHM366″ locale="US" tag="tvovermind00a-20″]The Night Shift[/easyazon_link].
Sisneros plays as Nurse Jocelyn Diaz in the series and is as integral to her cast as any nurse is to their hospital staff. She plays a very believable role and is sincere in her portrayal of the character. The Night Shift if a series that depicts the real life struggles that doctors, nurses, and even patients have to go through with some obvious drama thrown in to make it interesting.
4. She hasn't had a lot of big roles yet.
In terms of starring in films and on TV she hasn't hit a lot of big roles yet but she is becoming more and more noticeable with each role she takes. Even the great ones had to get started somewhere and Sisneros is doing her part by hanging in there and taking the lesser roles to earn her way up. That is after all how you tend to get noticed more often than not.
3. Her filmography isn't that extensive.
She's been in a handful of films to date, and some rather impressive ones to be honest, but her star has yet to fully shine as she's being given the same treatment that a lot of actors have been given throughout their careers. She has to earn her way up. That's usually how actors are either honed into great talents or broken down through years of neglect. Let's hope it's the former in her case.
2. She's a relative newcomer to mainstream Hollywood.
This is kind of in her favor since she might not have been fully corrupted by the glitz and the glam yet. If she has then hopefully she'll still remember what it took to get her to this position. Too many stars are blinded by their own fame once they reach the top spot. Hopefully Sisneros won't allow that to happen.
1. She doesn't have a full Wikipedia page yet.
This could be a good thing but it could also work against her. A lot of people check the Wikipedia pages as source of quick and easy information. The only issue with this is that Wikipedia has proven to be unreliable in some cases. It's getting better though.
Expect to see more of Sisneros as her career continues to climb.
Save
Tell us what's wrong with this post? How could we improve it? :)
Let us improve this post!