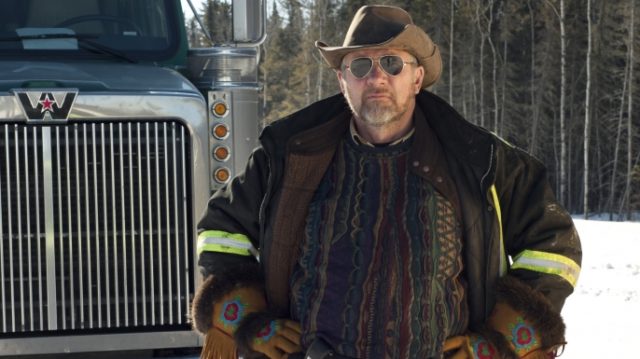 Fans of the series "Ice Road Truckers" will immediately recognize the name Alex Debogorski, because he's the star of the show. He is best known for his role in the riveting reality series. Viewers get a first hand look at the dangers that these brave pro drivers face as they set out on multiple perilous journeys across the unpredictable ice road that cannot be avoided. We've seen some hairy moments, but also some impressive maneuvers that Alex has pulled off. Here are five things that you probably didn't know about him.
1. He is from a Polish immigrant family
Many viewers don't know the history of Debogorski's family. His father was involved in the World War II conflict, as a paratrooper in the Free Polish Brigade. He was in London at the time that he met Alex' mother, who is English. They two married in London, England and then settled in Alberta Canada to be farmers. Alex dad is a native of Poland and his mum attended college in London, England after fleeing Nazi forces who executed her father in her native Poland.
2. He worked at a tire store
Before Debogorski found a career in truck driving, and later fame on the popular series, he worked at a tire store. It wasn't until he turned nineteen that he decided to make the career switch. In addition to working at the tire store, he took on a variety of different jobs. He was also a club bouncer, taxi driver, as well as a mobile home flipper.
3. Debogorski was a prospector.
Prior to driving truck, Alex tried his hand at prospecting for diamonds. This job allowed him a lot more freedom because he was working for himself. It was much less confining that when he worked as a coal miner. There isn't much that he hasn't done to make a living. The star of "Ice Road Truckers" has done a lot in his time here on earth, but perhaps one of the most challenging times of his career has been spent driving truck over the icy Canadian route that keeps the supply of goods running through the otherwise isolated regions of Canada.
4. He is a best selling author
Not everyone who casually watches the show "Ice Road Truckers" would know this. Alex Debogorski wrote the book "King of the Road: True Tales from a Legendary Ice Road Trucker." He has the experience to make this book, which is autobiographical in nature, hard to put down once you open the cover. This isn't his first attempt at writing by a long shot though. He's a regular writer for "The Yellowknifer" which is a local newspaper and you can catch his articles on a regular basis here.
5. He is the king of his large castle
Alex Debogorski is the father of eleven children. He and his wife Louise moved to the Northwest Territory of the country in 1976 and have raised their family in this area. He and Louise have led busy lives and it's taken a lot of work to raise their children. In addition, the clan is every expanding as Alex is the head of a family that includes thirteen grandchildren so far.