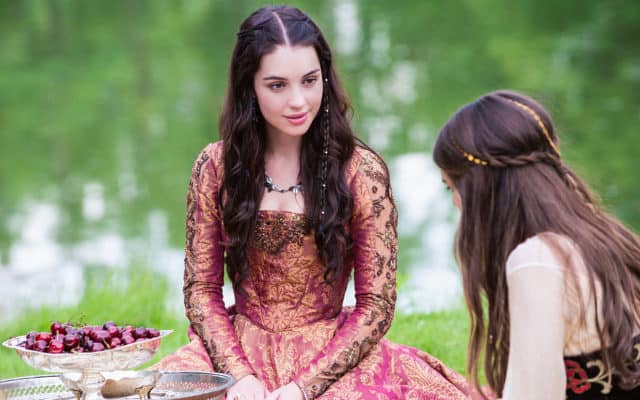 Australia has contributed heavily to the talented celebrity pool, from Keith Urban and Nicole Kidman to Hugh Jackman. Well, there seems to be a new wave of Australian stars on the rise in Hollywood. One Australian native that is making a splash in Hollywood is Perth native, Adelaide Kane, who plays Mary, Queen of Scots on the CW show Reign. What is interesting about this role of Kane is that she is actually playing the role of one of her ancestors. Now, how cool is that? That is not the only interesting fact about Adelaide worth sharing, so, let's take a look at an additional five facts about her that you probably didn't know about her.
1. She Is An Avid Reader
Adelaide said that she had a very difficult time making the social adjustments when she came to New York for Comic Con. She just could not seem to pull herself together – feeling very uncomfortable attempting to meet and get to know other people. So, she spent a lot of time reading, and now it has become a passion for her. She did say that she is getting better as far as social adjustments are concerned.
2. Her Show Business Career Was Launched by Winning a Competition
In 2006, Kane entered into a talent contest that was sponsored by Dolly magazine. The grand prize was an opportunity for the winner to become a part of the cast of an Australian soap opera called Neighbors. After winning the contest, the star left high school at the age of 16-years-old in order to fill the role of the Lolly Allen on the show. Kane credits this opportunity for creating the catalyst of what is developing into a nice career.
3. She is Passionate About Fighting Discrimination
During a recent interview, Adelaide was acted what she would do if she were queen for a day. She immediately said that she would end discrimination. She said that she would completely eliminate gender discrimination. She also said that she would legalize same-sex marriage across the board. She is very passionate about this topic, implying that gender equality does not receive the attention that is deserves, and if she could she would change that.
4. She Is A Huge Fan of Saving the Environment
When it comes to everyone in the world reducing their carbon footprint, Adelaide is all for it. She has indicated that she would love to promote a number of different environmental initiatives, such as organic, non-GMO agriculture, sustainable farming and outlawing the use of pesticides. Additionally, she wants to identify more sustainable forms of energy development, and the development of low-impact driving policies to reduce issues with emissions.
5. She Initially Struggled in Hollywood
According to the actress, she was very close to calling it quits and going back to Australia when he first arrived in Hollywood. She said that she was so tired of struggling and being unhappy that she was seriously considering returning to school. Fortunately for her, and us, she was able to find consistent work, in roles in projects that include Power Rangers and Teen Wolf, and then things really improved when she landed her role in Reign.
Tell us what's wrong with this post? How could we improve it? :)
Let us improve this post!