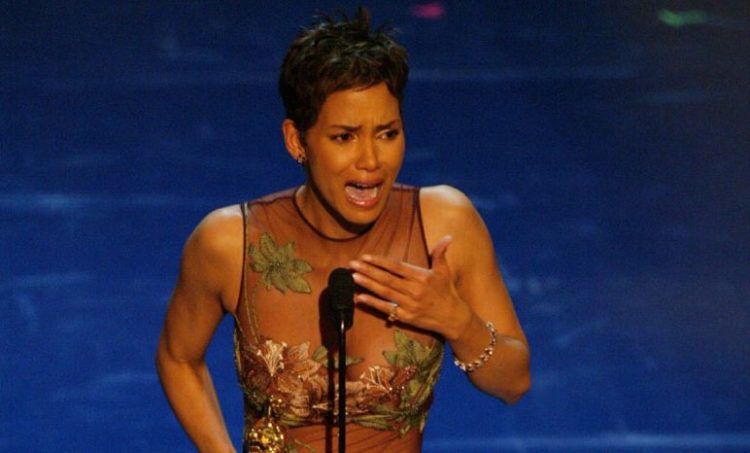 I know that the Academy Awards are still just over three weeks away from today, but that doesn't mean it's too early to start generating some buzz about them. While there will be moments at this year's event that we have no idea about, today I'm taking a look back at some of the most surprising ones to have ever happened. Whether viewers saw them or not, they definitely happened–so take a look and see what makes your jaw drop. These are the most surprising Oscar moments ever.
5. Adrien Brody Smooches Halle Berry
Even to this day, Halle Berry is one of the most stunning women in all of Hollywood, displaying both beauty, style and class. So it's not wonder that, back in 2002, actor Adrien Brody wanted to experience the feeling of locking lips with her. Of course, he did have good reason to do so, as he had just been announced as the winner for "Best Actor" following his performance in The Pianist. Not to only be remembered for the kiss, Brody actually had the power to stop the music that tried pushing him off the mic, saying, "One second, cut it out."–and the orchestra promptly ended for him to finish.
4. Jack Palance Sneaks a Workout
Anyone who remembers the late actor Jack Palance knows that he was one tough gun. A World War II vet, he was both intimidating, confident, smart and talented, which he often had come out in his roles on-screen. While he was the perfect old school villain, he never really got the respect he deserved–until the Oscars in 1992, when her won the Best Supporting Actor for his role as Curly in the movie City Slickers. To prove he hadn't gotten soft on anyone, the 73-year-old Palance dropped to the ground and started cranking out one-handed push-ups. I'm 29 and can barely do one of those things!
3. Roberto Benigni Gets Hoppy
With the words, "La Vita e Bella" tatted on my arm, people know that I try to remind myself just how beautiful life can really be. That extends to the silver screen, too, where one of my all-time favorite movies is Italian director Roberto Benigni's "Life Is Beautiful." AndI remember watching the Oscars in 1999, when Roberto heard his name mentioned as the winner for the "Best Foreign Language Film" award, and he hopped onto his seats and walked on the backs of others seats to get to the aisles. I knew Italians were passionate and a little out there, but that was super unexpected.
2. Sinatra Can't Get In
You'd think that a guy like Frank Sinatra wouldn't have any problem being recognized anywhere he went–especially back in the 1960s. Not only was his record label, Reprise, successful. But he was also starring in flicks like the original Ocean's 11 and The Manchurian Candidate. However, his power on the entertainment world wasn't strong enough to break the barrier at the Oscars in 1963–in which he actually hosted–being denied by security because he forget his parking pass. "Ol Blue Eyes" was forced to park elsewhere and scramble to the auditorium, arriving out of breath.
1. The Time a Streaker Crashed the Awards
Each year, the Academy Awards brings together the biggest names in all of Hollywood, with people like George Clooney, Elizabeth Taylor, James Dean, just to name a few, getting dolled up for the event. So who would have ever thought that an art gallery owning streaker named Robert Opel would be the ones everyone remembers from the 1974 version of the awards? That's typically the case when a guy runs across stage completely naked, flashing a casual peace sign before disappearing. Cohost David Niven got the best of the guy, though, saying, "Isn't it fascinating to think that probably the only laugh that man will ever get in his life is by stripping off and showing his shortcomings?"
Calm, cool and witty. Nice work, Niven.