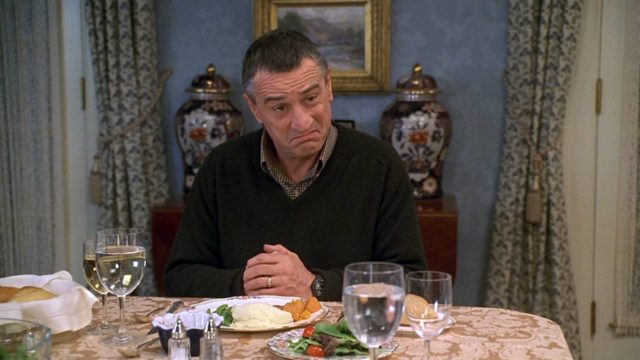 It's kind of necessary at times for an actor to go against type and start taking on different roles that allow them to branch out and explore just what it's like to actually take on a different character. Those that enjoy dramatic roles don't always tend to take on comedic roles for reasons of their own. The difference is pretty clear however that comedy and drama don't always mix, even though they're not that far apart from one another. If you follow the rule of cause and effect they're actually a lot closer than you might think. With some actors it might have been a turning point in their life when they decided to take on comedy, while others might have found it a necessity to expand their horizons.
In any case, here are a few individuals that crossed that line and did fairly well.
5. Meryl Streep-Death Becomes Her
I will admit I'm not a big Meryl Streep fan but most of her work has been in the field of drama and as a result it was kind of odd to see her in a comedy. Granted, the comedy was not one of the best and the campy way in which was run left many people a little shocked as they wondered why she'd ever agreed to star in it in the first place, but overall it wasn't the worst, just close to it.
4. Robert DeNiro-Meet The Parents
Taxi Driver, The Godfather II, Hide and Seek, none of those seem to inspire any levity. DeNiro is definitely the kind of guy you go to when you need a hard-hitting A-lister for drama and effect. But when he played Jack Burns in Meet The Parents he was surprisingly on point and was one of the best characters despite the fact that his character had to be so uptight.
3. Tom Cruise-Tropic Thunder
A lot of people actually had to rewind and make sure of what they were seeing when Tom Cruise popped up in this movie. Never in the history any Tom Cruise movie has he appeared bald and fat, so it was understandable that people were severely confused when they saw him in this state and actually realized that it WAS him. Talk about taking on a new persona for a role.
2. Steve Buscemi-Mr. Deeds
Buscemi kind of has the face of a person you would assume is made for comedy, but in truth he's done a lot of dramatic work throughout his life. Seeing him as Crazy Eyes was a lot of fun since it meant he could just say some off the wall stuff and get away with it because he looked absolutely nuts. This wasn't his best role, but it was still extremely funny.
1. Alan Rickman-Galaxy Quest
Yet another serious actor that you wouldn't expect to see in a comedy, the late Alan Rickman was arguably one of the best actors of his generation. He was severely underrated and didn't receive nearly as much attention as he should have. In Galaxy Quest however he was definitely one of the high points of the film.
Serious actors can hang loose and be funny too.
Save