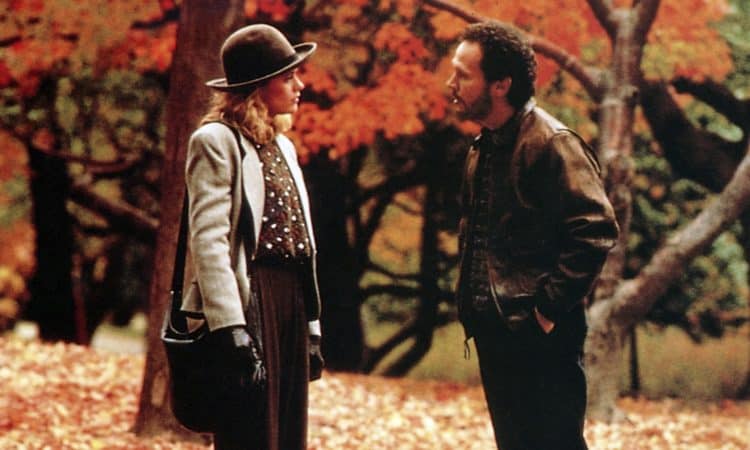 It's not easy being dubbed as "America's Sweetheart". There are big shoes to fill and high expectations to meet. The discerning audience are not easy to please, and the box office numbers don't lie. One of the actresses who came and conquered the rom-com space and captured the hearts of viewers all over the globe was Meg Ryan. The actress easily became one of the most revered sweethearts of the 90's, who was known for her portrayals of relatable female characters. Most of her films have stood the test of time, and are still considered to be the holy grail of rom-coms up to this day. It's undeniable that they will remain to be for the years to come. Here are five scenes from the actress' romantic films that taught us about finding "the one":
5. Sleepless in Seattle
The scene in the film where the two main leads, Sam Baldwin, portrayed by Tom Hanks (Captain Phillips) and Annie Reed, portrayed by Ryan, finally meet is heartwarming in so many levels. Sam and Annie first crossed paths in the most unexpected of circumstances. Sam is a widow who is having a hard time getting over the untimely death of his wife, while Annie is an engaged woman who got caught up in Sam's story after hearing his son, Jonah, portrayed by Ross Malinger (Toothless), talk about finding a new wife for his father on a talk-radio program. The film is all about fate, and how the universe can work wonders for two people who are destined to be together. Second chances and new beginnings are within reach only if you decide to take that leap of faith and follow your heart. It's the perfect movie for hopeless romantics who believe that "the one" will find you when you least expect it.
4. When Harry Met Sally
The classic film about two old friends who fall in love speaks volumes about how friendship is a vital ingredient in a long-lasting romantic relationship. The scene where Harry Burns, portrayed by Billy Crystal (Analyze This), realizes that he is in love with his best friend, Sally Albright, portrayed by Ryan, is so memorable as was able to tie the movie together beautifully. The film covered the different time periods in Harry and Sally lives, as they go through self-discovery and enter into different relationships of their own. Time passed, but their friendship remained to be constant and steadfast. This served as the perfect foundation for a lasting relationship. At the end of the day, you want a partner who you can talk to about anything under the sun, make you laugh, and complement you in more ways than you can imagine.
3. Kate and Leopold
The romantic comedy fantasy film literally travels through time, as a physicist named Stuart Besser, portrayed by Liev Schreiber (Ray Donovan), accidentally pulls his great-grandfather, Leopold, portrayed by Hugh Jackman (The Greatest Showman), through a time portal which transports him from the 19th century to present day New York City, where he meets and falls for Stuart's ex-girlfriend, Kate McKay, portrayed by Ryan. The scene in the film where Kate decides to travel back to the 19th century to be with Leopold shows how true love can transcend space and time. Hurdles and setbacks don't stand a chance when destiny comes into play. A lot of things are beyond our control, and this includes who we fall in love with.
2. City of Angels
The film deals with the supernatural and afterlife in the most romantic way possible. Ryan portrays the role of Dr. Maggie Rice, a surgeon who goes above and beyond in her job, while Nicholas Cage (Con Air) portrays the role of Seth, an angel who is tasked to watch over and protect humans. Seth falls in love with Maggie and decides to transition into a mortal being to be with her. The scene where Maggie gets into an accident during the time when Seth is finally human is heartbreaking beyond measure. What was supposed to be a happy ending turned into a tragedy for the couple. The film shows us that time spent with the person you love, no matter how limited, is still precious and worth having than not getting to know each other and experiencing love at all.
1. You've Got Mail
Pen pals and chatmates may sound like things of the past, but this film is able to take its viewers into a time when everything was much simpler. The dial-up internet and email conversations are nostalgia at its finest. The storyline follows the online romance of Joe Fox, portrayed by Tom Hanks (Saving Mr. Banks) and Kathleen Kelly, portrayed by Ryan, who turns out to be fierce business rivals. The scene towards the end of the film when Joe finally reveals that he is the person who has been chatting with Kathleen all along could melt even the coldest of hearts. The two characters might have butted heads in business, but they both knew deep inside that they wanted to be with one another. The film shows how unpredictable love can be, and how your soulmate might be closer than think.
Tell us what's wrong with this post? How could we improve it? :)
Let us improve this post!