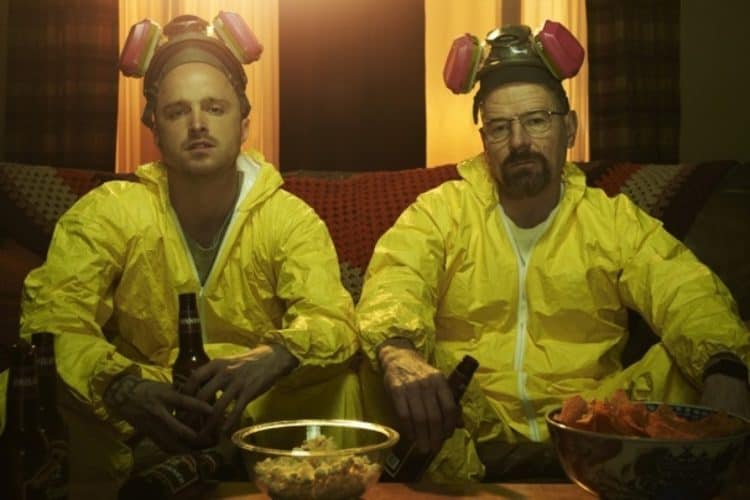 Series withdrawals are a real thing. Whenever great television shows come to an end, fans don't really get over it. Saying goodbye to your favorite characters somehow feels like a break up of some sort. It's also unavoidable to have episode flashbacks from time to time. Overall, it's a surreal experience that is well worth it. One epic series that ended with a bang almost a decade ago, but is still talked about up to this day is AMC's, Breaking Bad. The series has grown to become a benchmark for quality television, and there has been nothing quite like it. Frankly, I'm glad to see it stay this way. Here are five reasons why we are missing the crime drama series bigtime:
5. Two words. Walter White
Bryan Cranston (Malcolm in the Middle) hits the bullseye in his portrayal of Walter White, a high school chemistry teacher turned meth kingpin named Heisenberg. The transition from a nerdy and innocent middle-aged man into a destructive mad genius has gained the approval of critics and fans all over the world. As a viewer of the show, it's not difficult to understand the complexity that is behind this shift in character. Heisenberg may have made some bad decisions and done some nasty things, but if you look at the bigger picture, there was always a purpose involved. Going through the entire 5-season journey alongside Walter has been worth every minute. He started the show as predictable and easily manipulated, but ended it by becoming one of the iconic characters of 21st century television history.
4. The dynamic duo of Walter White and Jesse Pinkman is irreplaceable.
It is safe to say that there won't ever be another mentor and mentee relationship like Walter White and Jesse Pinkman. Selecting Bryan Cranston and Aaron Paul (Big Love) to play these characters might best casting decision ever made. I guess it's true when they say that some people were just born to play certain parts. The dynamic duo eased into their roles so naturally, it made it hard to distinguish reel from real. They gave one of, if not the best, performances of their careers in the series, and this definitely did not go unnoticed. Their tumultuous love-hate relationship might have been stressful and heartbreaking, but the light-hearted moments they shared definitely made up for it. Seeing them as real-life buddies is also equally as heart-warming.
3. The series produced the best antagonists.
The series did not fall short of colorful and memorable antagonists from the first season until the last. Who could Krazy-8, a small-town drug dealer who the then inexperienced Walter and Jesse first had to deal with? Or Hector Salamanca, the feared and revered high-ranking member of the cartel? The most memorable would have to be the calm and collected Gustavo Fring, portrayed by Giancarlo Esposito, (Dear White People), a restaurant chain owner who turned out to be a big-time drug distributor for the Mexican cartel. The list can just go on and on. What made these characters stand out were their back stories that the show's creator so generously imparted to his audience. It pays to know where a character came from, and what events in his life pushed him to become the person he is today. This gives the viewers a better understanding and a clearer picture of the whole scenario. This attention to detail is just one of the reasons why the series was able to produce so many memorable characters.
2. The storyline is a work of art.
Consistency is key. This has been proven time and again in the series. The show's creator, Vince Gilligan, is a true craftsman, as he was able to meticulously tie the entire story together from start until the end, without skipping a beat. Search all you want, but it's unlikely to find loopholes in the show. Who knew that it would be possible to intersect the field of science with criminality? The series followed Walter White and his student, Jesse Pinkman, as they entered a life of crime in order to make ends meet. Their pursuit became larger than life, and before they knew it, they were already entrapped in the dangerous criminal underworld filled with unscrupulous characters. The storyline was a slow burn that just got better with time. The build-up eventually led to cliffhangers and plot twists that were a league of its own
1. Top-notch character developments
Love them or hate them, but each character, no matter how annoying, had their own contribution and importance to the storyline. The biggest character developments were seen in Walter and Jesse as their lives took on a 180-degree turn when they decided to make their own meth and sell it. The lives of the people around them were not spared, as well. The beauty of the series also revolved around its flawed characters, who understood that every decision they made had corresponding consequences, but who were also not afraid to own up to it. This is most evident in Walter's journey. The characters, just like the entire series, were carefully crafted and well-thought off until the very end.