'Can you cook Walter's formula?'
That phrase has become a death sentence on this show and the ramifications of the scene it was asked in are going to open yet another chapter in Breaking Bad's story. For the past three seasons, it has been Jesse and Walt against the world. They may not have been cut from the same cloth initially, but they both realized that protecting the well-being of the other man was as important as protecting their own. But that was then and this is now and now the time of Jesse and Walt being on the same side has seemingly come to an end.
Each and every time that Jesse or Walt had a chance to come clean with each other and didn't, I felt that this season was going to be very different from the others in the run of the show. By now there has been so much deceit and mistrust going on between the pair that it really feels as though their partnership is irreparable. Watching the scene I felt physically sick to my stomach at the raw ugly emotion on display and that was before Jesse made the first strike. Watch just that scene again and it's like viewing a theater workshop of a particularly violent play. Pay attention to not only the dialog and the visceral emotion behind every word but also look at how Cranston and Paul move toward and away from each other to highlight that dialog. I've watched Jesse get emotionally and mentally torn into by Walt over and over again in the aftermath of Gale's death and I knew that one day he wasn't going to take it. But I never really figured it would come down to a fist fight between the two men as much as I figured that one day Walt would need Jesse and find himself without his former partner's help–Jesse all but begged for Walt's before the two men were literally at each other's throats.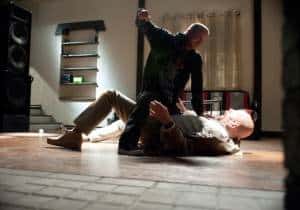 It's not like the duo hasn't ever come to blows before; in fact, back in the beginning of the show they had an altercation in the RV. During that particular fight scene it was both funny and sad to have this sort of thing play out–a wheezing Walt in the midst of his cancer treatment fighting Jesse sloppily in the back of the RV without throwing much of a real punch as that's just not who he was at the time. This time there wasn't anything funny about watching the two former partners at their absolute last straw with each other. Now that he's seemingly pissed off Jesse for the last time, (I've been waiting for Breaking Bad to get one of those nifty bleeped-out extended cable '˜F'words, and the way it was used worked perfectly), I have no idea who could still be on his side.
Except there's always Hank isn't there? Walt's brother in law will not let up, and in fact he just keeps finding newer and better ways to be a pain for Gus. The best parts of this plotline are two-fold. First of all, it's really been something to see the effect that pushing one new character onto this part of the game-board has had on the events and the motivations of characters that've been playing there for a while. Gus has enemies south of the border and it still hasn't inspired as much panic as to get people to clear out the distribution center, or have Mike double-check that he's as untraceable as he wishes to be with his records in Chile that Hank's attentions have. Secondly, Hank always manages to bring some levity to the rather dark proceedings of the show and he's in fine form this week as he recklessly drags Walter along on his informal investigation like it's just some fun lark to get them both out of the house.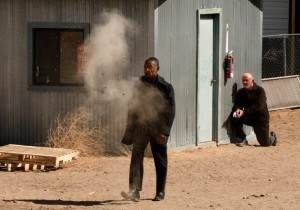 All I have to say at this point is, who is this man who walks into a hail of bullets and the shooter refuses to fire directly at him? Why is Gus such an important man that the cartel knows his past, but no one legitimate, like law enforcement, can? Gus is sure that Hank won't be the one to bring him down but who knows? Especially with this weird notion in my head of Walt reaching out to the only person he has left in Hank in order to take Gus down while keeping himself safe. It's easy to say that Hank would haul Walt off to prison, but I never doubt the manipulative prowess that got an ex high school teacher as far as he has, to take him anywhere he wants to go. Remember, Walt believes that you can never give up control and if I can think of a play to keep him from losing this game then I'm pretty sure he will as well. I don't think it would take much to convince Hank that Gus was Heisenberg and then make sure that Gus never has a chance to say otherwise. Just don't forget to compromise the hard drive of Gus'computer, Walt or you're really going down this time.
Normally I don't make much mention of Skylar White's activities in these columns. It's not that I don't care for them, it's that lately she's been lightly featured when there are so many other goings-on that bear covering. But I really loved her bit with her ex-boss Ted this week, as the books she cooked for his business came back to haunt her when he was given a notice that he would be subject to an audit. Her handling of the situation was fairly ingenious and I thought showed that she and her sister Marie both have a penchant, or perhaps a pathological talent, for spinning b.s. The writers get absolute credit for having this pop back up into their lives again as it would just be too funny that while the boys are out shooting at each other and hitting one another–this entire mini-empire of Walt's could crumble because of a tax investigation into his wife's financial doings with a former employer that could easily find its way to getting too close to home. Remember how they brought down Al Capone? Exactly, tax crimes. These sorts of investigations as Skylar warned about, allow the government to tap phones, monitor mail, and go into all of your financial records–all really potentially incriminating things to have happen anywhere near Walt.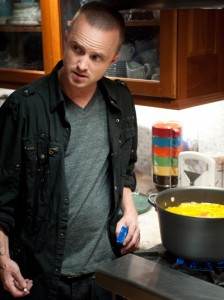 Next week it seems that Jesse is firmly on Gus'team and headed down to Mexico. I really don't think that trip is going to go well at all, but I think that given the chance to, Jesse is going to surprise some people with what he's capable of. A list that's grown so much even in the past year and if Walt could recognize how much his former partner's changed then maybe things wouldn't have gotten as bad as they have. I don't think it will be Jesse, but someone will definitely come home from Mexico in a barrel–there's just no other way in this business. As for Walt he needs some sort of friend and fast or he's going to wind up dead before the cancer can kill him. Speaking of…did anyone else want to know what was going on with his smoking a cigarette when the man is supposedly still in remission? I'm waiting for him to have a big reveal about his state of health before the season's out and that is getting to be very close indeed.