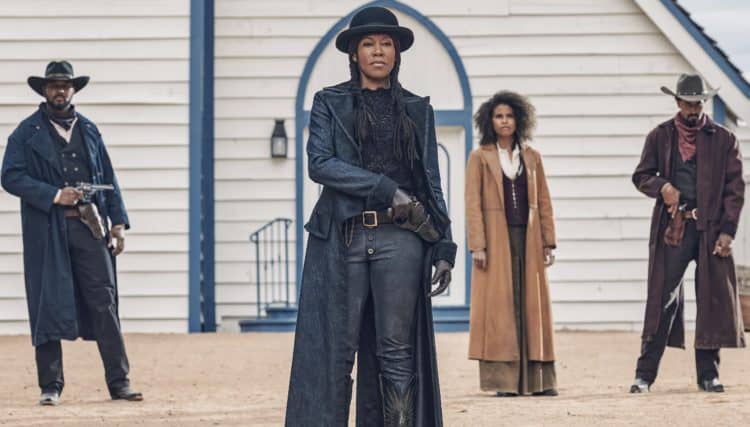 Western films hold a special place in cinematic history. This classic genre has grown in leaps and bounds through the years, and has gone on to be one of the most popular and well-loved film categories in Hollywood. It has produced protagonists, who are now revered icons, by the likes of John Wayne, James Stewart, Henry Fonda, Clint Eastwood, and so many more. Fans of the well-loved genre are invited to embark on another epic adventure. The Western remake of The Harder They Fall is coming to town. Here are five reasons why the film makes for a groundbreaking Western:
5. The brains behind the film are able to bring something new to the table.
The brains and names behind the Western are a confluence of great minds and artistry. The film is directed by Jeymes Samuel, who is more commonly known by his stage name, The Bullitts. Apart from being a filmmaker, Samuel is also a known singer-songwriter and music producer. He has incorporated his love for film and music by accompanying most of his music releases with short films. He has also served as an Executive Music Supervisor for Baz Luhrmann's The Great Gatsby remake. Another famous musician that is part of the production side of the film is renowned rapper, songwriter, and media mogul, Jay-Z. Having artists like Samuel and Jay-Z at the helm of production brings a whole new flavor and soul to the film. Westerns usually follow a certain formula, but it's evident that this film is about to elevate the genre by testing new waters.
4. A classic plot with a modern twist.
It's already obvious just by watching the film's official trailer that this is not your regular Western film. The treacherous characters are introduced donning fierce outfits, and even fiercer attitudes. Put all this together and tie it up with a badass soundtrack that will get your blood pumping. This reinvention came just in time, as the Western movie world has lied low in the recent years. The recent actions films are already filled with computer generated imagery and other advanced filming techniques. It's about time viewers are entertained by classic fight scenes, without machine guns and high-tech explosives, once again. The film follows the lives of two outlaws, Rufus Buck and Nat Love, who are members of opposing gangs. The two men go way back, as Rufus is responsible for killing Nat's parents decades ago. Forgiving and forgetting are not part of Nat's nature, and he is hellbent on getting revenge. He, together with his gang, are determined to track and end Rufus once and for all, but this is easier said and done since Rufus is also backed by loyal allies who are down to get dirty for him. The rivalry is fierce, and a whole lot of bloodshed is to be expected.
3. Unconventional leads who will change the Western playing field.
How lucky are we to be able to witness more and more films celebrate diversity and inclusion. Unlike the traditional Westerns, the film is led by African-American actors. The characters that were once portrayed to be oppressed, are now the center of attention. This certainly breaks barriers, and opens the door to more similar opportunities. The ensemble is led by Jonathan Majors (Lovecraft Country), who plays Nat Love, while Idris Elba (Pacific Rim) plays Rufus Buck. Other cast members to look forward to include, Zazie Beetz (Easy), Regina King (Watchmen), Delroy Lindo (The Good Fight), Lakeith Stanfield (Knives Out), RJ Cyler (Scream), Danielle Deadwyler (The Haves and the Have Nots), Edi Gathegi (Startup), Deon Cole (Black-ish), and Damon Wayans Jr. (Let's Be Cops).
2. Viewers can look forward to explosive and action-packed scenes.
The film takes its action scenes to a whole other level. If you are looking to see some madness and carnage unfold, then you came to the right place. The fight scenes are a combination of classic gunslinging paired with some modern-day swag. Revenge is also an ongoing theme throughout the film. Be prepared to see the characters show no mercy, as rival gangs wreak havoc on one another. As in many other aspects of show business, it definitely takes a village for everything to come together. The same can be said for this film, as the actors work together to deliver truthful performances and action scenes that are obviously well thought off. It's not difficult to have high hopes for the film.
1. The chance to re-introduce the Western genre to a younger generation.
It's about time the younger generation, such as those belonging to the Millennial and Gen Z age groups, are exposed to the film genre their grandparents and parents grew up watching. Western movies are so much more than cowboys fighting off bad guys. The films' storylines usually run deep, and the lessons that come with it are certainly worth imparting. The protagonists are usually role models of chivalry and bravery, while the fight for justice is a common theme. The change in scenery is also a breath of fresh air. It's always fun to be able to travel back in time to an era where everything was much simpler. A break from the ordinary, albeit temporary. The Harder They Fall had its world premiere in the BFI London Film Festival last October 6, 2021, and is set to be released on Netflix by November 3, 2021. Buckle up and enjoy the ride.
Tell us what's wrong with this post? How could we improve it? :)
Let us improve this post!