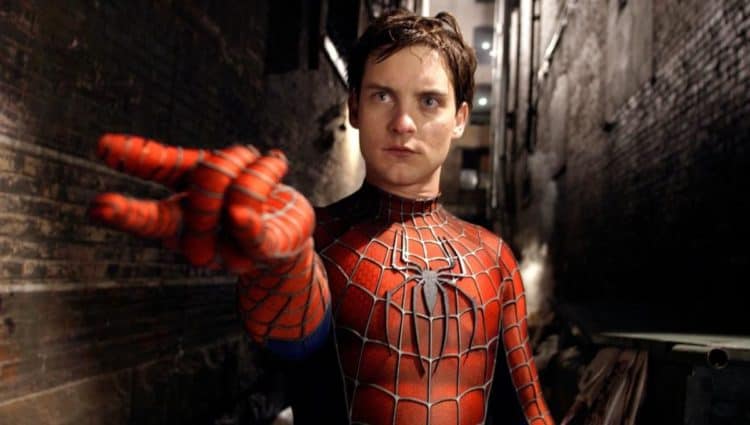 This is an idea that's been in the mix for a while since people have been debating who the best Spider-Man was since Tom Holland came on the scene. Tobey Maguire and Andrew Garfield almost feel as though they were forgotten when Holland came to be a part of the MCU, but in Spider-Man 3 it would appear that the gang is getting together for the first time to see just how things are going to shake out. What we're going to expect for this movie is hard to say since it would appear that people are all about the jokes when it comes to who's being tossed into the mix and who will make the cut versus who won't. The fact that Spider-Man has so many villains to pick from doesn't really help, but it also opens up a lot of possibilities, though whether we'll see Tom Hardy's Venom is hard to say since it feels that Sony might not be too psyched unless there are secrets that we haven't been given about this movie yet since it is crossing universes and there's no telling who exists in which universe at this time.
Here are a few reasons that we're pumped for Spider-Man 3.
5. The number of villains should be insane and impressive.
There can't be just one villain this time around since if there are three Spider-Man characters then it's going to need an array of villains that know something about how to fight Spider-Man and what they can do to neutralize the web-slinger. It looks as though Electro will be coming back, maybe Doctor Octopus, possibly the Green Goblin, maybe even Sandman, or a Venom of some sort. It's kind of hard to say just how many villains will be packed into this movie since the enemies that Spider-Man has amassed over the years can't be easily counted given that he's taken on some of the toughest villains in the Marvel universe.
4. A further look into the multiverse should be interesting.
It'll be fun to see how this idea is pulled together since mention of the multiverse has already been given in past MCU movies and it's the basis for one movie that's coming up eventually. But to bring older versions of Spider-Man into the mix will be great since it will show that no matter how alike they are there are definite differences that make them very unique. It doesn't feel as though we'll be seeing every version of Spider-Man this time around, but it does feel as though the story is going to follow the idea that there will be multiple Peter Parkers that will find a common thread to their stories.
3. Tobey Maguire could be the most seasoned of the bunch.
There's actual artwork depicting Maguire as the old man version of Spider-Man and it's kind of great to see since he is the elder statesman of the franchise at this point considering that he brought the most convincing look to the screen before Garfield and Holland. But if he's the older Peter Park it stands to reason that he's also going to be the most disillusioned of the bunch since he'll have seen it, done it, and been there a time or two and might be growing tired of the costume and responsibility. That could be a lot of speculation, but it will be nice to find out when the movie finally comes around.
2. Maybe we'll see Spider-Gwen in live-action.
A lot of fans would go nuts if this were the case and a moment with Gwen Stacey was actually revealed. It does feel as though Emma Stone could still be a perfect fit for the role since her attitude and time as Gwen Stacey in Andrew Garfield's version could be what's needed to really pull this thing together. It might not happen but one can easily assume that fans would love it if something along these lines did occur, simply because Spider-Gwen is one of the most popular Marvel characters to come along in quite a while. If nothing else, it would increase the level of excitement that people already have when it comes to this movie.
1. Seeing all three Spider-Man's together will be awesome.
Just admit it, seeing Maguire, Garfield, and Holland together will be all kinds of awesome since thinking about what they could accomplish as a team is something that almost anyone should be able to see is going to be extraordinary, even for Spider-Man. The fact that it hasn't happened before has more to do with who had control of the character and what was allowable. But this would be enough to make some fans faint from the sheer pleasure of seeing one of their favorite heroes in all three forms that have seen live-action over the years.
It's bound to be an awesome movie.