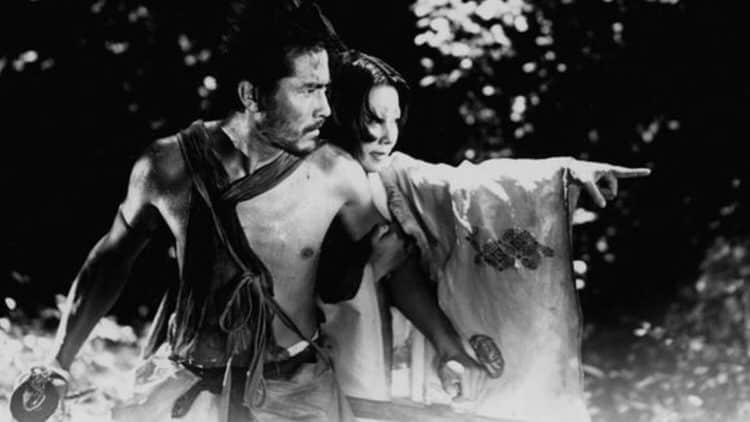 Akira Kurosawa is inarguably one of the best filmmakers to have ever graced the hallways of movie history. The director didn't just release some of the greatest movies ever made, but he also inspired an entire generation of directors, many of whom would find incredible success in their respective careers. Oscar-winning director Martin Scorsese once said: "Let me say it simply: Akira Kurosawa was my master, and… the master of so many other filmmakers over the years." Kurosawa also influenced the works of George Lucas, Steven Spielberg, and Quentin Tarantino. If you are new to the work of Akira Kurosawa, you are in for a magical treat. Here are five movie recommendations to anyone who's just getting started with Kurosawa's filmography.
Seven Samurai
Perhaps Akira Kurosawa's most recognizable film, which spawned multiple adaptations in the West, is Seven Samurai. The movie tells the story of a poor village that enlists the help of seven unemployed samurai to defend them from bandits who threaten their crops. Seven Samurai is often taught in film schools and is a must-watch movie for anyone seriously invested in learning film. The movie stars an ensemble cast, including Toshiro Mifune, Takashi Shimura, Keiko Tsushima, Yukiko Shimazaki, Kamatari Fujiwara, Daisuke Kato, and many others. Discussing the enduring legacy of Seven Samurai, Film School Rejects had this to say: "If you don't think Akira Kurosawa's Seven Samurai is the greatest action film ever made, then I humbly suggest you leave here now and go watch it again, because it is. It combines cinematic artistry with narrative proficiency, rich characters with graceful technique, and drama with adrenaline. It is a template not only for quality action films but quality films in general, and in the 63 years since its release its esteem has only amplified." The website also took note of the many succeeding films that it influenced, including The Magnificent Seven, Three Amigos, the Star Wars franchise and yes, even the Pixar animated movie A Bug's Life.
Rashomon
Rashomon may not be as popular as Seven Samurai, at least to casual moviegoers, but the movie is often considered Kurosawa's best, often contending with Orson Welles' Citizen Kane in lists of greatest movies ever made. Rashomon is a psychological thriller directed by Kurosawa and starring Toshiro Mifune, Machiko Kyo, Masayuki Mori, Takashi Shimura, and Minoru Chiaki. The movie won the Golden Lion, the highest award, at the Venice Film Festival. It also snagged an honorary Academy Award in 1952. The British Film Institute wrote about the movie's plot, and how the unfolding of the storyline was considered revolutionary during the time. "Central to the legacy of Rashomon is its revolutionary approach to plotting, which introduces narrative uncertainty by way of flashbacks depicting the conflicting accounts of a major dramatic incident from its 4 main witnesses. The script, by Shinobu Hashimoto, was a composite of 2 short stories by the modernist writer Ryunosuke Akutagawa (1892-1927). Its main dramatic incident – the violation of a noblewoman and the murder of her samurai husband in a secluded forest clearing, and the subsequent attempts to get to the elusive truth behind who perpetrated the crimes – were derived from the 1922 story 'In a Grove'. Akutagawa's shorter 1915 mood piece from which Kurosawa's film takes its name describes the atmospheric setting of the Rajomon gate, which marked the southern exit from the ancient capital of Kyoto leading to the dark lawless wilderness beyond."
Drunken Angel
Drunken Angel was one of Kurosawa's first films, after a lengthy stint as an assistant director on other movies. It's also the first film in which he cast the little-known actor Toshiro Mifune, sparking a professional relationship that would go on for another 15 films. A Japanese yakuza film, Drunken Angel tells the story of an alcoholic doctor who treats a yakuza, which leads to an unlikely friendship between the two. The success of Drunken Angel lifted Kurosawa's name in moviemaking circles, making him one of the most bankable directors during the time. A review of the film for Dallas Morning News (via Rotten Tomatoes) wrote: "Considered by many to be Akira Kurosawa's directorial breakthrough, the movie that introduced Kurosawa the artist to the world." It currently holds a 93 percent fresh on Rotten Tomatoes.
Ikiru
Ikiru is a 1952 film that depicts the story of a government employee who discovers he has stomach cancer. Learning his inevitable fate, he decides to commit to one act of goodness. The movie stars Takashi Shimura, Nobue Kaneko, Shin'ichi Himori, Haruo Tanaka, Minoru Chiaki, Miki Odagiri, and many others. The movie garnered critical acclaim and snagged various awards from film festivals, including the Berlin International Film Festival, Kinema Junpo Awards, Mainichi Film Awards, and Japan's Ministry of Education. A 1960 review of the movie by The New York Times' Bosley Crowther wrote: "FOR a varied and detailed illustration of middle-class life in contemporary Japan, with a good deal of caustic social comment and extra thick sentiment thrown in, Akira Kurosawa's "Ikiru" ("To Live"), which opened at the Little Carnegie yesterday, is the best of the series of Japanese films that Thomas J. Brandon has shown at that theatre in the last several weeks. It is also the most expressive in its cinematic style, and if it weren't so confused in its story-telling, it would be one of the major postwar films from Japan.As it stands, it is a strangely fascinating and affecting film, up to a point—that being the point where it consigns its aged hero to the great beyond."
Ran
Ran is Akira Kurosawa's final epic film, although he would go on to direct three more movies after. It's also considered one of his best. With production costing up to $11 million, it was the most expensive film produced in Japan during its time. Ran is inspired by William Shakespeare's King Learand starred Tatsuya Nakadai, Akira Terao, Jinpachi Nezu, Daisuke Ryu, and Mieko Harada. Ran received universal acclaim during its release. A review by the New York Times took note of Akira Kurosawa's enduring prowess as a filmmaker, decades after Rashomon and Seven Samurai. "With the popular success of "Ran," it's clear that Kurosawa remains a glorious anachronism -an independent, self-absorbed artist in a field that's totally dependent on profits from investments that (considering all of the other needs of our society) are unconscionably extravagant. Yet he doesn't make movies that, by the stretch of anybody's imagination, could be said to possess built-in appeal."
Tell us what's wrong with this post? How could we improve it? :)
Let us improve this post!