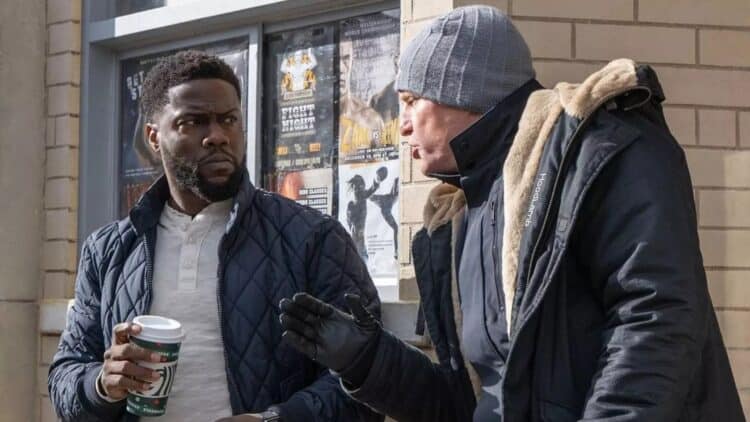 The Man from Toronto is a 2022 American action comedy film directed by Patrick Hughes. The plot follows a New York City screw-up named Teddy who is mistaken for the "Man from Toronto", a mysterious assassin. Antics ensue as Teddy tries to keep up the charade and avoid getting killed himself. The film stars Kevin Hart and Woody Harrelson and the all-star cast also includes Kaley Cuoco, Jasmine Mathews, Lela Loren, Pierson Fodé, Jencarlos Canela, and Ellen Barkin. The Review Geek praised the comedic duo saying, "
Kevin Hart and Woody Harrelson are two of the most creative and capable performers in the comedy genre in Hollywood. Even if a joke is not funny, the way they deliver it makes it so." If you're looking for more buddy comedy films after watching The Man from Toronto, here are five movies we recommend watching.
The Hitman's Bodyguard
&ab_channel=ZeroMedia
From the same director of The Man from Toronto, the action-packed buddy comedy The Hitman's Bodyguard follows the unlikely partnership of a bodyguard and a hitman. Ryan Reynolds stars as Michael Bryce, a once-successful bodyguard who has fallen on hard times after a high-profile client is assassinated. Desperate for work, he accepts an offer to protect Darius Kincaid (Samuel L. Jackson), a notorious hitman who is set to testify against ruthless dictator Vladislav Dukhovich (Gary Oldman). As the two men embark on a life-threatening journey from England to The Hague, they must put aside their differences and work together if they hope to make it to the trial alive.
Along the way, they are pursued by Dukhovich's henchmen and are constantly at odds with each other. The Hitman's Bodyguard is a hilarious and thrilling ride that will keep you entertained from beginning to end. Common Sense Media gave particular praise to the lead performances and wrote, "No one's performance is a stretch: Jackson is a quick-witted, foul-mouthed, eyebrow-raising assassin who justifies his work, a role he's been perfecting since Pulp Fiction, while Reynolds is a sharp-tongued, super-detailed bodyguard who can't stop talking. No surprises there, but there was no guarantee the two stars would click, and they do."
Central Intelligence
&ab_channel=MovieclipsTrailers
Another comedy film that stars Hart is the 2016 American buddy action comedy film Central Intelligence directed by Rawson Marshall Thurber and written by Thurber, Ike Barinholtz, and David Stassen. The film stars Kevin Hart and Dwayne Johnson as two old high school classmates who go on the run after one of them joins the CIA to save the world from a terrorist who intends to sell satellite codes. The two old friends must put aside their differences and work together to save the world from disaster.
Central Intelligence is an action-packed comedy that will have audiences laughing and cheering from beginning to end. RogerEbert.com reviewed the film and wrote, "It's the kind of movie that you watch on TV when you're supposed to be doing more important things, or experiencing more important movies, even though you've already seen it ten times, because it's still funny, and because you believe in the big man and the small man that he looks up to."
The Other Guys
The Other Guys is a 2010 American buddy cop action comedy film directed by Adam McKay. The film stars Will Ferrell, Mark Wahlberg, Michael Keaton, Eva Mendes, Steve Coogan, Ray Stevenson, Samuel L. Jackson, and Dwayne Johnson. The film was released on August 6, 2010. The film grossed over $170 million worldwide. The plot follows two New York City police officers, Detective Allen Gamble (Ferrell) and Detective Terry Hoitz (Wahlberg) who stumble upon the opportunity to nail a group of criminals responsible for a multi-million dollar heist, they jump at the chance to prove themselves to their colleagues finally.
However, as the detectives get closer to solving the case, they discover that things are not always as they seem. The Other Guys is an entertaining buddy cop action comedy that will leave audiences laughing from beginning to end. The chemistry between Ferrell and Wahlberg is excellent, and the supporting cast is also terrific. The Guardian gave a five-star review of the film describing it as a "relentlessly silly, tasteless and very funny story." The Independent Critic commended Ferrell's performance saying, "The Other Guys is, however, Ferrell's freshest, hippiest, liveliest and funniest film in quite some time and proof that the perpetually infantile comic may have finally figured out a way to grow up cinematically without losing his faithful fans."
Hobbs & Shaw
Fast & Furious Presents: Hobbs & Shaw is a 2019 American action film directed by David Leitch. The movie stars Dwayne Johnson and Jason Statham as the titular characters Luke Hobbs and Deckard Shaw, respectively. Additionally, Idris Elba, Vanessa Kirby, Eiza González, Cliff Curtis, and Helen Mirren play important roles in the film. The plot follows the unlikely pairing of Hobbs and Shaw as they team up with Shaw's sister (Kirby) to battle a cybernetically enhanced terrorist (Elba) threatening the world with a deadly virus.
Fast & Furious Presents: Hobbs & Shaw was met with mostly positive reviews from critics, who praised the performances of Johnson, Statham, and Elba, as well as the action sequences. In a review by Empire they wrote, "Despite some jokes falling flat, Hobbs & Shaw is still a thrilling, nitrous-powered charm machine with Johnson and Statham having a hell of a time at the wheel."
The Nice Guys
The Nice Guys is a 2016 American neo-noir buddy action comedy film directed and co-written (alongside Anthony Bagarozzi) by Shane Black, produced by Joel Silver, and starring Russell Crowe and Ryan Gosling in the title roles with Angourie Rice, Matt Bomer, Margaret Qualley, Keith David and Kim Basinger in supporting roles. Set in 1977 Los Angeles, the film focuses on a private eye (Gosling) and a tough enforcer (Crowe) who team up to investigate the disappearance of a teenage girl (Qualley). Through their investigation, the two uncover a conspiracy reaching the highest levels of power.
The Nice Guys is a fast-paced, comedic take on the classic noir detective story, with Gosling and Crowe playing off each other perfectly. If you're looking for a light-hearted romp through '70s Los Angeles, then The Nice Guys is the movie for you. Rolling Stone gave particular praise to the lead performances and wrote, "But the two stars are the main attraction and they mix it up with bungling good humor. Loosey-goosey looks good on Gosling. And Crowe, out of Gladiator shape, relaxes into his role with the pleasurable nonchalance of an acting giant on a holiday."