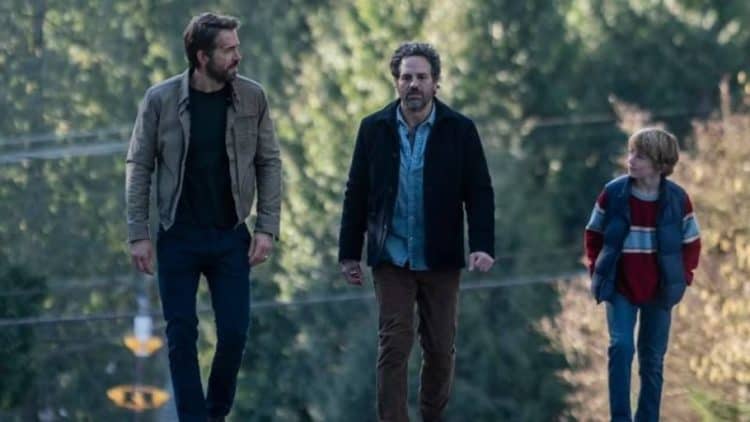 The Adam Project, which premiered on Netflix last March 11, became one of the trending movies last week. The American science-fiction action film is directed by Shawn Levy, who is known for directing Stranger Things and Free Guy, which Ryan Reynolds also starred in. The screenplay for The Adam Project was written by Jonathan Tropper, T.S. Nowlin, Jennifer Flackett, and Mark Levin and the film stars Ryan Reynolds, Mark Ruffalo, Jennifer Garner, Walker Scobell, Catherine Keener, and Zoe Saldaña. The film is set in the year 2050 and follows pilot Adam Reed, played by Ryan Reynolds, who crash-landed in 2022 where he encounters his 12-year old self. Together, they must go on a mission to save the future. In a review by Common Sense Media, they praised the film for its compelling themes about family. "The real surprise in this fun, layered, time-traveling action mystery is the tenderness with which family relationships and sentiments are handled…While the concept of time travel is nothing new (Young Adam's blue puffy vest could be a direct nod to Back to the Future's Marty McFly), the way it's handled here as a device for a more intimate character study is compelling." If you enjoyed the family-friendly sci-film and you're looking for similar movies to binge for the next weekend, here are five of our recommendations.
Back To The Future
If we're talking about time travel, there's no way we can't include the classic sci-fi film Back to the Future. The 1985 American science fiction film directed by Robert Zemeckis, and written by him and Bob Gale. It stars Michael J. Fox, Christopher Lloyd, Lea Thompson, Crispin Glover, and Thomas F. Wilson. The film is set in 1985, and the story follows Marty McFly (Fox), who befriends an eccentric scientist, "Doc" Brown (Lloyd). Through Doc Brown's experiment using the time-traveling DeLorean automobile, Marty is accidentally sent back to 1955 to a time when his parents were his age. He must now ensure his parents fall in love with each other in order for him to exist in the future and must find a way to get back to the future. The film is hailed to be one of the best science-fiction films ever made, and one of the greatest films of all time. It received several award nominations and won an Academy Award, Saturn Awards, and a Hugo Award. Aside from time travel being a common theme for Back to the Future and The Adam Project, both share themes about the importance of family. In an article by Vox, they described the film's themes of reconciliation saying, "Nobody's ever going to claim that Back to the Future is a movie of unparalleled depth, but in both the original film and its two sequels, the idea of generations reconciling with one another returns, again and again. Children are reconciled with their parents, then become parents themselves."
Free Guy
If you liked The Adam Project's humor and also enjoy Ryan Reynolds' performance in action movies, the 2021 action and comedy film Free Guy will certainly be entertaining, and if you're a gamer, it definitely will be a treat. The film is also directed and produced by Shawn Levy from a screenplay by Matt Lieberman and Zak Penn, and a story by Lieberman. The film also stars Jodie Comer, Lil Rel Howery, Utkarsh Ambudkar, Joe Keery, and Taika Waititi. The film centers on "Guy", played by Ryan Reynolds, who works in a bank and discovers he is a non-player character in an online game. One day he decides to carve his own path and be a hero and ends up teaming up with a real player who is on a mission to find something important within the game. The film received generally positive reviews and gained a nomination for Best Visual Effects at the 94th Academy Awards. The Guardian published a review of the film and wrote, "Tweens and teens will embrace the pinballing energy, the gamer-vlogger cameos and the fact that there are more Easter eggs than Cadbury World. But the film's reach is considerably wider. There are thematic parallels with everything from The Lego Movie to The Matrix, but key to its appeal is an unabashed sweetness and goofy enthusiasm that proves irresistible."
E.T.
Watching The Adam Project, especially the first parts of the film, it shares a similar vibe with the 1982 American science fiction film Extra-Terrestrial (E.T.). The film was produced and directed by Steven Spielberg and written by Melissa Mathison. The film stars Dee Wallace, Henry Thomas, Peter Coyote, Robert MacNaughton, and Drew Barrymore.The film tells the story of Elliott, a boy who befriends an extraterrestrial who accidentally crashlanded on Earth. Elliot, together with his friends and family must now find a way to help E.T. return home while keeping it secret, especially from the government. The film received critical acclaim from critics and is regarded as one of the greatest films of all time. It received nine nominations at the 55th Academy Awards, winning Best Original Score, Best Visual Effects, Best Sound, and Best Sound Editing, and also won five Saturn Awards and two Golden Globe Awards. In Roger Ebert's review, the film was highly praised for its visual effects and powerful imagination. "The E.T. is a triumph of special effects, certainly; the craftsmen who made this little being have extended the boundaries of their art. But it's also a triumph of imagination, because the filmmakers had to imagine E.T., had to see through its eyes, hear with its ears, and experience this world of ours through its utterly alien experience in order to make a creature so absolutely convincing. The word for what they exercised is empathy."
Tomorrowland
The 2015 American science fiction film Tomorrowland, directed by Brad Bird, also shares similar themes with The Adam Project and both portray their own versions of a futuristic world. The film was co-written by Bird with Damon Lindelof, from an original story treatment by Bird, Lindelof, and Jeff Jensen. The film stars George Clooney, Hugh Laurie, Britt Robertson, Raffey Cassidy, Tim McGraw, Kathryn Hahn, and Keegan-Michael Key. It follows the story of science enthusiast Casey Newton (Robertson) who stumbles upon a lapel pin that transports her to a modern world, called Tomorrowland. She asks for help from scientist Frank Walker, played by Clooney, who has been to Tomorrowland and together they go on a mission to uncover the alternate dimension's secrets. The Guardian reviewed the sci-fi film and shared how it tackles themes that are more real than fictional ideas. "Tomorrowland deals with threats far closer to the real world than, say, rogue superheroes or alien robots. It understands that utopia and dystopia are two sides of the same coin, and it's unafraid to ask big questions about what we want the future to look like and what we're prepared to do about it."
Meet The Robinsons
Another family-friendly film that is similar to The Adam Project is Walt Disney's 2007 American computer-animated science-fiction Meet the Robinsons directed by Stephen Anderson. The film features the voices of Anderson, Daniel Hansen, Jordan Fry, Wesley Singerman, Angela Bassett, Tom Selleck, Harland Williams, Laurie Metcalf, Nicole Sullivan, Adam West, Ethan Sandler, and Tom Kenny. It is loosely based on the 1990 children's book A Day with Wilbur Robinson by William Joyce. The film follows the adventures of Lewis, a 12-year old inventor who meets a young time-traveler named Wilbur Robinson from the future. Lewis spends a day with Wilbur's family and uncovers wonderful secrets. Reelviews reviewed the film praising the film for its humor and adventure saying, "It's fair to wonder whether young viewers will understand what's going on at times, since elements of Meet the Robinsons are based on tried-and-true time travel paradoxes. Then again, it may not matter. There's enough adventure and humor that understanding the intricacies of how a boy can alter his own time stream may not matter."