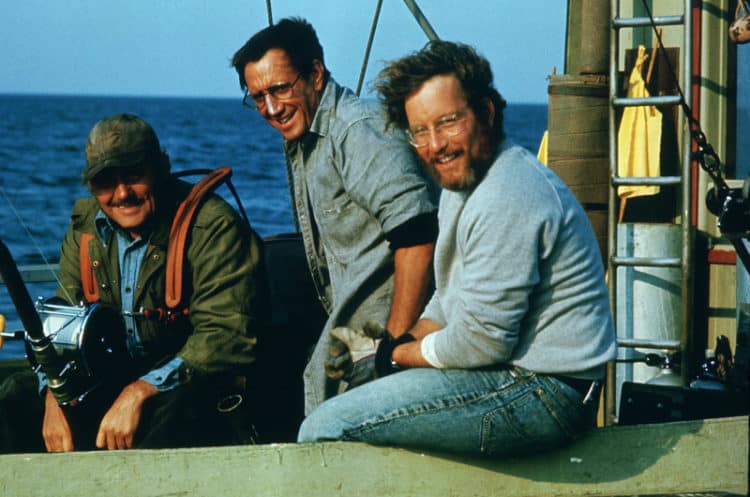 If there was ever such a thing as a film director that has just as much name recognition as a famous celebrity, Steven Spielberg is certainly that director. Since the early 1970s, Spielberg has left an imprint on popular culture in addition to an equally seismic imprint on the last half-century of filmmaking. Ever since he decided to direct what would become one of the most difficult films he ever made with Jaws in 1974, Spielberg's accomplishments have made him an indelible influence as well as a very wealthy man in the process. Jaws kicked-off what would become the summer blockbuster movie season, which is a trend he has followed ever since with one classic adventure film after the next. Starting in the 1980s, he proved that his versatility as a filmmaker and artist was assured when he ventured into dramatic filmmaking, and his cycle of adventure films and drama films has flowed smoothly ever since. 7 of his films are preserved in the National Film Registry and he has won 3 Academy Awards which many are surprised by thinking he has won more. Long story short, Spielberg, like Martin Scorsese, is an American filmmaker worth celebrating at every turn, and this list will display a subjective opinion on what his standout film for each decade is.
1970s: Jaws (1975)
Choosing between Jaws and Close Encounters of the Third Kind (1977) was a literal coin toss for me, but if there is one film out of Spielberg's 4 features in the 70s, it has to be the film that single-handedly invented the summer blockbuster. It may be difficult to comprehend that the influential and annual summer movie season was not a thing before 1975, but that stands as a testament to the thrill and surprise that this film leveled against filmgoers 46 summers ago. In addition to literally making everybody afraid to go in the water, up to and including swimming pools, the film itself is also a masterful display of Hitchcockian influence, in addition to being one of the finest, if not the finest, adventure films ever made. As a horror film, yes a horror film, Jaws' is consistently ranked as one of the best based on its ability to physically and mentally scare audiences, and all of this was due to Spielberg's direction which called for the unseen elements of the massive shark's presence to be highlighted more than the actual appearance of the shark. As much as I love Close Encounters, Jaws notches ahead in terms of influence but just barely.
1980s: E.T. the Extra Terrestrial (1982)
For anybody who grew up in the 1980s, this was the decade where Spielberg reached the stratosphere. The original Indiana Jones trilogy played out across the decade, and The Color Purple (1985) and Empire of the Sun (1987) saw the director succeed in the genre of drama with stunning effect. But a film about a small, friendly alien that lands on Earth and befriends a young suburban boy and his family called E.T. the Extra Terrestrial was the film that cemented the director as one of the all-time greats. Even if family films were not some early 80s audiences cup of tea, there was simply no denying the magnitude of this special film and now 40 years later, it still holds its place as a film of influence and cultural fascination. It's too unique to be overly sappy and its too emotionally devastating to be carefree and mindless. E.T. is similar to Star Wars (1977) in that it represents a rare film that becomes a classic just months after its release.
1990s: Schindler's List (1993)
Selecting Schindler's List was not a shoe-in for me; I was tempted to place Jurassic Park firmly in this slot, but at the end of the day, and although not a smooth viewing experience by any means, Schindler's List is a towering achievement in the century-plus now of filmmaking. Shot in black and white and featuring a bold and incredibly brave directorial style that finally won Spielberg a long overdue Best Director Oscar, this film's ability to show the best and certainly the worst of human nature in three hours of running time is an experience a viewer never forgets. There are very few detractors of this film, both at the time of its release and today, and surprisingly to some, this is one of the least-expensive and fastest to film of all of Spielberg's films since the very beginnings of his career before Jaws. Spielberg said that he needed a break after filming this movie, and if you have seen it, it is not hard to see why.
2000s: Munich (2005)
The 2000s were relatively lightweight for Spielberg in terms of sitting in the director's chair. He directed 7 feature films between 2000-2009, but some may be hard pressed to name drop any of these films. There are arguments to be made for Minority Report (2002) and War of the Worlds (2005), there are even some who really like Indiana Jones and the Kingdom of the Crystal Skull (2008), but for me, his best film this decade was the little-seen Munich from 2005. This film tells the story of a group of Israeli assassins tasked by the Israeli government to avenge the massacre of 11 Israelis by the PLO during the 1972 Summer Olympics in Munich, West Germany. Starring a career best Eric Bana in the lead role, the film is incredibly suspenseful, representing some of Spielberg's finest moments of suspense since Jaws, and it also packs an emotional punch as it explores the quest for vengeance once it collides with a person's own morality and humanity.
2010s: Ready Player One (2018)
If the 2000s were unmemorable, Spielberg's output in the 2010s wasn't much better. Of 7 feature films this decade, my selection as the best is actually one of Spielberg's most underappreciated recent films, Ready Player One. Released in the spring of 2018, the film failed to wow at the box office, but the visual effects, story, acting, important message, and pacing of the film are all first rate. Lincoln (2012) and Bridge of Spies (2015) were great, but the Oasis affected me more.