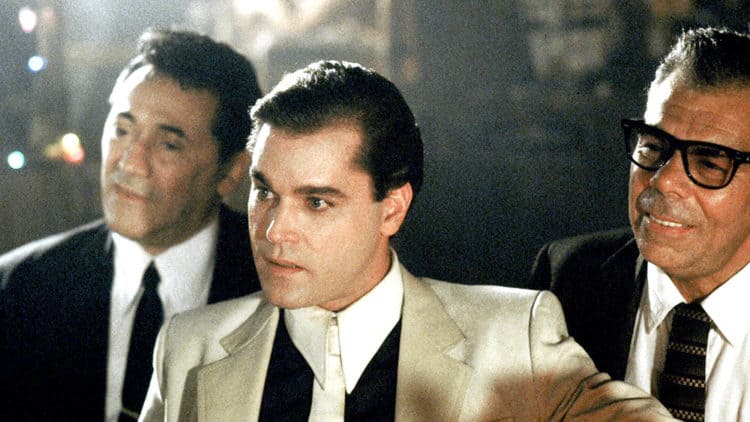 Along with Steven Spielberg, Martin Scorsese is an American filmmaker that is so celebrated and influential that it becomes impossible to try and equate his genius with any other filmmaker. In a filmmaking career stretching back to the late-1960s, Scorsese has left an indelible imprint not only on film history, but also on American popular culture as a whole. With 25 feature narrative films to his credit and many more documentaries, throughout multiple genres and explorations of nearly every facet of the human condition, Scorsese's filmography has very few if any duds, and even the duds (New York, New York) manage to say something profound under the surface. What are Scorsese's best films? This is a practically impossible question to answer since there is so much in each and every one of them. But there are some titles throughout the decades that manage to stick out the most. His first feature, Who's That Knocking at My Door? (1967) showed early promise, but as his only film of the 60s, it didn't leave enough of an impact. In this list, let's take a look at the best Scorsese film in each decade.
1970s: Taxi Driver (1976)
One can make a good case for Mean Streets (1973) as the best 70s Scorsese feature, but there is no denying the power and influence of 1976's Taxi Driver. Starring Robert DeNiro, Harvey Keitel, and a very young Jodie Foster, Taxi Driver is a film about the disintegration of identity in a society that moves on with the changing tides of post-Flower Power idealism in a dark and ultra-gritty NYC that practically nobody alive today under the age of 40 could ever conceive of. Travis Bickle's psychosis is framed exquisitely by Scorsese who brings Paul Schrader's nihilistic script to life with a tension-building, often disturbing visual mastery. If you have ever wanted to take a peak at what life is like for the deeply disenfranchised and misanthropic, this is the preeminent film to view.
1980s: Raging Bull (1980)
Scorsese began to branch out into many different genres in the 80s, but his first film of the decade is undoubtedly his best, and arguably the best of his career. Raging Bull is another outlet for Robert DeNiro who plays a visceral, hard-living boxer who strikes at everything wrong with American society with every punch he throws to his opponent. Many things have been written at length about this film with a high emphasis on its technical brilliance–Thelma Schoonmaker's rapid fire editing, and Michael Chapman's inventive cinematography, but its Scorsese's expert, searing direction of it all that shares equal praise with DeNiro's revelatory performance. DeNiro's Travis Bickle was his introduction to undeniably intriguing antiheroes, but his portrayal in Raging Bull of real life boxer Jake LaMotta is perhaps one of the most unsympathetic characters ever in mainstream cinema–but we simply cannot take our gaze off of him even when his actions and the subsequent consequences make us all squirm in our presumed virtuous hypocrisy.
1990s: Goodfellas (1990)
In the 1990s, Scorsese gave us a remake in Cape Fear (1991), a costume drama with The Age of Innocence (1993), and an Eastern-tinged exploration of the Dalai Lama with Kundun (1997), but there is no mistaking that Goodfellas is his best film of the decade. Goodfellas was Scorsese's return to the world of Italian-American organized crime after 1973's Mean Streets, and the result of this film is what some consider to be the single greatest film about organized crime ever, above and beyond even The Godfather (1972). While this is true, some of the greatest things about the film are the themes that are explored: dishonor, the cost of loyalty, greed and self-fulfillment, addiction, accumulation of material wealth to buy the affection of others, the death of the American dream, et al. Ray Liotta, Joe Pesci, and Lorraine Bracco all give some of the finest performances of their careers, and along with the brilliant filmmaking and heavy themes on display, the film is just all-around entertaining, which should always be the mark of any great film. One classic scene plays out after another, but for me, nothing will ever top when Robert DeNiro's character tries to persuade Bracco's character to enter a store down the street to select some dresses for her mother. We know, and Karen Hill knows, that going into the store is likely a death sentence for her, but Scorsese's mastery of the scene and its tension is overwhelmingly brilliant.
2000s: The Departed (2006)
Within the first decade of the 21st century, Scorsese slowed things down a bit and only made three films: Gangs of New York (2002), The Aviator (2004), and The Departed (2006). The latter film is undoubtedly the best of the three but there is a firm argument to be made for Gangs of New York as well. The Departed did find some reviewers suffering from Scorsese crime fatigue, but the film goes far beyond his previous crime film efforts and even explores corruption within law enforcement as well. It also had a few detractors who pointed out that despite its greatness, it was after all a remake of a 2002 Hong Kong film called Internal Affairs. But the film is immensely entertaining, and the performances alone, particularly Mark Wahlberg and Jack Nicholson, are towering enough to make this Scorsese's 2000s standout.
2010s: The Wolf of Wall Street (2013)
In the 2010s, 2019's The Irishman is a strong contender for Scorsese's best, but I simply cannot resist giving in to the wildly unpredictable and frenetic pace of The Wolf of Wall Street. Returning to the pace and tone he used for 1985's After Hours, Scorsese turns to ultra-dark comedy in addition to the highest count of the "f-word" in Scorsese film history. Despite its outlandish moments (and there are a lot), The Wolf of Wall Street is a rare film in how it allows us to see the repulsive antics of 80s Wall Street yuppies in all their glory, but it also takes a look at how we all have greedy impulses–no matter how much we try to hide it.