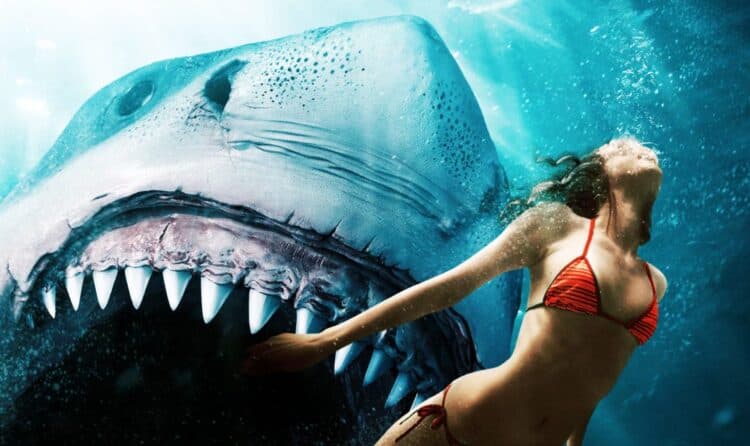 The latest shark horror film Shark Bait had its initial release last May 13, 2022. The movie follows a group of friends spending a fun weekend together who then decides to have a race to the sea using stolen jet skis. They end up in a collision that leaves one of their friends badly injured. Stuck in the middle of the sea, they face sharks lurking beneath the waters and must find a way to survive and find their way home to safety. The film is directed by James Nunn with a screenplay by Nick Saltrese and stars Holly Earl, Catherine Hannay, Thomas Flynn, Jack Trueman, and Malachi Pullar-Latchman. The film has received mixed reviews so far and in a review published by Eye for Film, they wrote, "It delivers well in the action scenes and, critically, presents the shark as an animal with a mind of its own rather than just a generic monster, making this a psychological as well as a physical battle between predator and prey. It's a set-up which emphasizes human vulnerability in an alien environment and forces its protagonists to change their way of thinking." If you like action-packed shark attack films and you're up for more thrilling shark films for the weekend, here are five of our movie recommendations.
The Shallows
The 2016 American survival horror film The Shallows, directed by Jaume Collet-Serra, written by Anthony Jaswinski, and starring Blake Lively follows Nancy Adams, a medical student who goes on solo travel after the loss of her mother. She decides to surf on a secluded beach but finds herself being attacked by a great white shark. Finding temporary safety on a giant rock in the middle of the ocean, she must find a way to stay alive. The film received generally positive reviews and was a commercial success. The Guardian praised the thrill that the film evokes saying, "The Shallows is a film begging for you to shout back at the screen, and while the premise is ridiculous, it's anything but dumb. Each step has an internal logic, shot in a clear and visually arresting manner."
Open Water
Open Water is a 2003 American survival horror thriller film loosely based on true events. The plot centers on the story of an American couple who takes a vacation and goes on a scuba diving tour. Unfortunately, they are accidentally left behind by their boat after briefly separating from the group. They find themselves surrounded by sharks and try their best to survive before rescue arrives. Reelviews wrote a review of the film and wrote, "The movie relies upon the audience's imagination for much of its horror – little blood or violence is shown on-screen. For those to whom this sounds intriguing, Open Water is worth a trip to a theater. Just don't plan any scuba-diving expeditions soon after." The Atlantic also praised the film's take on the genre saying, "Although the film contains relatively little on-screen bloodshed, its violence, both real and anticipated, is more harrowing than that of any cinematic gore-fest."
Sharknado
A shark film that adds more humor to the storytelling is the 2013 American television science fiction comedy disaster film Sharknado, directed by Anthony C. Ferrante. The plot centers on a shark-infested tornado that floods Los Angeles and follows a group of friends as they try to save people and the coast from the deadly sharks. The film was a hit and it led to five sequels: Sharknado 2: The Second One, Sharknado 3: Oh Hell No!, Sharknado: The 4th Awakens, Sharknado 5: Global Swarming, and The Last Sharknado: It's About Time. In a review published by Time, they praised the film's commercial success saying, "it's a deceptively tough feat that the makers of Sharknado pulled off: making a movie that's shlockily and campily hilarious without seeming to try too hard to make something shlockily and campily hilarious" They added, "This brilliantly executed concept–the title, the casting, the squiggly tornado CGI–was the most delicious chum, and we are creatures of instinct."
The Reef
The Reef is a 2010 Australian horror film written and directed by Andrew Traucki, his second feature film after Black Water. The film stars Damian Walshe-Howling, Gyton Grantley, Adrienne Pickering, Zoe Naylor, Kieran Darcy-Smith, and Mark Simpson. The plot centers on a group of friends sailing Australia's Great Barrier of Reef. Unfortunately, their boat hits a rock causing the ship to sink and they are faced with a choice to swim to the closest island or wait for rescue. However, things become more complicated when they find out they are stranded in shark-infested waters. The film received relatively positive reviews earning an 80% rating on Rotten Tomatoes with a critics consensus saying, "A gripping example of less-is-more horror, The Reef is the rare shark attack movie that isn't content to merely tread water."
Jaws
We can't have a list of shark movies without revisiting a classic. The 1975 American thriller film Jaws, directed by Steven Spielberg, and based on the 1974 novel by Peter Benchley, will always be a must-watch film. The first draft of the screenplay was written by Benchley and the final script by Carl Gottlieb. The film centers on a deadly great white shark attacking people at a summer resort town. A team that includes a marine biologist and a shark hunter gathered together by the town's police chief work together to catch the deadly predator. Jaws was a blockbuster and it received several accolades including three Academy Awards: Best Film Editing, Best Original Dramatic Score, and Best Sound (Robert Hoyt, Roger Heman, Earl Madery, and John Carter) and was nominated for Best Picture. John Williams's score for the film also won the Grammy Award, the BAFTA Award for Best Film Music, and the Golden Globe Award. It was also nominated for Best Film, Director, Actor (Richard Dreyfuss), Editing, and Sound at the 29th British Academy Film Award. In The Guardian's review archive, they wrote, "It isn't the best movie in the world but one consistently has the feeling that it knows its limitations and, instead of trying to transcend them, concentrates instead on getting the basics of good story-telling right."
Tell us what's wrong with this post? How could we improve it? :)
Let us improve this post!