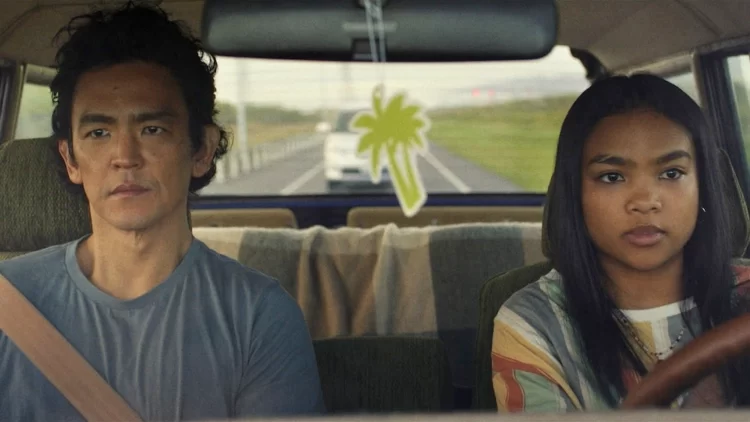 The adventure comedy-drama film Don't Make Me Go, written by Vera Herbert, directed by Hannah Marks, and starring John Cho and Mia Isaac, had its theatrical premiere at the Tribeca Film Festival on June 13, 2022, and was released on Amazon Prime Video on July 15. It follows a single father who, after discovering that he has a terminal disease, takes his reluctant teenage daughter on a cross-country road trip. The film follows their journey as they visit some of the father's old haunts and grapple with his impending death.
Along the way, they discover new things about themselves and each other, ultimately learning to accept the father's fate. Don't Make Me Go is a heartwarming and uplifting film about the power of family and the importance of living in the moment. It is sure to leave audiences laughing, crying, and cheering for more. In a review by The Hollywood Reporter, they gave particular praise to the lead performances saying,
"The character's boring-dad persona expands to take on new layers as he revisits old grudges and reveals buried truths, and Cho synthesizes them all into a single complex character. Isaac meets his sweetness with her own livelier take, and what shines through in their scenes together is an unassailable sense of affection, even when they get caught up in the usual teenage arguments about parties or college." If you enjoyed watching Don't Make Me Go, here are five films that are sure to make it to your heartwarming list of movies about father-daughter bonds, family, and adventure.
On The Rocks
Another film that explores father and daughter relationships is the 2020 American comedy-drama film On the Rocks, written and directed by Sofia Coppola. It follows Laura (Rashida Jones) as he reconnects with his father, Mac (Bill Murray), as she speculates about her husband's fidelity. The story is set against the backdrop of New York City, and Mac's larger-than-life personality shines through as he takes Laura on a wild adventure to figure out the truth. Along the way, they form a newfound bond and discover more about each other than they ever could have imagined. On the Rocks are a heartwarming tale of family, friendship, and self-discovery that will leave you laughing and smiling long after the credits roll. The Guardian published a review of the film and gave special mention to Murray's performance saying, "Murray is once again on deliciously deadpan form as the aging lothario who has spent his life chasing women, yet longs to be loved by the daughter he idolizes." They also praised Jones' performance and wrote, "Jones is brilliant as the writer blocked by the pressures of parenthood, whose anxieties about her husband reflect deeper worries about her own worth – her life, her talent, her achievements.'"
Hearts Beat Loud
Hearts Beat Loud is a 2018 American comedy-drama music film directed by Brett Haley, from a screenplay by Haley and Marc Basch. It stars Nick Offerman, Kiersey Clemons, Ted Danson, Sasha Lane, Blythe Danner, and Toni Collette. Hearts Beat Loud is a touching and funny film about family, father-daughter bonding, and the power of music. Offerman stars as Frank Fisher, a widowed single father who runs a small record store in Red Hook, Brooklyn. When his daughter Sam (Clemons) announces that she's moving to California for college, Frank is determined to make the most of their remaining time together and asks her to start a band with him, and they begin writing and recording songs in their basement. Ultimately, Hearts Beat Loud is a heartwarming story about the importance of following your dreams – no matter how unlikely they may seem. Vanity Fair wrote a review of the film, describing it as "an effervescent little pleasure, a quick 97-minute trip to a calm and pensive fantasy Brooklyn." In the same article, the film's music was praised, saying, "The film has great music—particularly the one earworm that somehow does not turn sour the longer it lingers in your head—and it's got, Toni Collette!"
Eighth Grade
The 2018 American coming-of-age comedy-drama film Eighth Grade, written and directed by Bo Burnham and starring Elsie Fisher and Josh Hamilton, also explores the relationship of a single father with his daughter. Eighth Grade is a typical coming-of-age story, following Kayla as she navigates the ups and downs of adolescence. However, what sets the film apart is its keen insight into the modern teenage experience. Through Kayla's eyes, we see a relatable and often hilarious portrait of what it's like to grow up in the age of social media and constant self-documentation. At its heart, Eighth Grade is a touching and funny look at the challenges that come with growing up in today's world. In a review by Empire, they commended Burnham's direction and wrote, "The anxieties of a teenage girl weigh universally heavy. Burnham brings wisdom and immediacy to a generation raised online, his debut feature already cementing his presence as a remarkably sensitive filmmaker."
The Father
The Father is a 2020 psychological drama film directed by Florian Zeller; in his directorial debut, he co-wrote the screenplay with fellow playwright Christopher Hampton based on Zeller's 2012 play Le Père, which is part of a trilogy that also includes Le Fils and The Mother. The film stars Anthony Hopkins, Olivia Colman, Mark Gatiss, Imogen Poots, Rufus Sewell, and Olivia Williams and follows an octogenarian man living with dementia who refuses all assistance from his daughter as he deteriorates. It received critical acclaim, with particular praise for Hopkins' performance. Hopkins won the Academy Award for Best Actor at the 93rd Academy Awards, and the film bagged Best Adapted Screenplay. It was also nominated for Best Picture, Best Film Editing, Best Production Design, and Best Supporting Actress for Colman. The Wrap gave a glowing review of the film and wrote, "The Father is an unsettling film, but it's also a compassionate one; family members of those suffering with dementia can turn to it for an empathetic portrait of how that disorientation must feel on the inside. It's one of the most disturbing films in recent memory, but it's both understanding and unforgettable."
Grandma
Grandma is a heartwarming comedy-drama about the special bond between a grandmother and her granddaughter. Similar to Don't Make Me Go, the two go on a road trip and discover things about each other. Elle (Lily Tomlin) is a feisty lesbian poet who is still coming to terms with the death of her partner. When her teenage granddaughter Sage (Julia Garner) shows up on her doorstep asking for money for an abortion, Elle agrees to help her out. The two set off on a road trip to raise the money, and along the way, they develop a deep bond with each other. Grandma is a touching film about family, love, and acceptance, and it features Lily Tomlin's finest performance in recent years. In a review by RogerEbert.com, they praised the film's themes and ability to bring about strong emotions saying, "The way the movie shows the toll taken by bonds sundered, and the healing made possible by bonds that are restored, however tentatively. And there's also humor and plenty of it. While brief in running time, "Grandma" is a small movie that doesn't feel slight."