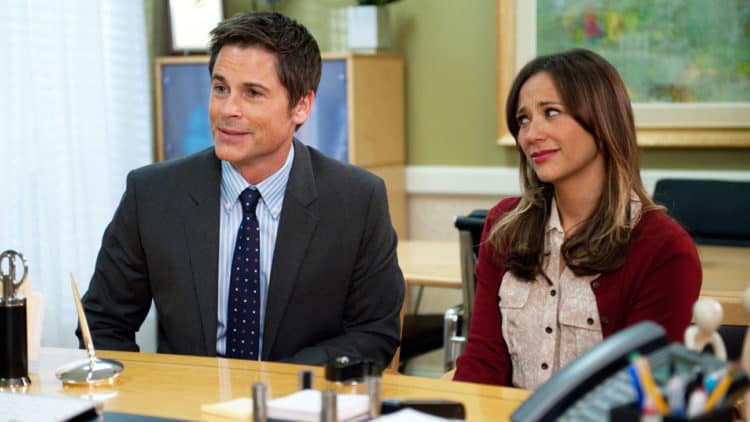 Rashida Jones played Leslie Knope's lovable best friend and Pawnee nurse Ann Perkins in the hit mockumentary sitcom Parks and Recreation. The show also starred Amy Poehler, Chris Pratt, Nick Offerman, Adam Scott, Aziz Ansari, Aubrey Plaza, Retta, Jim O'Heir, and Rob Lowe, all portraying government employees of a small-town parks department as they go through the mundanity of meaningless government bureaucracy. Often considered an unofficial heir of The Office, Parks and Recreation didn't quite garner the same level of success, but it continues to be a go-to show for people looking for something comforting to watch. The series was on air for seven seasons and catapulted the careers of relative newcomers Chris Pratt, Aziz Ansari, and Aubrey Plaza. It also spawned a mid-pandemic reunion that had the cast reprising their roles five years after the show ended.
On the show's 10th anniversary in 2019, Rashida expressed her gratitude towards having been cast in one of the best sitcoms to have aired in recent years. On Instagram, Jones wrote: "Ten years ago today, the first episode of @nbcparksandrec aired. And thus began the most magical seven years of my professional life playing Ann Perkins and working with kind, hilarious, and talented people that I still call friends. The cast, crew and writers spent a decent amount of time worrying about getting canceled, we nervously waited for our (usually) very low ratings mornings after we aired and, every season, we prayed that we would get picked up, even if it was just for six more. Because we loved it. Needless to say, over time, many, many people have come to love the show with unexpected fervor. I don't know if the series would have been what it was if we could've foreseen that. Holding onto each other tight and treasuring every moment together was a huge part of what is on screen. So grateful for this show, these people, this writing, this experience. Happy 10th." It's obvious that Jones enjoyed every single second of appearing in the series, but she's had plenty of projects since leaving the show. What has Rashida Jones been up to since her days on the set of Parks and Recreation?
Rashida Jones' personal life
Rashida Jones started dating musician and Vampire Weekend vocalist Ezra Koenig right after Parks and Recreation ended. Koenig, 37, is seven years younger than Jones, who is 45. They welcomed their first child together in 2018, according to People. Jones has also been actively involved in various philanthropic efforts over the past few years. In 2016, she visited a Syrian refugee camp in Lebanon and wrote about her experience in Vanity Fair. "I had seen and read about the Syrian refugee crisis, but I wanted to know more. I simply couldn't understand the entirety of the situation unless I saw for myself. And I couldn't stand my ground against all this fear and misinformation without personal experience. So I went with the International Rescue Committee to Lebanon to visit tented settlements, abandoned buildings, and classrooms where Syrian refugees lived."
She continued, describing the grim living situation that has been forced upon the refugees she visited. "In my short time in Lebanon, I met many Syrian refugees living in limbo: some live in classic tented settlements, some live in abandoned buildings. Most people I met lived in rooms with at least four other family members. Many complained about health issues that have gone untreated. Many talked to me about the hardship of living with limited access to water and electricity and gas. Many expressed the embarrassment they felt, not being able to care for the basic needs of their families: food, privacy, work, education. Many talked about missing their families and friends."
Rashida Jones' projects
Rashida Jones was involved in plenty of projects after her days in Parks and Recreation. In 2016, she starred in Angie Tribeca as the titular character. She starred alongside Hayes MacArthur, Deon Cole, and Jere Burns. The show, which was produced by Steve and Nancy Carell, was canceled after four seasons. Jones also briefly starred in #blackAF in 2020 but the series was not renewed. The actress also appeared in a couple of blockbuster movies after Parks and Recreation, most notably Tag, The Grinch, and Klaus. Most people know Jones as an actress, but she's also a talented writer and producer. In 2019, Jones co-wrote Toy Story 4. She also co-wrote an episode of Black Mirror titled "Nosedive" with serial sitcom showrunner Michael Schur, who also worked on Parks and Recreation and The Good Place. In an interview with TIME, Jones explained that the plot of the episode was very personal to her as a public figure: "For me, it was incredibly personal. In this episode, you participate in the system or you're off the grid. There's no opting out. So I think for me it was a reminder that I still have a choice because sometimes I don't feel like I have a choice as either a public person or a private person."
In 2015, Jones produced Hot Girls Wanted, a documentary following the lives of young actresses who appeared in adult films. The documentary was featured at the Sundance Film Festival and was later released on Netflix. In an interview with Vox, Rashida Jones talked about current attitudes people have towards sex, which make her documentary more relevant than ever. "We have this hypocritical tension, especially in the States. There's this real puritanical, religious restriction in terms of sex being something that really only should happen between a married couple and should really only be for the sake of procreation. But we know that's probably not the case for most people in the country and the world. We're inherently sexual beings. Plus, we use sexuality for mass media and perversity in marketing, and we have for a very long time. We fetishize sexuality, and we fetishize women's sexuality and young girls' sexuality. We have the tension between those two things." Last year, Rashida Jones hosted a podcast with Microsoft billionaire Bill Gates titled "Bill Gates and Rashida Jones ask Big Questions."
Tell us what's wrong with this post? How could we improve it? :)
Let us improve this post!