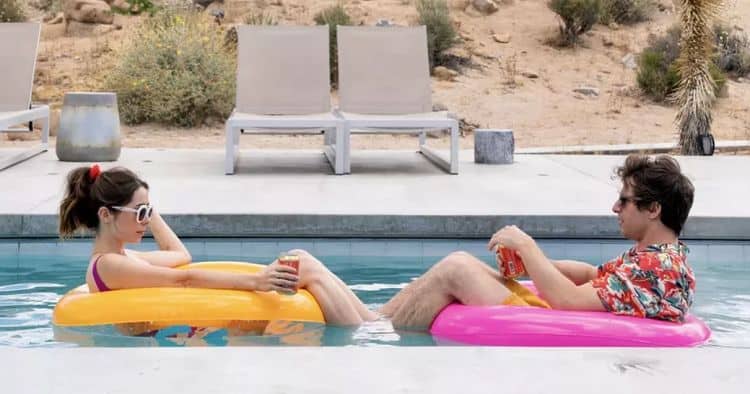 Time loop movies kind of come in and out of focus for a lot of people over the years since their stories are quite similar even if they involve different situations and don't always use the same methods. But the whole idea of them is that they give people a chance to make things right, to have a good time with the time they continue to have, and to learn valuable lessons that might help to change them into better people. Of course, there's always bound to be the idea that people will give up hope, that they'll figure that they're being punished, or that they're just stuck without any way out. But in movies such as Palm Springs, there are always ways to get around the depression and boredom that can come from living through the same day over and over. But eventually, it's usually seen that the main characters will find a mutual attraction to each other, there will be a lesson or two learned, and their lives will continue to change as they find that they want something more for themselves, and something to look forward to. It's a pretty common thing to see in movies such as this, but people continue to enjoy the story, and for good reason, since the actors make it convincing and the idea of being stuck in one day is somehow appealing to many, at least in theory.
Here are a few movies that you might enjoy if you like Palm Springs.
5. Edge of Tomorrow
Being stuck in a time loop and reliving the same day over and over again would be bad enough, but Tom Cruise's character has to spend his time watching people die, watching them fight against an enemy that knows their every move and can counter it without fail. When he's given the ability to turn the enemy's own weapon against them though he finds that it's still more of a curse to know what's coming, as he has to find a way to save the world from an invading alien species that uses time as a weapon. The effects in this movie were pretty good, but the story was compelling enough to keep watching.
4. Back to the Future
One of the classic time travel movies, it's so much about a time loop or being stuck in anything, but it does have a lot to do with rectifying past wrongs and making one's life a lot better than it used to be. Of course, the whole idea of not changing time that was brought up by Doc Brown kind of gets tossed out the window early on since Marty and Doc don't appear to mind setting things right for Marty's family. But one has to wonder just what happened to the world at large since the ripple effect that many time travel movies entertain would indicate that there was far more that would happen to the McFly's and those around them.
3. About Time
Imagine if you could just go and find a dark space and think of the time you wanted to go back to in order to spend a little more time with someone you miss or fix a situation that you bungled so badly. The only problem with time travel in this manner is that the things we do, from the mistakes to the successes, are what make us who we are. Of course, it would be great to be able to go back and say something different, do something different, and change things to our favor, but what has to be remembered is that if we do things right all the time then there's less of a basis for learning how to deal with mistakes, especially since learning is how we grow as people.
2. Happy Death Day
Obviously time loops aren't bound to be all happy go lucky and entirely positive at all times as this movie proves. The idea that you're going to be killed by the end of the day is kind of a depressing way to live, but like other such movies, this one does afford the main protagonist the chance to change up a few things in her life that were obviously out of whack. But having to spend so many days trying to find your own killer only to realize that it's someone you least expected has to be a little frustrating, especially since the killer is that close at all times and is obviously just laughing behind your back.
1. Groundhog Day
This is THE time loop movie that made the rest of them make sense. Phil is the first torture victim of the time loop mentality that really stepped it up and showed us that as great as it can be, the loneliness that comes with it is a different kind of horrible. Imagine spending the best day of your life with someone and making a real connection, only to realize that they won't remember such happiness the next day. That's about as close to hell as many people would want to get.
There are certainly moments when it feels that we're all stuck in a time loop.