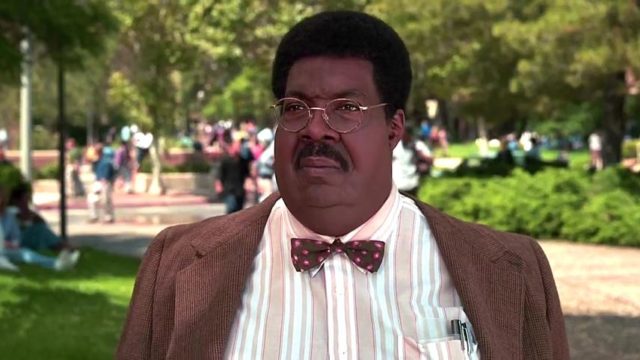 When most of us think about body shaming we think of being overweight and unable to function as a supposedly average person should. It is possible become so obese that it isn't healthy, but body shaming can go to very dangerous levels when taken seriously. Those with a larger build and even bone structure must often keep a certain amount of weight on their body just to move around, while those that carry a finer bone structure can lose the weight and be just fine. When these issues are depicted in film however they either carry a very dramatic lean or are used in an entirely comedic manner. The latter effect is definitely most popular method of looking at obesity. While it is a serious problem, the idea of caring what another person says is kind of laughable.
Here are a few films that deal with the idea of body shaming.
The Nutty Professor
A remake of the old Jerry Lewis classic, this version deals heavily, no pun intended, with the idea of how much a person should weigh and what is considered normal for each individual. Being happy with your body is an important part of life that many people never seem to understand, but dealing with the effects of turning into a super-fit egomaniac would certainly mess with anyone's mind.
Kung Fu Panda
Kung fu is not just for the super skinny and physically fit. The western world has taken the meaning of kung fu and applied it almost exclusively to martial arts, when in truth it has a much broader definition. This art is the practice of strengthening the mind as well as the body, and is used to instill discipline as well as physical conditioning. Despite being an out of shape, flabby panda, Po shows that through a reconditioning of mind, spirit, and body, that anyone can do anything they set their mind to.
Angus
A lot of kids have been the fat kid in high school, and have possibly endured a host of insults and verbal jabs simply because of their weight. Angus has the best defense against any of this despite his incessant need to not see it. He has a caring mother and a wise grandfather that, despite his rascally nature, imparts upon him the greatest advice of all. "Screw 'em" becomes the greatest message that any movie concerning body shaming has ever heard, and it's simple use and meaning is easy to follow.
Shallow Hal
Some guys want what they can't have, and then there's guys that want nothing except what they can't have. Hal is the typical wannabe ladies man that couldn't score in a women's prison, but the issue is that he has a very certain type, he wants women that are gorgeous on the outside, but inside seem cold and quite nasty on the inside. When he meets up with self-help guru Tony Robbins he begins to see the inner beauty of those whose outer beauty doesn't quite match, and eventually he finds a woman that simply mesmerizes him, despite the fact that he can't seem to see her true outer form. It's a very big revelation once he really discovers what he's been missing for so long.
Heavyweights
This film stands as one of the biggest fat shaming movies ever. Due to the fact that it's a Disney film it seems to get away with it. The comedy, the heartfelt moments, and the hilarity of it all are kind of lost on children who simply think it's funny when the camp owner finally seems to get what he deserves. In truth this film is no different than the others, but it is far more blatant in it's attempt to show what body shaming can really do and how it pervasive in nearly every part of society.
Sometimes you've got to be able to laugh at yourself no matter if you don't care for your body. It takes away the hurt so long as you accept who you are, and that you won't be changing for anyone.