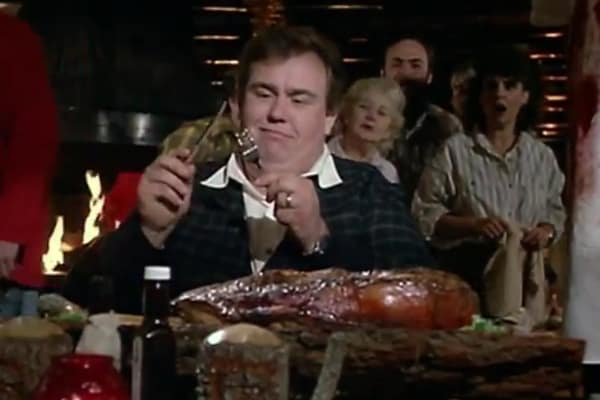 The steakhouse is where you go to kick back with the family in a relaxed atmosphere and enjoy yourself for an evening. In movies though it's where hilarity tends to follow in a lot of films and meaningful moments happen in others. Some of the locations on this list might not be steak houses technically, but they do serve steak and are close to the actual atmosphere of a regular steakhouse. In truth you can call almost any place a steakhouse so long as 1) steak is on the menu, and 2) it's not fine dining or a cafe. There are exceptions to these rules obviously, but the locations below are close enough to steakhouses to count.
Settle in and chow down, it's feeding time.
5. Groundhog's Day
This would count as funny and dramatic largely because Bill Murray is attempting to get the girl and doing it in what could only be described as a very sneaky and yes, pathetic way. It's easy to finally impress a person when you get to relive the same day over and over. Would this count as cheating if you already know how your date is going to react?
4. Waiting
&t=3s
This film makes the list a lot largely because of the woman in this clip and the response she elicits. Shenanigans would technically be a steakhouse as it does serve a variety of meat that tends to give that reputation. But woe to the customer that decides to become a royal pain in the nethers, you might not want to accept the plate that's given back to you upon your "request" for better service. Do yourself a favor, be nice to your servers.
3. Beverly Hills Ninja
This is one of those technicalities that I was talking about. You can't call it fine dining because quite honestly not a lot of fine dining establishments cook your food in front of you. But you can't really call it a steakhouse because it has a slightly different atmosphere. Let's call a compromise and say it's somewhere in-between.
2. Rocky Balboa
So this is close to being a steak house. It's not fine dining no matter how nice it looks, but it's definitely a step above a cafe or a sawdust on the floor joint. It's a nice steakhouse, let's put it that way. Rocky runs a classy joint and he's partial to telling anyone who wants to hear about his fighting days and amusing them with funny anecdotes. That'd be a fun experience to be sure.
1. Great Outdoors
Now THIS is a steakhouse pure and simple. But that is not a steak, that's a cross-section of a cow for crying out loud. Looking at it raw you can imagine that they just cut the cow in half and then took a cut right from the juiciest side. I mean really, how much beef can a human body contain until it starts seeping out of your pores? And oh yeah, let's not forget that he had to eat the WHOLE thing, including fat and gristle. Oy, just oy.
The steakhouse experience is usually one that's a good time and a good evening with friends or family.
Save