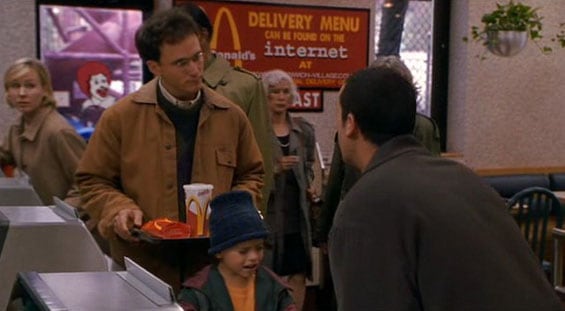 The McDonald's fast food franchise is one of the most popular grab and run establishments in the world. They've gone international so you can find one in practically any country you visit. In addition to this, McDonalds has become such an integral part of American society that it regularly appears in popular movie scenes. Even movie stars like to grab a Big Mac or McChicken now and then.
Here are five memorable McDonald's scenes in movies.
1. "Mac and Me" – Full McDonald's Dance Scene (1988)
This scene is one of the most popular in the film. A young wheelchair bound boy befriends an alien who is trying to escape from NASA. In this scene, The boy has dressed his alien friend up in a teddy bear suit. He took hi along to a kids' birthday party at McDonalds. He's passing him off as a rental from the petting zoo. You can see Ronald McDonald in the background eating lunch with the other kids.
2. "Big Daddy"
In this 1999 film Adam Sandler is building hype for the little boy he's taking out for breakfast. He tells him about what a big deal it was for him and his father to go to McDonalds. When they arrive, he orders breakfast, only to be told that he missed the deadline by a half hour. They are no longer serving breakfast. Sandler erupts into a tirade that is unfit for young ears. The little guy starts to cry and this inflames him even more.
3. "Houseguest" McDonald's Scene (1995)
Sinbad is playing the part of a guy that got in over his head with the mob. He's a con man who has wormed his way into the home of Phil Harman and Kim Greist. In the McDonald's scene, he begins by making fun of the worker's bubbly accent. He places a large and complicated order. After the girl has finished writing it all down, he changes it.
4. "The Weatherman" McDonald's scene
Nicholas Cage is a down on his luck weatherman that is about to hit rock botttom. His wife is leaving him for another man, his father treats him like he's an idiot and his career is on the skids. He gets into an argument with a guy on the street who questions his ability to predict the weather. This isn't quite the last straw but it's close. A car drives by and the passenger hits him with a McDonald's hot apple pie. The sticky mess goes all over his suit and overcoat. Cage chases the car down, gives them a piece of his mind and smears the remains of the pie all over the face of the guy in the passenger seat. The trademark label leaves no doubt as to where the pie was purchased.
5. Coming to America – McDowell's
OK I don't care that this isn't a real McDonald's. There's just no way I can possibly leave out this scene. It's easily the best scene in the entire movie not to mention the full out beginning to the prestigious yelling career of one Samuel L. Jackson.