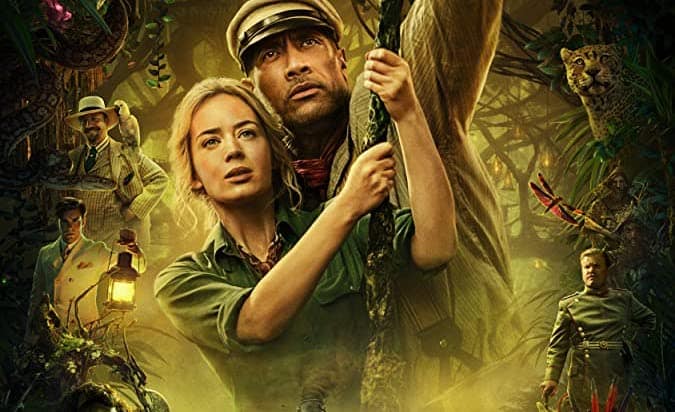 It's always nice to think that making a movie isn't all hard work, drudgery, and waiting to get a scene right. Taking a look at this behind-the-scenes featurette makes it appear that there's plenty going on that would make the job fairly enjoyable at times, especially if there's enough chemistry between the actors that can help to make things work in a convincing manner. Emily Blunt and Dwayne Johnson both have plenty of action credentials on their own since they've both put in great performances in many other movies, but putting them together was an interesting proposition that appears to have paid off since people are already talking about how the two appear to work great together. Much like any job, if the coworkers can get along and feed off each other's positive energy throughout the day, it tends to make for a working and sometimes great environment. There were bound to be a few bumps along the way as people tend to need to get used to each other now and again, but it does sound as though Blunt and Johnson found a way to make things enjoyable.
It kind of sounds like the only thing that Emily really doesn't like are the puns that Dwayne throws out from time to time, and if that's the only problem then so be it. Puns are easy enough to weather even though Dwayne is pretty good at them and can pull a straight face whenever he says them. One should be able to admit that over the years, Johnson's acting has picked up in a way that a lot of people might not have thought would be possible. From the moment he starred in The Mummy Returns and was then given a horrible CGI appearance to the actual Scorpion King that was kind of 'meh', he's ascended the acting ladder in a way that's been pretty impressive.
Making a movie out of a ride at Disneyland that a lot of people didn't talk about for the longest time and a number of people have had an issue with in recent years felt like a bold move on the part of Disney since it might have been considered wiser to take on a different attraction. But looking at the trailers and the featurette makes it appear as though this was actually a good decision and that people are bound to enjoy the story as well as the action. Be honest, if you've been to Disneyland, the Jungle Cruise was likely one of the last rides that many people wanted to go on and it had one of the shortest lines since not too far away from this attraction are other rides that are far more exciting and don't tend to rely on an individual to narrate the ride in a manner that might sound a bit lackadaisical at times. Seriously, the folks working the ride likely get a bit bored doing the same thing for hours at a time, even if there are moments when they switch shifts so that one person isn't doing the same job all the time. Trying to sound enthusiastic during this ride each and every time does sound like it would be taxing after a while.
When making a movie out of this ride it does sound as though that aspect was reached for a time or two, but given the time period and the overall story, it's easier to believe that the captain of the boat was simply another guy trying to make a living by doing what he had to while in the process getting involved in a very important expedition. Hey, it happens in the movies, and that's usually how fun stories like this come together. It's fair to say that there's a bit of over the top action in this movie since that's what people would expect a lot of times, but it's also apparent that it helps to keep people interested and fits nicely with the story since a trip through the jungle in real life might not be quite as exciting but would still be quite the journey. One good point of the featurette is that it looks as though the cast might have had a pretty good time making this movie no matter whatever drawbacks might have come now and then.
It is curious that Emily Blunt does appear to enjoy action movies but doesn't want to get into superhero movies, but then again, there is a difference sometimes and it's something that she's not one hundred percent against. She's stated that if she found a story she liked it might work, but that feels like a long shot at this point. Seeing her in an action movie is more than good enough though since she's a very convincing actress.