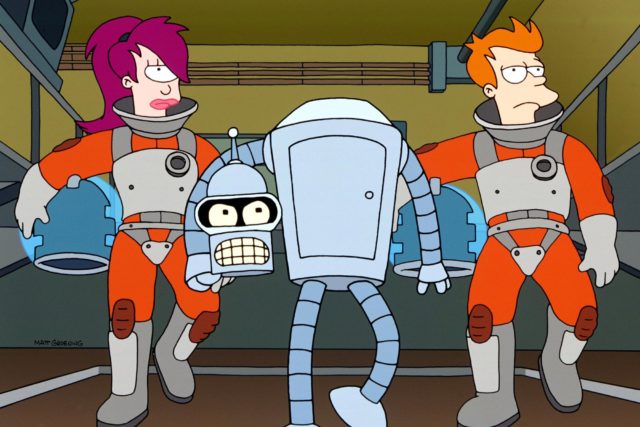 Futurama was in a way an answer to the question "What will come after the Simpsons?". The only thing however is that it came during the Simpsons and went out before the Simpsons. The show lasted from 1999 to 2013 and created a lot of memorable characters but wasn't quite able to keep going with the arc or keep all of the actors since a couple of them had other engagements to make and it was unclear just where the show was going from a certain point. Enough people liked it that the show could have kept going, but for one reason or another shows like this need something extra to stick around or they tend to go the way of the dodo. Be that as it may, there were a lot of interesting and colorful characters in the show that will no doubt be remembered fondly by a lot of fans.
Here are some of the more memorable characters.
5. Amy Wong
Amy is the ditzy one in the group that tends to dress to irritate her parents and is something of a stereotype when it comes to Asians. But it's because of these qualities that she's easy to remember since she clings to them in a big way and likes to rebel against her very rich parents in ways that don't make a lot of sense but are still easy to relate to for some people. Her character isn't all that bright but she's part of the group even if she's a little unbalanced at times. In fact that could be why she's part of the group since no one in it is all that balanced most of the time. In fact she kind of fits in perfectly.
4. Zoidberg
Zoidberg is perhaps the last person you'd ever want to rely on when it comes to his services as a doctor largely because he lives in a dumpster and eats garbage and is in fact quite insane since his back story seems to change so often. One thing that is true however is that he is very loyal to the professor and does manage to carry out a lot of tasks for him that don't always make the others happy but, oh well. Zoidberg is that eccentric type of person that you can't help but remember just because he acts so crazy all the time that ignoring him is an impossibility that many people give up on about ten seconds in.
3. Leela
Neela is a very complicated being, but one thing about her is that her origins are a lot more simple than she believed for a long time. She was a sewer mutant that was made to believe that she was a part of an alien race that had gone extinct. You can imagine that when she found out the truth she was slightly disappointed by what she discovered, but she kept pushing forward and after meeting Fry became the captain of the Planet Express ship they shared and also became a staunch ally that managed to be one of the most awesome characters in the show. The only thing holding her back is that she does tend to have a short temper at times.
2. Bender
Bender is probably one of the most psychotic robots that's ever been created. He drinks, he swears, and he's got an attitude that's just flat out horrible. But that's what was so charming about him, he was more like a human than some of the humans in the show and was proud of it. In fact Bender might have been number one on this list if not for the fact that the main character had one of the most memorable stories of all. The fact that he made the second spot is a testament to just how wild and out of control he is. Out of all the robots ever created Bender is definitely unique. It's not necessarily good or bad, it's just, well, Bender.
1. Philip J. Fry
Imagine going into a deep freeze and waking up centuries later to realize that everything you knew is gone, everyone you loved is dead, and the world as you knew it has changed in ways that you couldn't possibly imagine. Of course if you're a slacker like Fry then you might not be too bad off since you could find something to do and some way to just goof off while getting paid. In a sense Fry was that kind of guy that's not hard to surprise or even overwhelm but the moment his senses catch up to what's going on he kind of reverts back to the same old person with the same old habits in a different place and time.
A lot of people would have loved to keep Futurama around, but it was time to let it go.