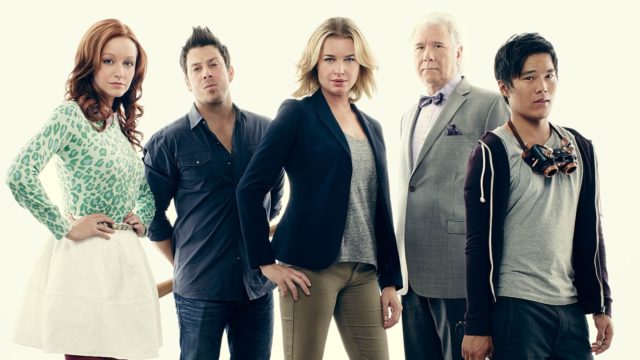 If you're a fan of the TNT show "The Librarians," then you'll have to agree that it's entertaining, but also educational. The fantasy/adventure series was just rebooted with a renewal for the fourth season which made its premiere, airing on December 13, 2017. Although it teaches us a lot, we chose five of what we considered to be the most important life lessons that it taught.
The Generation Gap is a real thing
Actor John Larroquette plays the part of Jenkins, aka Galeas/Galahad, who is the caretaker of the Annex. His knowledge of ancient lore may seem impressive, but he's been around for a few years, as he's actually an immortal. Even though he has the wisdom of the ages under his belt, he's still an older dude who can't tell the difference between loud music and his cell phone going off. Being an immortal isn't enough to bring you up to speed with the times apparently, as we see in this party scene.
https://www.youtube.com/watch?v=NSS9y0EbLHs
You can't even trust a priest
In a scene from thee "Dark Secret Revealed" episode, a young man finds a document that has all the appearances of being a secret map of some kind. He takes it to the priests in good faith. The exchange seems amiable until after he hands it to the priest, who immediately asks, "did you tell anyone about this?" When the finder of the treasure confirms that he had not, the scene takes a more sinister turn. We see the priest give his fellow members of the cloth the signal. One of the other priests approaches the man, opens his bible in line with his face and blows a deadly powder into his eyes. The man falls dead on the floor of the church without knowing what he had ever done to deserve the fate. This just goes to show you that you can't really trust anyone these days.
Sometimes you just gotta go with it
This scene from "The Librarians" Season 1 Episode 1 and the Crown of King Arthur, shows a SWAT team going in for the bust when two of the guys break away and nearly escape. They are no match for the blonde haired beauty who caught them before they got away. When Flynn Carsen (Noah Wylie) makes his appearance in a blaze of glory (he knows how to make a grand entrance), Eve Baird (Rebecca Romijn), doesn't know who she should be pointing the gun at. In total amazement, she's not as concerned with the bad guys she was tracking as she is with Carsen's entrance and ambivalence to her presence. This scene teaches us that there are some situations that can change the playing field and sometimes, you just gotta go with it.
You may be surprised by who has a past with whom
It's always a good idea to be careful about what you say because you never know when one person may actually have a past with another. How easy it is to put your foot in your mouth without meaning to. This scene shows us that Flynn actually has quite the past with Ezekiel Jones, even being the guy that saved his life on an occasion.
You can't always depend on GPS
Lamia finds out that her GPS that is telling her that she's close to the fifth station, as well as a good place to eat, isn't always correct. In fact, in this case it has led her through a sort of mine field with potentially fatal consequences. We know that she learned from the incident.