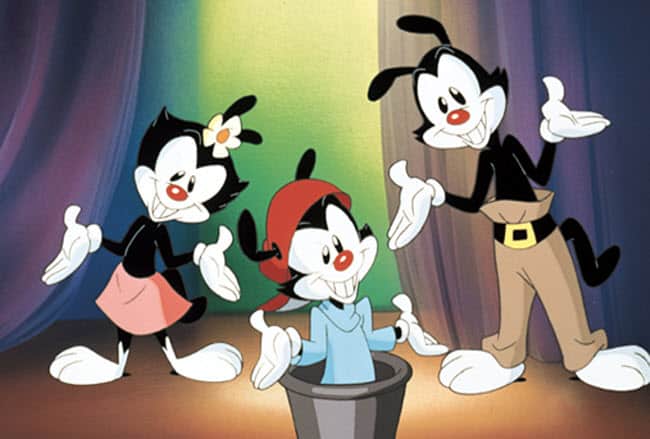 Some cartoons are aimed at adults and have themes running through them that are intended for an adult audience. Examples of these include 'Family Guy', 'American Dad', and 'The Simpsons'. On the other hand, there are cartoons that are aimed at a younger audience. These cartoons should only have content that is suitable for children in them. Unfortunately, there are many examples of children's cartoons that have crossed the line and contain political statements. While on some occasion this is well planned and intentional, on other occasions it is simply an unfortunate mistake. Here are five examples of kids cartoons that got way too adult.
1. Animaniacs
During the 1940s, Looney Tunes often made jokes about the war. Although 'Animaniacs' was marketed as a children's show, they had tried to emulate the spirit of the classic Looney Tunes cartoons and these were not intended for children. This cartoon made inappropriate jokes about real events and even featured a character called 'Sodarn Insane' who was intended to portray Saddam Hussein.
2. Pinky and the Brain
'Pinky and the Brain' was a spin-off series from Animaniacs that went even further with the jokes about Bill Clinton. The cartoon was about a man who wants to be a dictator and conquer the world. Clinton was portrayed as an immature man who left his wife to take care of business so he could go out and have fun. The cartoon even touched on specific issues, such as the impeachment scandal and one episode of the series showed Clinton with his pants down.
3. Rocko's Modern Life
There are many examples of animated films that try to warn children about consumerism but this was the entire focus of this television cartoon series. 'Rocko's Modern Life' told children tales about the type of world they are living in today. However, they went a little too far with giving a realistic impression of what to expect from life. There was even an episode when Rocko worked on a sex line. This is not exactly the type of content parents are expecting their children to watch when they switch on a cartoon.
4. Justice League
It is tempting for writers to include information about the history of a superhero. In the case of the Golden Age superheroes, this includes World War II. However, the Nazi regime is a difficult issue to address in programs that are aimed at children. 'Avenger: Earth's Mightiest Heroes' even removed any Nazi content and this was something that caused controversy. 'Justice League' took a different approach and kept all the Nazi content in the series and this is particularly apparent in the season one series finale.
5. Legend of Korra
While some cartoons bravely approach issues relating to one political movement, 'Legend of Korra' went several steps further by approaching different historical political movements each season. Some of the movements included in the show were anarchist, liberationist, equalist, and fascist. The cartoon also covered religion which is another topic usually avoided in kids' cartoons.