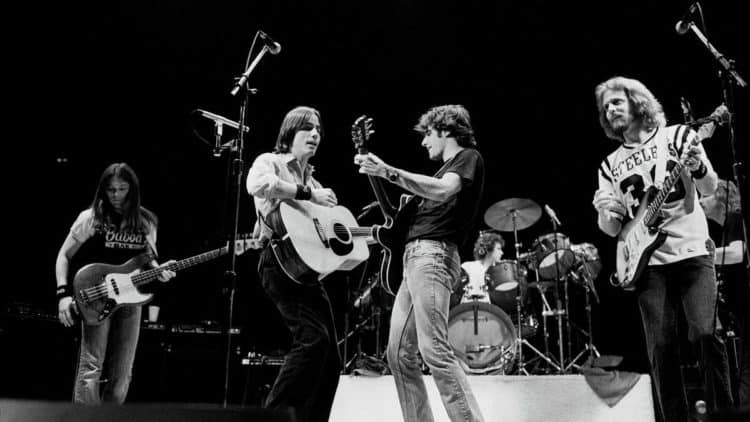 There are a lot of reasons that musicians leave bands since it could be a clash between one member and another or something as simple as stage fright. One might think that a lot of musicians might be used to being up on stage in front of a bunch of people, but some folks still get butterflies in their stomachs to this day when performing in front of a bunch of people. Still, there are quite a few reasons why anyone would quit a band and they do happen to include personal interests that don't sit well with the rest of the group. One would think that a person might do just about anything to hold onto a career in music, but there are plenty of people that don't see this as the good time that others might think it is, and know that there is a lot more pressure than some folks want to admit to. In any case, the reasons that some people have given for leaving a prominent rock band have been a little odd, and in some cases have been kind of shocking since no one saw it coming.
Here are a few odd reasons why musicians have left their bands.
5. Ed King quit Lynyrd Skynyrd after being reamed about his guitar strings breaking.
Deep into one of their most famous songs, Free Bird, a couple of strings on Ed's guitar broke, which can happen but isn't optimal when one is on stage. The problem was that the band's lead singer Ronnie Van Zant let him have it with both barrels, so to speak, and didn't let up until Ed came to question why he was even sticking around. Some might have thought that Ed had too thin of a skin, but others might agree that Ronnie might have been a little too hard on his bandmate and could have spared the sermon until later or simply realized that accidents can happen and there's not a lot that can be done to prevent them sometimes.
4. Randy Meisner apparently quit The Eagles after feeling that he was becoming too famous.
One wouldn't think that this would be a huge issue for a lot of people, but apparently Randy stated that after being put in front of the group that the rest of the band stopped talking to him as much, even if their fame kept moving up. Apparently he didn't think that he belonged where he was and simply dropped out of the band, which is regrettable to many people since The Eagles has been a loved band for so long that one might have thought that Randy could have just backed up and made it clear that he didn't want to be the frontman rather than simply take off. Being famous is kind of one of the main points of being a famous musician.
3. Peter Cetera of Chicago left to pursue a solo career.
Peter actually told his band that he was taking off to do a solo bit, but that he would definitely come back and wasn't leaving them. The band wasn't having it though and told him that if he left then he most certainly was leaving them behind. This kind of 'all or nothing' mentality might have allowed Peter to make up his mind since he coasted out of the band without a regret and went on to have a pretty successful solo career. A lot of fans found this odd that he could take off so easily, but the ultimatums that people lay down sometimes tend to be a little too final for some folks, and the result is that they side with their own gut feeling.
2. Jeremy Spencer left Fleetwood Mac to join a cult.
Apparently Jeremy left with a cult called The Children of God without telling anyone after a show. No one knew where he'd gone to for a while but once he was found it was definitely a surprise as to what he'd done. It sounds as though he'd already been clashing with Peter Green though, and it could have been that this might have played a part in Spencer's departure from the band, or it could have been that cults are usually known to have a definite pull on people that isn't easily broken.
1. Lita Ford allegedly quit The Runaways temporarily because she thought they were gay.
Today it's pretty easy to think that this kind of behavior, leaving a band because of the idea that one's bandmates were gay, would get someone labeled a homophobe without hesitation. But this was the reasoning behind Lita Ford's separation from The Runaways back in the day. She admitted to having no experience with homosexual or bisexual individuals at that time, and she had no idea how to handle it.
And to think, people leave bands today because of a loss of popularity or scandal.
Tell us what's wrong with this post? How could we improve it? :)
Let us improve this post!