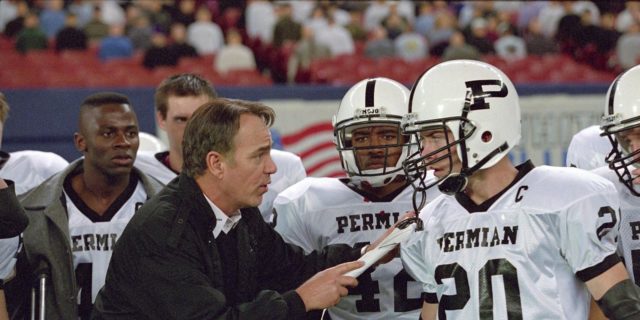 A tough loss is, well, heartbreaking. Losing is not fun, but it's educational. That's not what you want to hear when you lose the big game, especially since you feel like you've just let all of your supporters down. That gut-wrenching feeling is almost like being kicked in the teeth and socked in the stomach all at once. It makes breathing difficult, talking impossible, and in truth the sinking feeling that comes after is akin to being dropped into a black hole without end. But it teaches you more than a win does. That euphoric, giddy feeling of winning is awesome, but realizing that you can take a loss without feeling like a loser is even better sometimes.
In some cases it's better to lose and learn than it is to win and learn nothing.
5. Friday Night Lights
Running the ball towards that goal line is one of the most heady feelings in the entire game of football. You can see it, you can reach it, you can keep your legs moving for all you're worth. But if you fall just inches short, then you've failed, and victory will always be less than a foot away in your mind. If you let something like this dominate your world for the rest of your life it will be all you ever have. But if you realize that you came this far, then in time you will learn to live with it. Easy words for a hard moment.
4. Coach Carter
To come from being the worst team in the league to challenging one of the best in the state is no small feat. Junior took on one of the toughest players in the game and held his own. One slip though is enough to make all the difference in the world. Give props to the team though, they battled back against odds that would have broken most young men. And Junior, he earned the respect of his opponent, which is something that's right up there with a win.
3. Rocky
Rocky shouldn't have been in this fight and he knew it. He wasn't championship material and he spent most of the fight getting his head beat in. But he didn't stay down, not once. Even when Mick was telling him to stay down he got back up. That's the dogged persistence that's needed in sports, the determination to meet the end of each round with a level of defiance that says "I'm not going away".
2. Tin Cup
Losing didn't matter. Winning didn't matter. It was making that one shot that mattered in the end. It was the one, seemingly impossible shot that no one thought he could make, and in the end he finally sank it. Don't tell a person they can't do something, because likely as not they will continue forward until they finally accomplish the impossible.
1. Kingpin
Yes the movie is silly and yes the loss is just as ridiculous, but it's a tough loss all the same. Coming from utter obscurity to being back at the top spot isn't easy in any sport. Roy had a lot of lessons to learn before he could make his way into the running for a championship. By the end of the film he'd learned that what he'd thought was important was really just an illusion, and what remained was what truly mattered.
Losing is hard, plain and simple. But if you let it dominate your life then it becomes little more than a burden, not a life lesson that can help you move forward. You won't always win, but a loss that helps you learn is better than a winning streak that doesn't teach you a thing.
Save